Israel's military chief of staff said Tuesday that Israel is quietly working — mostly in secret — to combat the threat of Hamas attack tunnels.
Lt. Gen. Gadi Eizenkot made his remarks following the collapse of at least four tunnels since the end of January. The multiple cave-ins, which have killed at least 12 Hamas members, over such a short period of time has raised questions as to whether Israel was involved.
The top IDF commander did not say if Israel had caused the recent tunnel collapses, Hamas had attributed the phenomenon to recent rainy weather.
"We are doing a lot, but many of [the things we do] are hidden from the public. We have dozens, if not a hundred, engineering vehicles on the Gaza border," Eisenkot said, according the Times of Israel.
"We have advanced capabilities," Eisenkot said at an academic conference in Herzliya outside Tel Aviv, apparently referring to a rumored Israeli-developed underground tunnel detection system.
As Associated Press photographer took photos of Israeli engineering tools deployed last week on the Israel-Gaza border: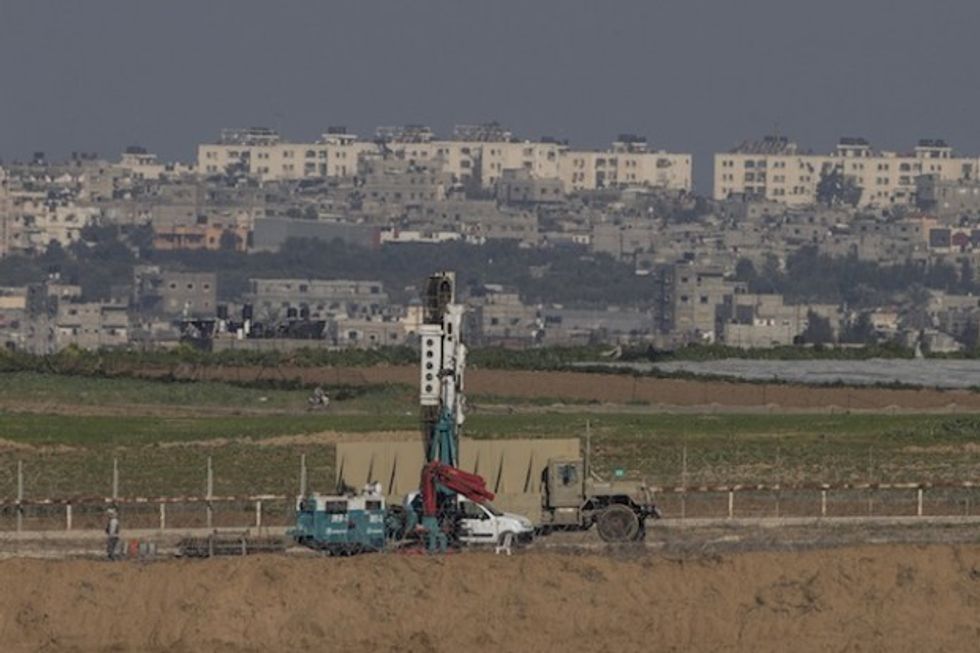 Israeli drills search for fighting tunnels on the Israel and Gaza border, seen in the background, Feb. 3. Hamas has built a sophisticated network of tunnels that it has used to penetrate Israel to carry out attacks on civilians and soldiers. Israel destroyed dozens of the tunnels in the war with the militant group in Gaza in 2014. (AP Photo/Tsafrir Abayov)
Asked last week if Israel had secretly had a hand in the string of tunnel collapses, another top IDF officer, Maj. Gen. Yoav Mordechai, offered the elusive answer of  "God knows."
On Tuesday, Eizenkot called combating the Gaza tunnel threat the top priority for the IDF in the coming year.
Eizenkot touched on the option of Israel carrying out a preemptive strike on Gaza before Hamas might attack Israel, saying only that preemptive action was "being discussed in the places where it needs to be discussed."
Hamas leaders have warned in recent weeks that the terrorist group was working to rebuild tunnels that Israel destroyed during the 2014 military conflict and to perfect rockets for a new round of fighting with Israel.
Eizenkot suggested that the current lull would not distract Israeli military planners. "We will not allow that the fact that there is quiet in the south to blind our eyes," he said.
Israel destroyed more than 30 tunnels during the conflict two years ago, during which Hamas fighters used tunnels to infiltrate Israel in an effort to attack soldiers and southern Israeli communities.
A Palestinian man was killed Monday when the tunnel he was in collapsed. The independent Palestinian news agency Ma'an reported that the tunnel was situated between Gaza and Egypt.
Ma'an quoted a study by the Institute for Palestine Studies which reported that Hamas had counted 160 deaths inside tunnels between 2007 and 2012. It quoted an Al Jazeera report that said that by August 2014 as many as 400 had been killed in the tunnels.