After nearly tying Texas Sen. Ted Cruz for third in New Hampshire Republican primary, former Florida Gov. Jeb Bush is courting South Carolina voters with a little help from his big brother, George.
President George W. Bush launched a radio ad on behalf of brother Jeb, which was set to being airing on South Carolina radio stations Wednesday.
"Jeb has dealt with crises as the governor of Florida, and he did so with steadiness and a calmness necessary in a good leader," the former president says in the ad.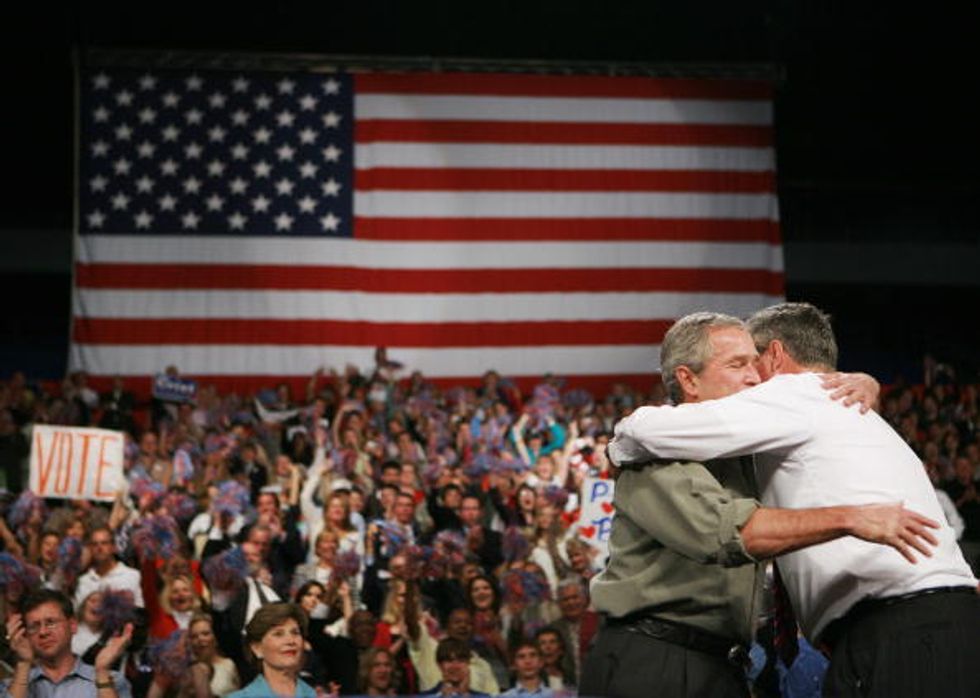 Then-President George W. Bush hugs his brother, Florida Gov. Jeb Bush, during a campaign rally at the Pensacola Civic Center Nov. 6, 2006, in Pensacola, Florida. (Msndel Ngan/AFP/Getty Images)
This is not the first time that Bush has lent his services to his brother's campaign. He was also featured in a TV ad for Right to Rise USA, the pro-Jeb super PAC, and before that his name appeared on fundraising emails. He has also appeared at many fundraisers for his brother's campaign.
But the latest radio clip marks the first time George W. will appear in an official campaign ad for Jeb, CNN reported.
"He respects the military — he honors their families. He can make the tough decision to keep Americans safe and our country free. And in a time of crisis, he will be a steady hand," the former president says in the ad. "There's no doubt in my mind that Jeb Bush will be a great commander in chief for our military."
The ad comes before the 43rd president's expected appearance on the campaign trail in the days leading up to the Feb. 20 South Carolina primary.
South Carolina was a success for the two other Bush presidential candidates — George W. Bush and his father, former President George H.W. Bush — and Jeb's campaign is hoping that the family name will serve him well.
"The Bush family name is long and deep in South Carolina — 41 and 43 are well respected," Sen. Lindsey Graham (R-S.C.), who's now backing Jeb Bush after ending his own presidential bid, told CNN Tuesday. "The Bush family has been generations of servants. That will matter in my state."
(H/T: CNN)