The women's magazine Cosmopolitan announced Wednesday it's partnering with the Michael Bloomberg-bankrolled anti-gun group Everytown for Gun Safety to promote gun control.
The magazine is releasing its March issue with an editorial package and ad campaign titled, "Singled Out," claiming that guns pose particular danger to single women because of disgruntled boyfriends who might own guns.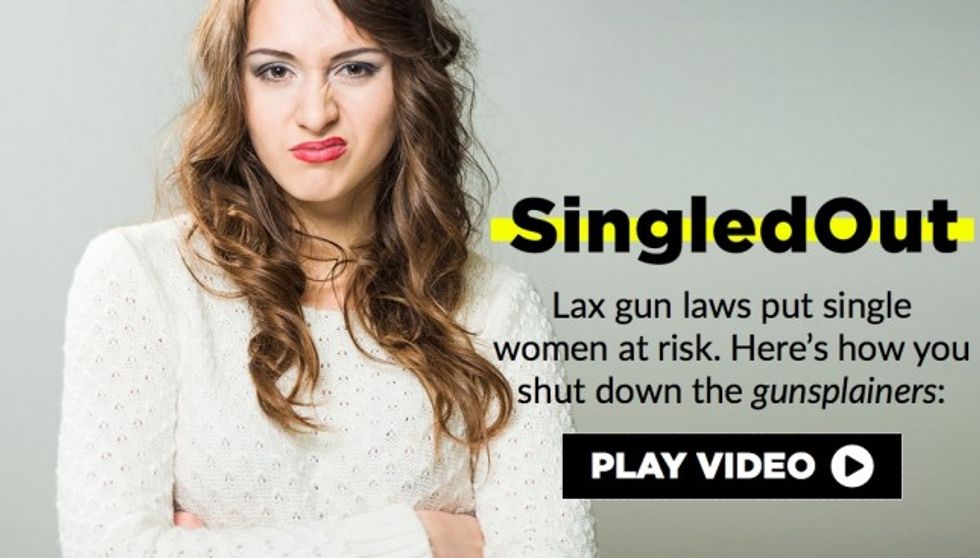 Image source: Cosmopolitan
"When I was dating, it never occurred to me to ask a guy if he owned a gun," wrote Joanna Coles, Cosmopolitan's editor-in-chief, in her Editor's Note. "But given the numbers — more than 8,700 women in the U.S. were shot to death by their partner between 2000 and 2013 — it's time to discuss what's in your guy's drawers, and I don't mean his CK boxer briefs."
The campaign comes largely in response increasing gun ownership by women who want them for protection — but the campaign argues that women who own guns put themselves at more risk.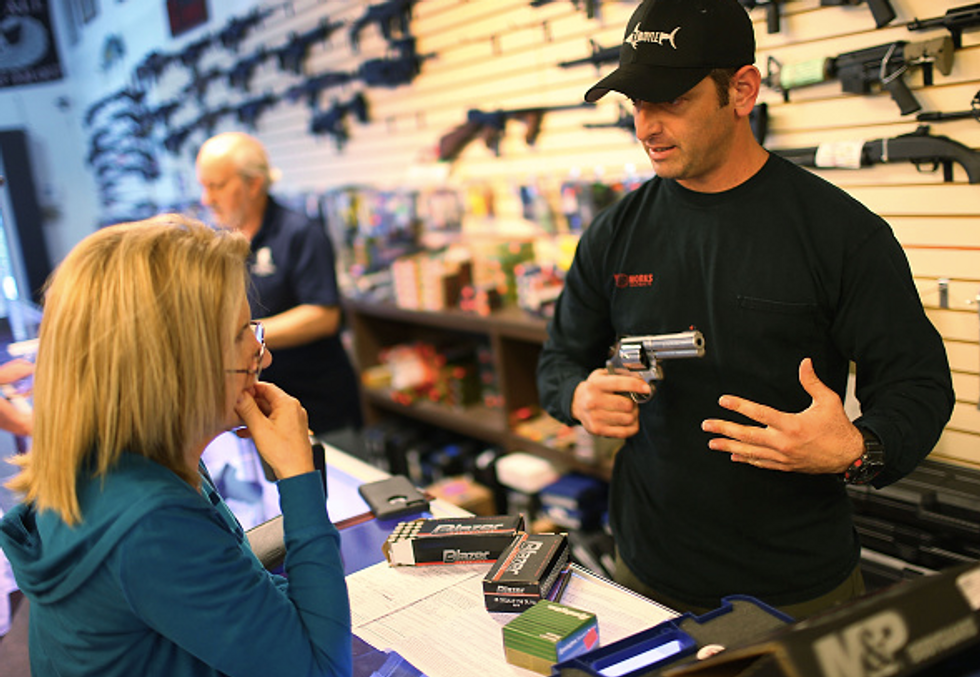 Brandon Wexler (R) shows Cindy Schneider the weapons that she was picking up at the end of the three day waiting period at the K&W Gunworks store on the day that U.S. President Barack Obama in Washington, DC announced his executive action on guns on January 5, 2016 in Delray Beach, Florida. President Obama announced several measures that he says are intended to advance his gun safety agenda. (Joe Raedle/Getty Images)
It offers a hypothetical "he says" statement characterized as "myth": "If a woman is being abused, she should just go out and get a gun." And it's followed by a hypothetical "you can say" response characterized as "fact": "So her abuser can shoot her with her own gun?"
"Until two of my best friends were shot and killed when we they were sophomores in college, I didn't understand just how pervasive gun violence is in this country — and how often it affects women specifically," said Jennifer Gold, a member of the Everytown Survivor Network. Two of her friends were killed in a 2007 shooting by one of their ex-boyfriends. "Now, I think it's really important to be informed and to speak up about issues like this — and I definitely talk to the men I date about guns. Even if it's an uncomfortable conversation at first, it's an issue that is important to me and a essential conversation that can save lives."
The campaign by the Bloomberg group and Cosmopolitan focuses on what it refers to as "the boyfriend loophole" — which allows someone under a restraining order to buy a gun if the person isn't married to, lives with or has a child with the potential victim — as well as the online gun purchase loophole and the push by some to allow guns on college campuses.
Here's a video that goes with the Cosmopolitan ad:
This story has been updated.