Update: After receiving praise from thousands on Facebook, including Kentucky Sen. Rand Paul, Sarder's employers changed their minds and allowed him to return to work, Fox News reported Friday.
A General Motors employee says he was fired for pulling out his gun after witnessing a woman being stabbed at the company's Warren, Michigan, plant Wednesday.
The victim, 52, was hospitalized and remains in critical condition, but many are saying that had it not been for Didarul Sarder, a valet service supervisor, she probably would have died on site.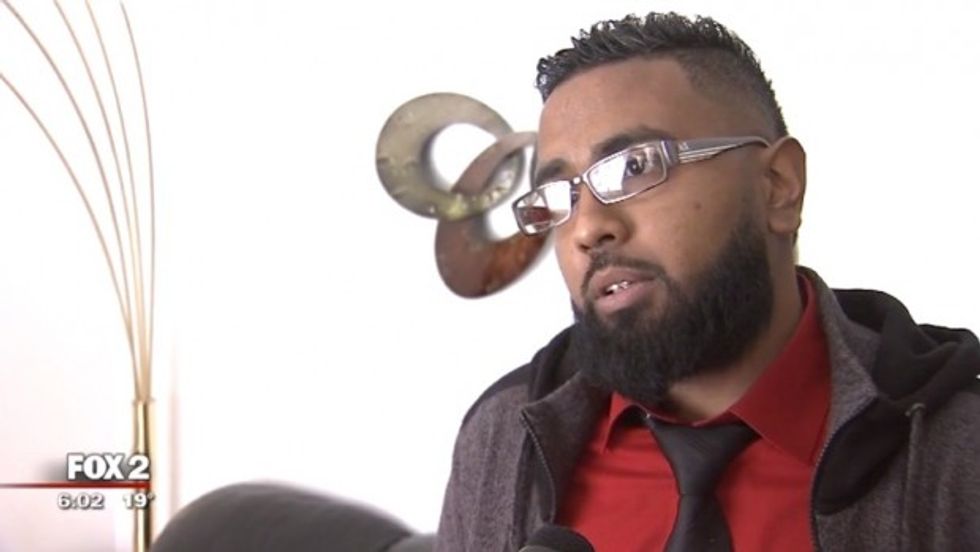 Didarul Sarder (Image source: WJBK-TV)
Sarder, who has a valid concealed pistol license (CPL), pulled out his gun to stop the attack and stayed with the woman until police and medical personnel arrived.
"The lady kept saying 'I'm dying, someone help' and it was just a natural reaction," Sarder told WJBK-TV. "I just see this lady getting stabbed. I only had, like, half a second to think and I unholstered my firearm and pointed it at her to drop the knife."
Sarder ordered the 32-year-old attacker to freeze until she was arrested by police.
Once the situation was under control, Sarder said a fellow GM employee ordered him to be removed from the site.
"He said, 'You shouldn't have had a firearm here. After this is done he needs to be escorted off the property. He's not welcome back here.' I was really bummed out. I got a little emotional," Sarder recalled.
The stabbing occurred just outside the main entrance of the central office building where the victim works. Police said the suspect came to see the employee, and what began as an argument in the lobby quickly turned into the scene Sarder witnessed.
Though the valet said initially he was hurt when he was told to leave the premises, he has no regrets about his actions.
"I would to do it all over again," Sarder said. "If I could save this woman's life over a job, I can get another job."
Local officials are hailing Sarder as a hero. Though GM refused to comment due to the ongoing investigation, the company released a statement denying that Sarder was ever fired.
"To our knowledge the valet remains an employee of the vendor," the statement read.
As of Thursday the victim was still recovering in the hospital from multiple stab wounds to her neck, back and abdomen.
Sarder told WJBK-TV he hopes his efforts were enough to save the woman's life.
"Maybe those few seconds before the police arrived could be the difference between life and death."
Watch:
---
(H/T: WJBK-TV)