A family grieving after a tragic car crash killed their two children last weekend recently made an astonishing discovery: a beautiful essay penned by 12-year-old Lesly De Luna one day before her death.
It has been a source of great comfort to her heartbroken relatives.
"You should never give up," read the 12-year-old's essay, "…you should always keep going."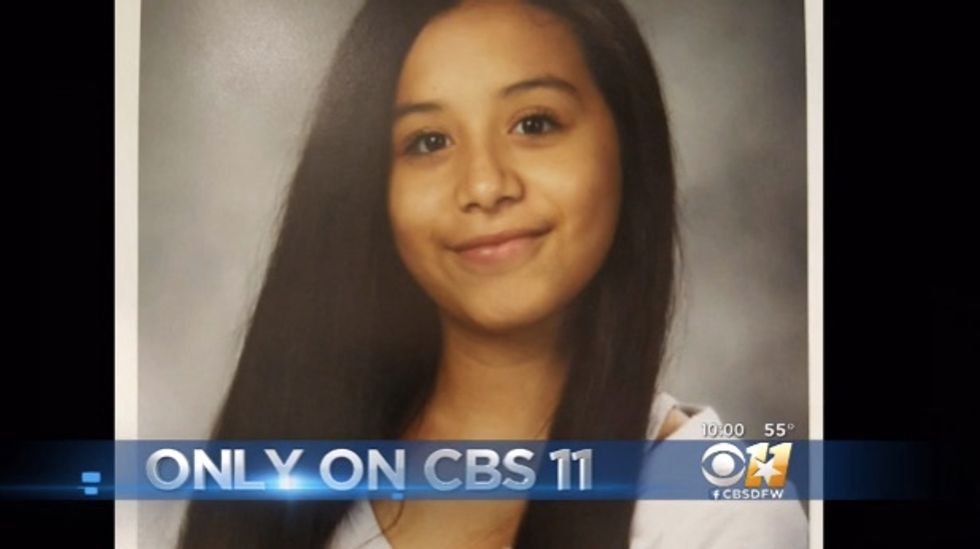 Lesly De Luna, 12. (Image source: CBSDFW-TV)
Now, De Luna's parents are clinging to the wisdom of their daughter's last written words.
Her father, Edgard De Luna discovered the essay at the bedside of his eldest child, according to CBSDFW-TV.
Lesly penned her essay inside a classroom at her Whitesboro, Texas school on Friday -- just one day before the deadly crash that killed her and her 7-year-old brother Edgar.
A vehicle slammed into the back of the family's minivan in Denton on February 6. Their youngest child, Carlito is still alive but remains on life support, CBSDFW-TV reported.
The children's father has requested that those who hear their story pray for his family.
"I want as many prayers as I can have, as many prayers you can do, just keep praying," Edgar De Luna told CBSDFW-TV.
Lesly's essay was part of a practice STARR test, a state standardized reading and writing exam.
With insight and sensitivity that surpasses many seventh graders, Lesly wrote about the sacrifices her family made after her grandmother died and that: "People go through hard times, sometimes, they end up hurt, either physically or emotionally, but they should always stay strong."
The bold advice proved astonishingly timely for her grieving relatives, a coincidence that Edgar De Luna believes was divinely orchestrated.
De Luna told CBS DFW that faith and his daughter's uplifting words are all that are keeping him from spiraling into complete despair.
"It doesn't matter what religion you are… doesn't matter what you believe," he said. "Just pray just pray for me, for my wife or my son, especially my son."
Watch:
---
(H/T: CBSDFW-TV)