GREENVILLE, S.C. — GOP presidential hopeful Ben Carson said he isn't sure if he's ever actually felt the need to own a gun, but he likes having one anyway.
"I don't know that I felt the need to have a gun, but I like having a gun," Carson said during CNN's GOP presidential town hall Wednesday night. "It's a nice thing. I have multiple marksmanship awards from ROTC and I am very much in favor of preserving those rights."
Asked what he would do to "preserve my rights to own a gun and also protect the American people," by an undecided voter at the town hall, Carson said the call to eliminate guns "makes absolutely no sense" especially in the wake of the terrorist attacks in San Bernardino and Paris.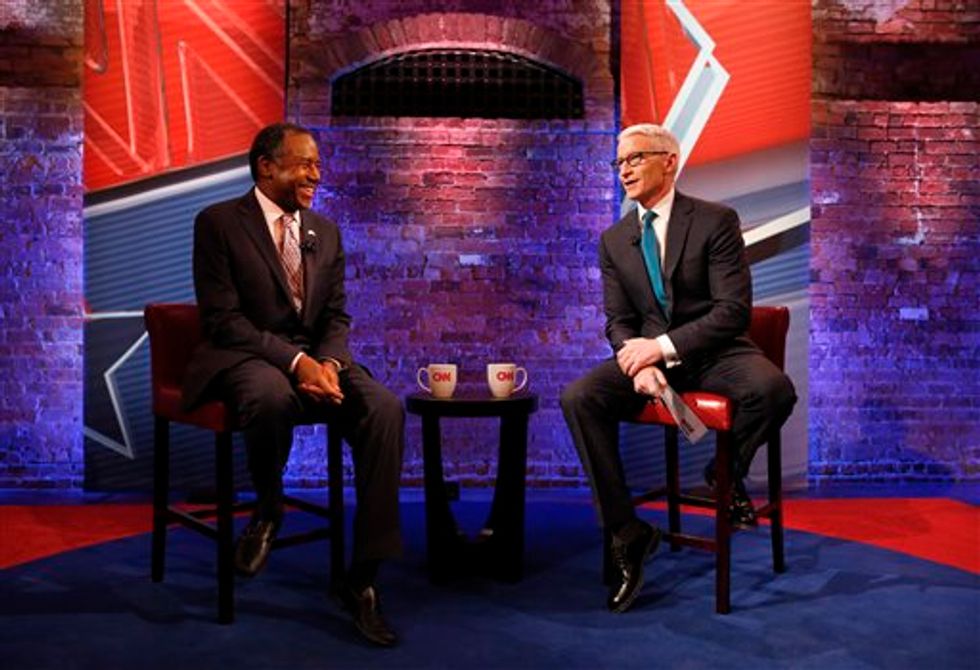 Republican presidential candidate Ben Carson talks with Anderson Cooper during a commercial break at a CNN town hall event, Tuesday, Feb. 16, 2016, in Greenville, S.C. (AP Photo/Paul Sancya)
"What they should be doing is offering free classes in gun safety to all the citizens who want to take it so they can protect themselves," Carson said while at the Old Cigar Warehouse in downtown Greenville. "It is a fundamental right that we have to be able to protect ourselves. But we also need to take safety into account, and as long as we do that in a reasonable way, I think your right, my right, all of our rights should be preserved."
"We've had guns for hundreds of years, and we've been free for hundreds of years," Carson said. "I think there may be a correlation there."
According to Real Clear Politics' aggregated polling data, Carson is polling in sixth at 6.2 percent among South Carolinians ahead of Saturday's primary.
Watch the video from the town hall:
.@RealBenCarson: "I don't know that I felt the need to have a gun, but I like having a gun" https://t.co/QcAalYCoal https://t.co/LNHTnIS8wr

— CNN Politics (@CNNPolitics) February 18, 2016
—
Follow Kaitlyn Schallhorn (@K_Schallhorn) on Twitter