Katrina Pierson, a spokeswoman for Republican presidential candidate Donald Trump's campaign, appeared on a new reality TV show, in which she got into a political debate where things quickly turned sour.
In the clip provided to BuzzFeed News, Pierson appears in "Sisters in Law," a new reality series on We TV about a group of black female attorneys in Texas. The scene was filmed in July 2015, a few months before Pierson joined the Trump campaign.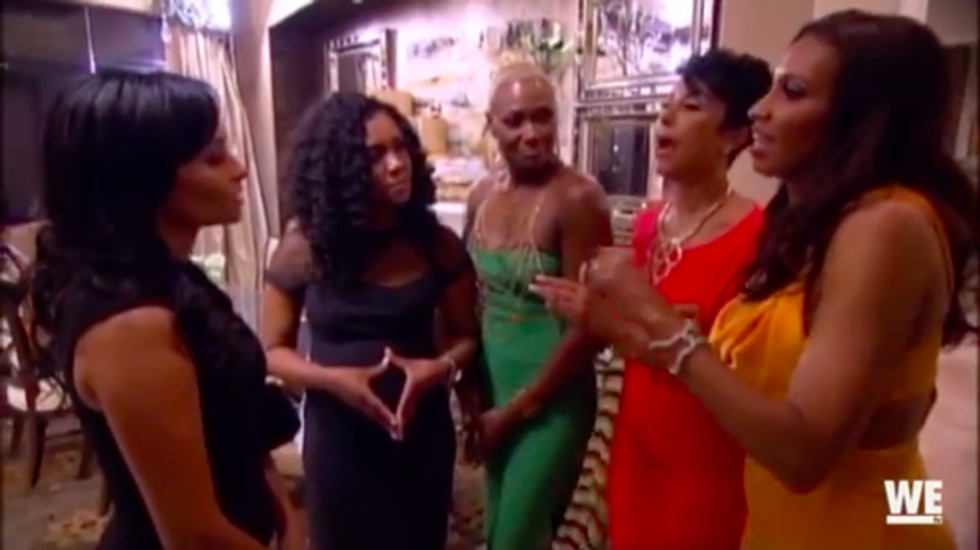 Image source: We TV/YouTube
In the video, Pierson is attending a fundraiser as a guest of one of the show's cast members and, moments after arriving, the conversation turned from small talk to a heated political debate.
"Katrina is a black Republican," Monique Sparks says, introducing Pierson to other cast members at the fundraiser.
Before Pierson can speak, cast member Rhonda Wills takes issue with her political affiliation.
"A Republican? That is like, to me, a dirty word. I can't even imagine being a Republican," Wills shot back.
Pierson, who was becoming seemingly agitated, responded, "That's the beauty of America. You know who founded the Republican Party of Texas, right? Black men."
Wills argued that the party's founding was during Reconstruction and cast member Juanita Jackson jumped in, telling the Trump spokeswoman that she "understands that the Republican Party was started by blacks, and Lincoln was a Republican, and everybody talks about it."
"Just like LBJ didn't give the great deal because he loved black people," Pierson said, possibly conflating President Lyndon B. Johnson's "Great Society" and President Franklin D. Roosevelt's "New Deal."
Wills, however, was quick to correct Pierson: "That was the Civil Rights Act, honey, not the 'great deal.' ... I'm just checking your facts." Moments later, Wills also seemed to conflate Johnson's and Roosevelt's presidencies, referring to Roosevelt's "Great Deal," instead of his "New Deal."
At one point in the clip, Jackson says she feels bad for Pierson because she "can't get a word in," adding that Wills "stopped listening and started yelling."
"She is so dumb. I've spent most of my career making sure that people's rights that were given to them under the Civil Rights Act, that they actually have those rights, that they can utilize those rights," Wills said later. "And this idiot comes into my house, and she doesn't even know what it is, and she thinks it's called the 'great deal.'"
Sparks, who was frustrated by the entire situation, later said Wills' treatment of Pierson was "almost like discrimination" and it "pissed me off."
Ultimately, Wills asked Pierson to leave: "It's my house, and I'd like you to leave."
"I've tolerated you, your ignorant opinions, your lack of education, and your lack of knowledge on very basic things like the Civil Rights Act," Wills said. "I'm now sick of hearing from you, and I want you to leave. Goodbye!"
Watch the video:
—
Follow the author of this story on Twitter: