COLUMBIA, S.C. — Sen. Tim Scott (R-S.C.) called it "Marco-mentum" as Florida Sen. Marco Rubio addressed supporters, flanked by the state's top elected official and the University of South Carolina men's basketball coach Frank Martin, one day ahead of the South Carolina primary.
"We can't lose this election or we'll lose the future, and America will remain a great nation in decline," Rubio told a ballroom of about 200 people Friday morning with less than 24 hours to go before voting begins in the first-in-the-South contest.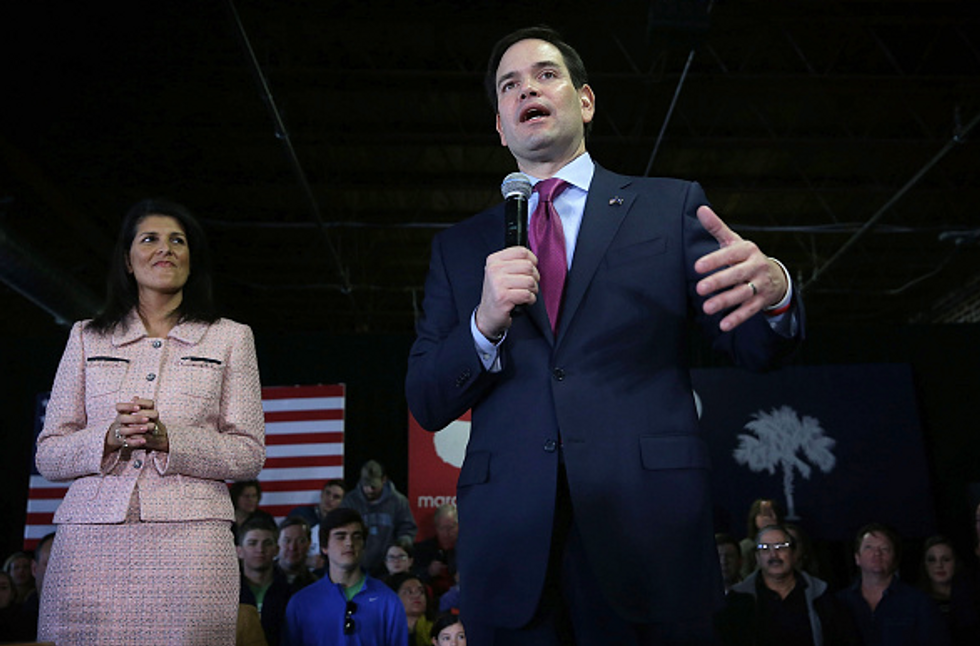 Republican presidential candidate Florida Sen. Marco Rubio speaks as South Carolina Gov. Nikki Haley looks on during a campaign event Thursday in Greenville, South Carolina. Rubio received an endorsement from Haley just days prior to the state's GOP primary. (Alex Wong/Getty Images)
Rubio stressed that he is "the only candidate who can unite this party and unite the conservative movement. But it's not enough to unite. We've got to build."
South Carolina Gov. Nikki Haley, an Indian-American, and Scott, an African-America, stood with Rubio, as did Rep. Trey Gowdy (R-S.C.).
"This is the new face of the Republican party," Haley said, telling the enthusiastic room, "Tomorrow is go time. You know what we do in South Carolina? We make presidents. Tell 10 people. Get on social media. All you need is a picture ID to vote."
Some recent polls have shown that Rubio has pulled into second place, behind New Hampshire primary winner Donald Trump but ahead of Iowa caucus victor Texas Sen. Ted Cruz.
Rubio said America is strong now, but "if we stay on the road we are on now, we will go in a very different direction." This generation is on track to leave the next generation worse off, he said.
"That will be what happens if we lose this election, it's not just that we are angry the other team won. That's the consequence if Hillary Clinton or Bernie Sanders wins," Rubio said.
Rubio referred to a poll showing Sanders, a Vermont senator, beating Clinton, a former secretary of state by thee points.
"The leading Democratic candidate is a socialist. Most people deny they are a socialist. He says it in campaign commercials," Rubio said. Of Clinton, he said, "The other Democratic candidate is not qualified to be president."