WELLINGTON, New Zealand (AP) — Fijians were finally able to venture outside Monday after authorities lifted a curfew but much of the country remained without electricity in the wake of a ferocious cyclone that left at least six people dead and destroyed hundreds of homes.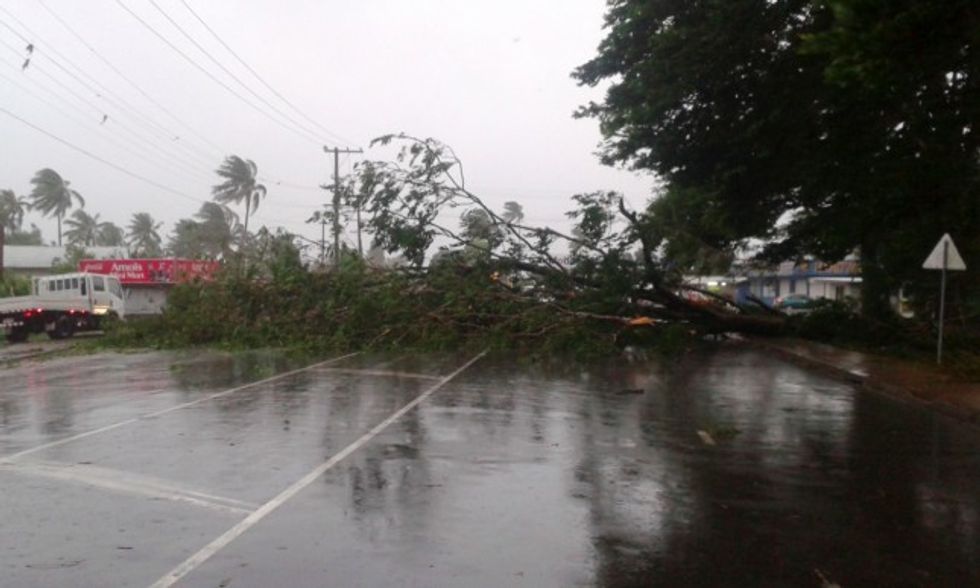 A tree blocks a road after it was blown down by the encroaching cyclone Winston in Nakasi, Fiji, Saturday, Feb. 20, 2016. (Jonacani Lalakobau/Fiji Times via AP)
Officials were scrambling to restore services and assess damage in remote parts of the Pacific Island chain.
Winds from Cyclone Winston, which tore through Fiji over the weekend, reached 177 miles per hour, making it the strongest storm in the Southern Hemisphere since record-keeping began, according to the Weather Underground website.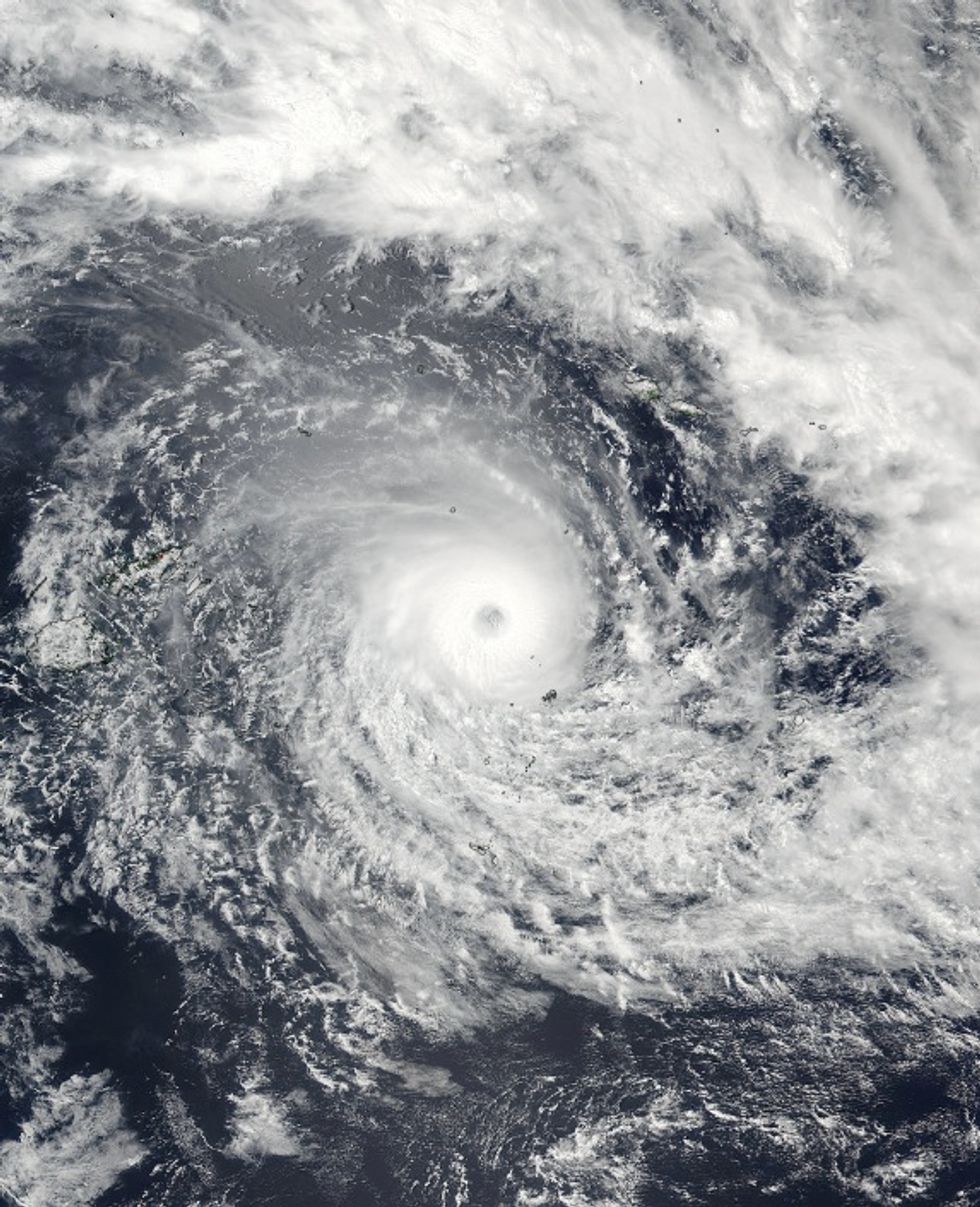 This Feb. 19, 2016, satellite image released by NASA Goddard Rapid Response shows Cyclone Winston in the South Pacific Ocean. (NASA Goddard Rapid Response/NOAA via AP)
The government imposed the curfew on Saturday night and lifted it at 5:30 a.m. Monday. A 30-day declaration of a state of natural disaster remains in effect and empowers police to make arrests without warrants.
In a televised address to the nation on Sunday, Prime Minister Voreqe Bainimarama said many people had been left without power, fresh water or communications.
"The damage has been widespread, homes have been destroyed, many low-lying areas have flooded, and many people have been left stunned and confused about what to do," he said.
He said that the police and military had been brought in to help with rescue operations and the general cleanup, and that government agencies were working overtime to clear roads and restore power.
"This is a time of sorrow, but it will also be a time of action," Bainimarama said. "We will stand united in the face of this disaster."
Officials were trying to establish communications and road access to the hardest-hit areas, and said they would not know the full extent of the damage and injuries until then.
George Dregaso of Fiji's National Disaster Management Office said that two people on Ovalau Island died when the house they were sheltering in collapsed on them, and that another man was killed on Koro Island, although it wasn't clear how he died.
Authorities also said three people on the main island of Viti Levu were killed in the storm, but didn't have more details.
Tourism Minister Faiyaz Siddiq Koya said that all tourists in Fiji were safe and that there was no significant damage to the majority of hotels on the main island. Fiji is a popular tourist destination, known for its beach resorts and scuba diving.
Fiji is being hit by one of the strongest tropical cyclones ever recorded in the southern hemisphere. #7News
https://t.co/audPvPHw0F

— 7 News Queensland (@7NewsQueensland) February 20, 2016
Cyclone Winston hit Fiji on Saturday and moved westward overnight along the northern coast of Viti Levu. Fiji's capital, Suva, located in the southern part of the main island, was not directly in the cyclone's path and avoided the worst of its destructive power.
"Truth be told, we've gotten off pretty lightly here in the capital," said Alice Clements, a spokeswoman for UNICEF. "It was still a pretty awful night. You could hear crashing trees and power lines, and popping rivets as roofs got lifted and ripped out."
She said there was foliage everywhere that looked like it had been put through a blender.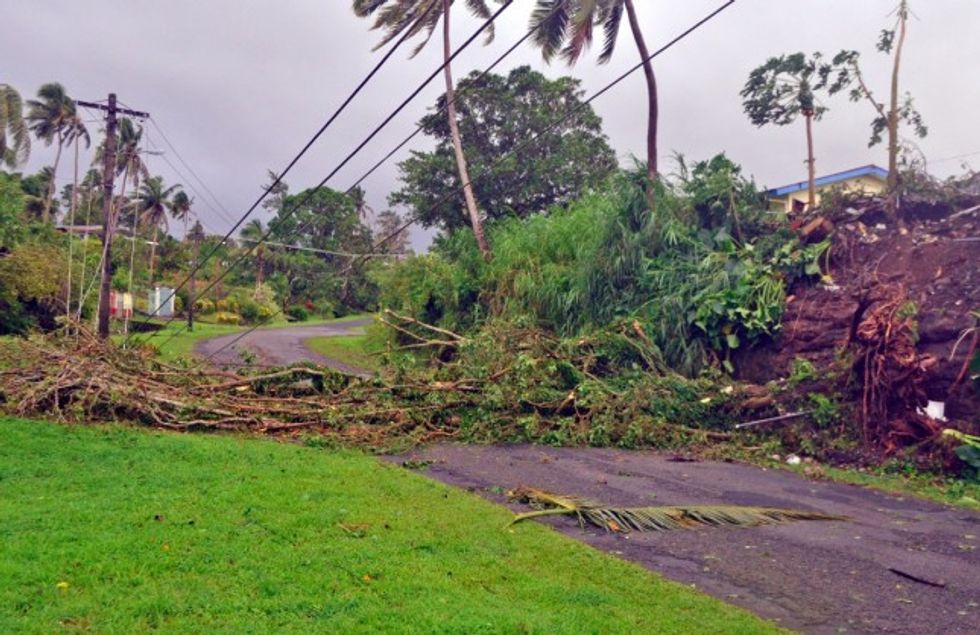 A tree lays across a road and power lines in Lami, Fiji, Sunday, Feb. 21, 2016, after cyclone Winston ripped through the country. (Jonacani Lalakobau/Fiji Times via AP)
About 80 percent of the nation's 900,000 people were without regular power, although about one-third of them were able to get some electricity from generators, said Dregaso, the disaster office official. Landlines throughout Fiji were down, but most mobile networks were working.
Dregaso said 483 people evacuated their homes and were staying in 32 emergency shelters. He said he expected the number of evacuees to rise.
Authorities said that all schools would be closed for a week to allow time for the cleanup, and that three universities would be closed until further notice.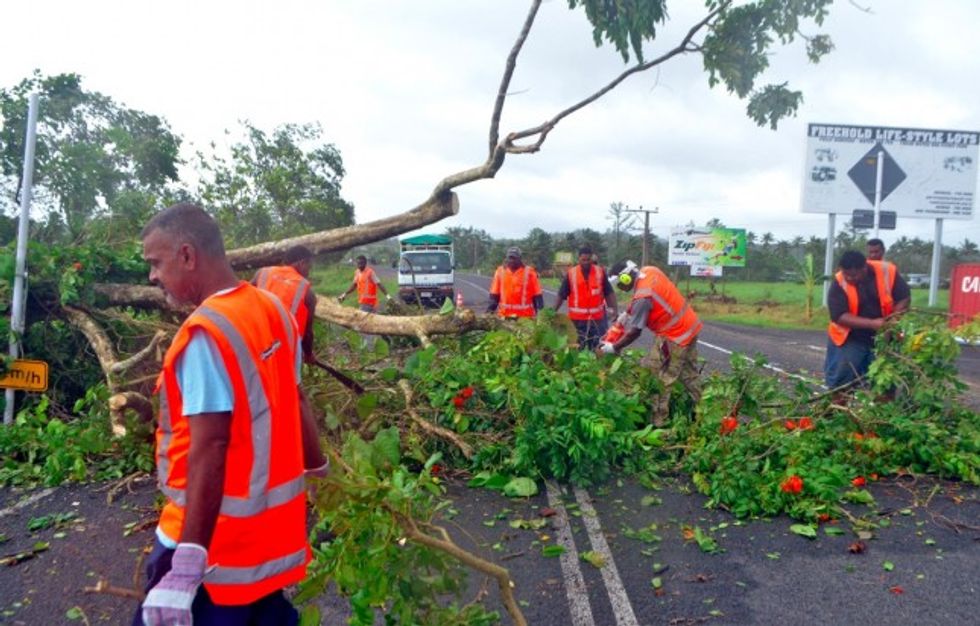 Road workers remove a fallen tree blocking a road near Lami, Fiji, Sunday, Feb. 21, 2016, after cyclone Winston ripped through the country. (Jonacani Lalakobau/Fiji Times via AP)
Clements, the UNICEF spokeswoman, said there was particular concern for people on the northern part of the main island and on smaller islands. She said that many would have lost their homes and livelihoods, and that some tourist resorts on the outer islands may have been damaged.
The airport reopened Sunday to allow emergency flights, Dregaso said. Many flights had been canceled the day before.