© 2023 Blaze Media LLC. All rights reserved.
Taylor Swift Donates $250,000 to Support Fellow Singer Kesha 'During This Trying Time
Other industry giants have also pledged their support for Kesha, who alleged that producer Dr. Luke drugged and raped her.
Though Taylor Swift paid little attention to Kanye West's pleas for financial aid last week, the Grammy-winning artist is clearly willing to shell out a lot for her true friends in the music industry.
Swift has contributed $250,000 to help her friend and fellow artist Kesha with any "financial needs" after a judge decided to uphold the singer's recording contract with Dr. Luke and Sony.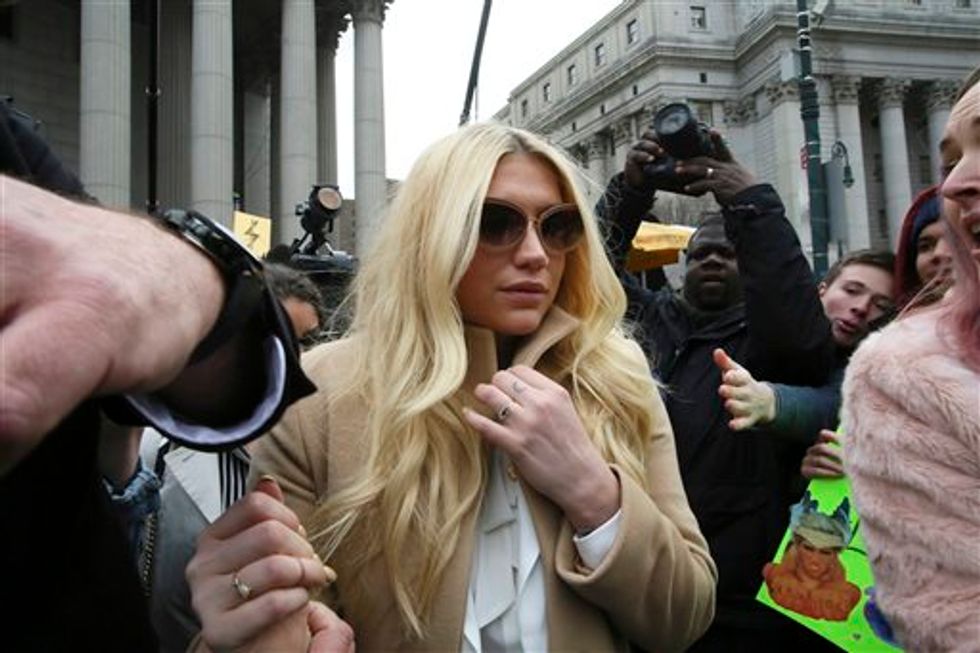 Pop star Kesha leaves the state Supreme Court in New York, Friday. (AP Photo/Mary Altaffer)
"In a show of support, Taylor Swift has donated $250,000 to Kesha to help with any of her financial needs during this trying time," a spokesperson for Swift told Billboard.
Other industry giants such as Lady Gaga, Ariana Grande, Lorde, Demi Lovato and many others have also pledged their support for Kesha, who alleged that songwriter/producer Dr. Luke (Lukasz Gottwald) drugged and raped her a decade ago. She claimed that the emotional abuse she experienced working under Dr. Luke ultimately led to an eating disorder, according to the Washington Post.
There are people all over the world who love you @KeshaRose. And I can say truly I am in awe of your bravery.

— Lady Gaga (@ladygaga) February 19, 2016
My heart is with @KeshaRose.

— Ariana Grande (@ArianaGrande) February 19, 2016
standing with @KeshaRose through this traumatic, deeply unfair time. send good vibes her way everyone

— Lorde (@lorde) February 19, 2016
#FreeKesha this is only gonna make you stronger, you brave and beautiful girl. Prayers are with you @KeshaRose

— Demi Lovato (@ddlovato) February 20, 2016
Kesha's initial suit requested that she be released from her contract, which states that she is to record her next six albums with Dr. Luke's label, Kemosabe. Dr. Luke filed his own countersuit, claiming that the abuse allegations were merely an attempt to get out of the contract.
Kesha's recording contract with Dr. Luke was upheld in court Friday.
Dr. Luke and Sony have said that the singer may work with another producer on upcoming albums to fulfill her contract, but Kesha refused the offer.
"My instinct is to do the commercially reasonable thing," New York Supreme Court Justice Shirley Kornreich said Friday.
Judge Kornreich said Kesha's filing would require the court to "decimate a contract that was heavily negotiated and typical for the industry."
Kesha's lawyer argued that the producer's offer to allow the singer to work with another producer is moot, as her new music is unlikely to be supported or promoted by Sony, the Washington Post reported.
Kesha and her supporters have asserted that her career and artistic independence are at the mercy of her alleged abuser.
The trending hashtag #FreeKesha has emerged since the court's decision Friday.
Perhaps the most interesting comments regarding the case came from pop singer Kelly Clarkson, who tweeted Friday:
Trying 2 not say anything since I can't say anything nice about a person... so this is me not talking about Dr. Luke https://t.co/lLhtUHbmgG

— Kelly Clarkson (@kelly_clarkson) February 19, 2016
The case is far from over. It remains to be seen what actions Kesha and Dr. Luke will take in the weeks and months following the ruling. For now, Kesha has voiced that she is grateful for the support:
thank you for all the support in my legal case animals. i love all of you. it's meant the world to me. xoxo pic.twitter.com/arHNPSxFs8

— kesha (@KeshaRose) February 18, 2016
(H/T: Washington Post)
Want to leave a tip?
We answer to you. Help keep our content free of advertisers and big tech censorship by leaving a tip today.
more stories
Sign up for the Blaze newsletter
By signing up, you agree to our
Privacy Policy
and
Terms of Use
, and agree to receive content that may sometimes include advertisements. You may opt out at any time.