A South Carolina high school teacher was placed on administrative leave last week after hosting an off-campus poetry reading. Now, current and former students are demanding that the school reinstate him.
Greg Fish, who teaches a handful of English classes and is in charge of the yearbook committee at Easley High School, reportedly held a "poetry round table" for his advanced placement literature students at the Starving Artist Café in Easley, South Carolina.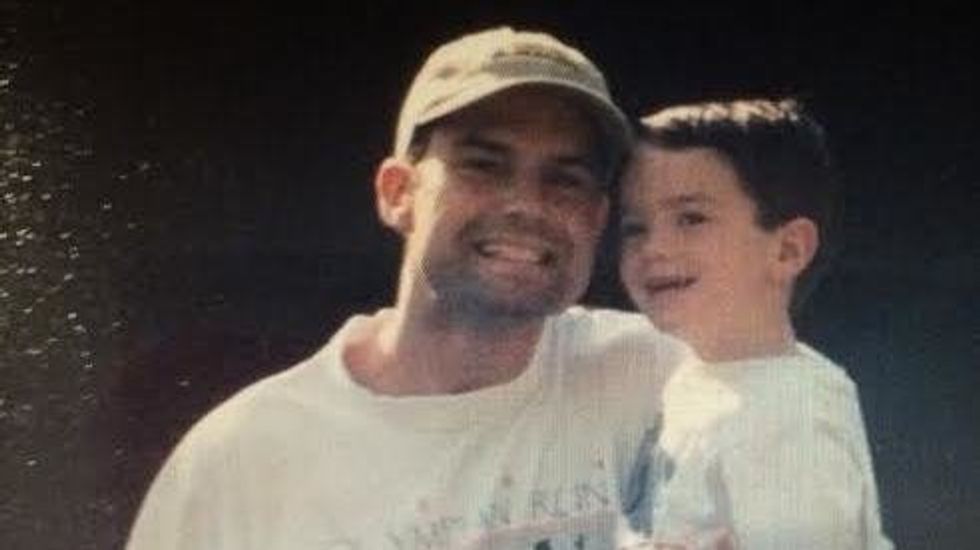 Image source: Change.org
One petition created by Dylan Cassell offered a description of the event: "The activity involved reading anonymous, student-made poems and guessing the author of each. Profanity was allowed, and it was a college-level course."
Last week, administrators received a complaint about one poem that Fish shared during the poetry reading that allegedly contained the F-word. The school district was forced to take action.
A release from the Pickens County School District, reported by WYFF-TV, said:
The district administration followed its standard procedure by placing [Fish] on leave in order to investigate the allegations. The teacher will not be returning to the school or classroom. As always, the district's primary focus is the education and welfare of its students.

The administration will do everything necessary to make sure students have the academic support that is needed for the remainder of the school year.
According to Cassell, Fish's poem "was not directed at anyone, nor was it said orally. Its purpose was purely to open people's minds."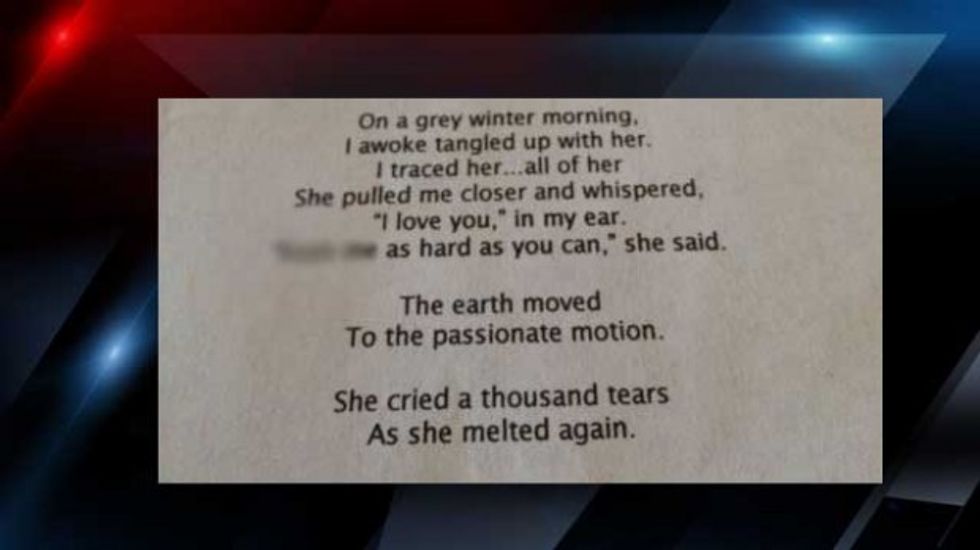 Image source:
WHNS-TV
The decision to suspend Fish prompted multiple online petitions, one of which had gained more than 2,700 signatures as of Monday morning.
"Mr. Fish was not only a teacher to his students, but also a mentor," the petition's description read. "He has positively influenced every student he has come across in the past 15 years of teaching at Easley High School. The students need Mr. Fish to come back and teach. Without him, many classes and organizations will fail."
#fightforfish <>< pic.twitter.com/tfl2GRGxz9

— Garret Harper (@garret9harper) February 28, 2016
Students at EHS have scheduled a sit-in for Tuesday morning, according to the "Fight For Fish" Facebook page, which had received more than 700 likes as of Monday morning. The hashtag #fightforfish was also gaining popularity on Twitter.
"Support page for Mr. Fish. Censorship causes blindness," the Facebook page description reads.
Since the decision to suspend Fish was made, the reactions from current and former students have been overwhelming.
Former EHS student Tim Riehm, class of 2010, now a senior at Clemson University, shared his thoughts in a blog post titled "I Don't Feel Bad for Fish," in which he jokingly called the teacher "the coffee-crazed, Hemingway nut who somehow, after ripping them a new one each year, still got his students to say that it was one of their favorite (if not their favorite) classes ever."
The post continued:
Fish forced us to have an opinion, which is sometimes difficult for high school students who, up until then, had been told what to say, how to say it, and finally how to regurgitate it for a grade. So, I think I speak for the majority when I say that we were a little taken aback when Fish walked into class each morning with a full pot of coffee (all for him) and a childish smile on his face that said, 'Oh, you're in for it today, but man, are you going to enjoy it.'

...

But I don't feel bad for Fish. I feel bad for the students who got a taste of his class and won't get to finish it. I feel bad for the students who will never know what it's like to be inspired through literature the way Fish could. I feel bad for the person who brought this allegation forward and for the parents who, in a sad attempt to shelter their child, bit off a little more than they wanted to chew. I feel bad for the school district of Pickens County because this is a major step backward in censorship – in stifling the discussion of important things because someone could get offended.
#FightForFish (creds to @LauraMunso) pic.twitter.com/MrQQhTSmE9

— Liza Joudeh♕ (@lajoudeh07) February 29, 2016
TheBlaze reached out to former EHS students, asking if they would share their own Fish stories. The response was overwhelming:
I never actually had Fish as a teacher, which I seriously regret, but he was the man who helped me write my graduation speech. Without his help, I would have never told our graduating class about the importance of crayons and how they can impact your life. He helped me to write a speech that people still to this day remember and ask me about. He knew I wasn't a great writer, but he helped me seek the words that would make a lasting impact on our class. Teachers like Fish rarely exist anymore, and I hope that he will continue to educate young people to think, and believe in themselves, like he taught me. -Grace Grindstaff, class of 2009
Mr. Fish gave me hope in our school system. He proved that some teachers still had passion for their students. It was never just a job to Mr. Fish, it was a life calling. Whether you took his course or not, there was something we all learned from Mr. Fish and that was to always express yourself and to own who you are no matter what society says and to always reach out to those who feel their opinions don't matter. I believe I speak for all past and present EHS students when I say we are here NOW expressing those opinions in spite of what the Pickens County School District has to say. -Kristen Roberson, class of 2010
I sat in Greg Fish's classroom for the entirety of my sophomore year of high school. We read 19 novels that year. We listened to countless songs. We learned how to interpret and analyze anything that we read. I remember his boldness in the way he taught. I remember his passion, his fire, his unwavering love for Hemingway. And I left that year more thankful for an English class than I ever thought possible. I left a little bolder, more passionate, more firey, and with a lot more love for that Hemingway guy. I left refusing to accept things for what they appeared to be on the surface. I left being empowered to think for myself and I left behind the notion that school was just hours spent stuffing my brain full of facts to regurgitate later for a test. Fish played a part in changing the trajectory of my life and that's something I'll be eternally grateful for. -Abi Thompson, class of 2008
I still own every novel that Fish taught in my 10th grade class, every journal we kept, every big assignment we produced. I was always very proud of the work I created and accomplished for his class. As a "straight A" honor student, I never felt overly challenged in school, except for in his class. I shed tears, pulled all nighters, and poured my heart and soul into that class. It was harder than all but a couple of my Clemson University courses. Yet I still to this day call it my favorite class. My own students know of Mr. Fish's name, and while we teach in very different worlds (I teach a middle school special education class for students with emotional disabilities), my students are also exposed to literature he exposed me too. My students have gotten a piece of Fish's legacy because, like all students he has inspired and taught, I have carried on pieces of what he taught me into my own life. I am proud to be an educator like Greg Fish, and I proud to support and fight for him now. -Kaycee Bowick, class of 2010
I went through many tough times during my high school career, and Mr. Fish was not only an effective teacher at opening our minds, but he was also a mentor for me and the other students that he taught. Regardless of what has happened, he was caring and compassionate to those around him and inspired many to push themselves beyond their limits. It saddens me to hear that the opinion or offense of this one parent and student has been catered to rather than the hundreds of others who know him so differently. There will be students in the future who will severely lack the determination and open-mindedness that are forged through experiencing the curriculum and environment that Mr. Fish has created. I strongly encourage the administration and those responsible for his leave to reconsider. -Melissa Chelak, class of 2010
Fish is married with two sons, according to Cassell's petition. His wife is a teacher for the mentally impaired. One of Fish's sons attends the University of South Carolina, and another will attend Tri-County Technical College.