Texas Sen. Ted Cruz, winner of the Iowa Republican caucus, said Tuesday morning that if Florida Sen. Marco Rubio, Ben Carson and Ohio Gov. John Kasich are not victorious in at least one Super Tuesday state, then they should suspend their presidential campaigns.
"Tomorrow morning, if a candidate is sitting there having won zero states, if a candidate is sitting there with very, very few delegates, I do think what today will do is help narrow the field," Cruz told Mike Gallagher on "The Mike Gallagher Show."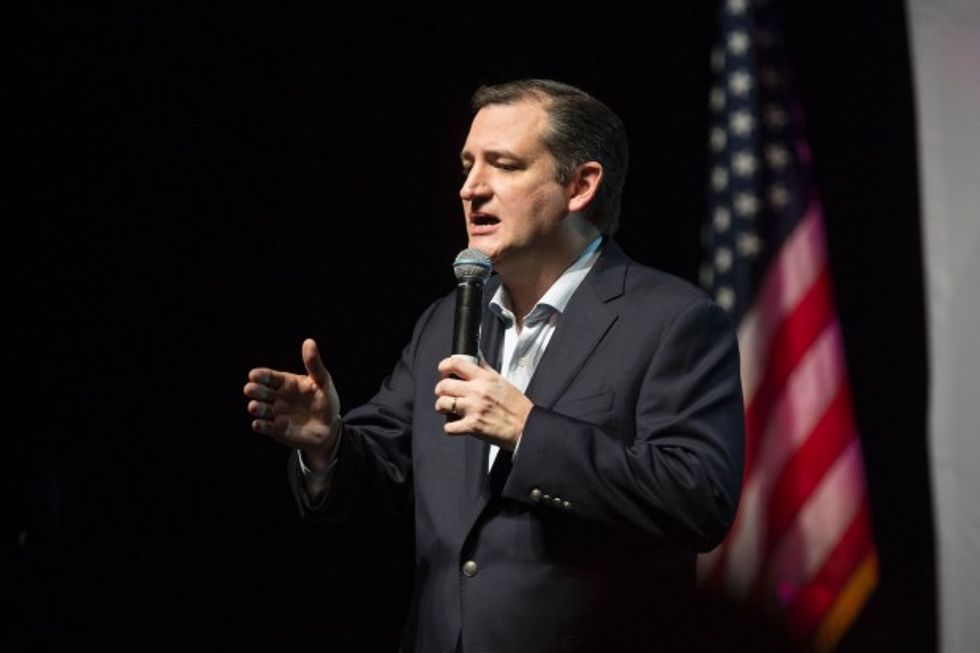 Ted Cruz speaks at a presidential campaign rally in Dallas, Texas, Monday. (Getty Images/Laura Buckman/AFP)
"We need to get to a one-on-one battle with Donald Trump. Head to head with Donald Trump, not only do I beat him, but I beat him resoundingly by 16 points, 56 to 40, because Donald has a hard ceiling of 35 to 40 percent. He's benefiting from a fractured field," Cruz added, referring to an NBC/Wall Street Journal poll from last month.
The Texas senator then dialed his focus in on Rubio, his closest competitor. He said that Rubio, who is seen as the GOP's establishment candidate, does not have a pathway to the Republican nomination.
"He is a very talented individual, but Marco does not have any viable path whatsoever to beat Donald Trump," Cruz said. "In the first four states, he has gone 0-for-4. He has not won a state."
Cruz went on to say that he is expecting to win in his home state of Texas, which also awards the greatest number of delegates Tuesday: 155 of 595 at stake. Cruz is currently leading big in the Lone Star State, according to a Monmouth poll released last week, 38 percent to Trump's 23 percent.
Rubio, on the other hand, is trailing in his home state of Florida. According to a Quinnipiac poll released Monday, Rubio is behind Trump in the Sunshine State, 44 percent to 28 percent.
Republicans have 11 states up for grabs on Super Tuesday.
Listen to Cruz's full interview here.
—
Follow the author of this story on Twitter and Facebook:
[facebook //www.facebook.com/plugins/like.php?href=