Florida Sen. Marco Rubio has won Minnesota — not only his first state on Super Tuesday, but his first state thus far in the primary season.
The win in Minnesota should build some momentum for the Rubio campaign as he has struggled to even come in second-place in many states on Tuesday. Minnesota has 38 delegates up for grabs, but Rubio would have needed to garner 80 percent of the statewide vote in order to completely sweep those delegates.
According to the Associated Press, Texas Sen. Ted Cruz will finish in second-place in Minnesota, followed by businessman Donald Trump. Along with Rubio, Cruz and Trump appear to have made it over Minnesota's 10 percent threshold for delegates.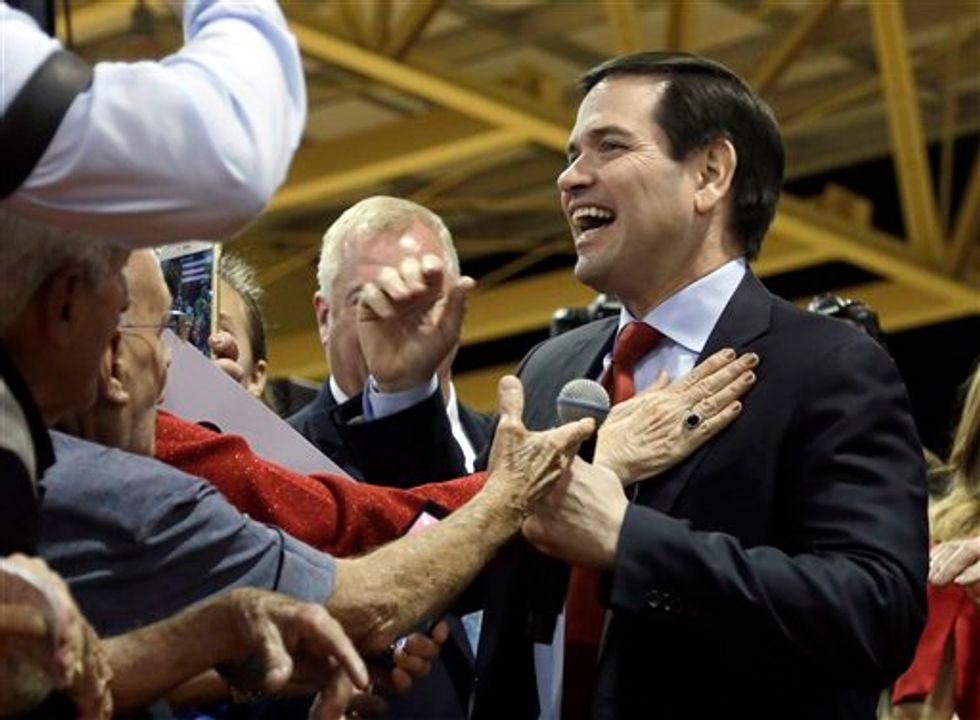 Republican presidential candidate, Sen. Marco Rubio, R-Fla., arrives at a campaign rally, Tuesday, March 1, 2016, in Miami, on Super Tuesday. (AP Photo/Alan Diaz)
Minnesota was the only state won by former Vice President Walter Mondale (D) in Ronald Reagan's landslide presidential victory in 1984.
The Rubio campaign looked like it would get its first win early on in Virginia as he had a strong showing in areas around the Beltway. However, Trump was eventually projected as the winner and subsequently got 16 delegates, according to the Associated Press. Rubio took away 14 delegates from Virginia.
Rubio has also received six delegates in Oklahoma and five delegates in Massachusetts thus far. He currently has a total of 41 delegates which places him in third-place behind Trump and Cruz.
Despite his lack of wins Tuesday night, Rubio maintained that his campaign would have better luck in future states during an interview on CNN Tuesday night.
Speaking to his supporters at a rally in Miami, Florida Tuesday, Rubio said he "accepts" that his campaign is an "underdog" in the presidential election.
"But we will win," Rubio promised. "And when we do, we will do what needs to be done, and our children will be the freest and most prosperous Americans that have ever lived."
Self-proclaimed democratic socialist Sen. Bernie Sandes (I-Vt.) is the projected winner of Minnesota on the Democratic presidential side.
—
Follow Kaitlyn Schallhorn (@K_Schallhorn) on Twitter