Following his scathing speech against GOP presidential front-runner Donald Trump Thursday, 2012 Republican presidential nominee Mitt Romney has instructed his advisors to explore ways to stop the billionaire businessman at the Republican National Convention in July.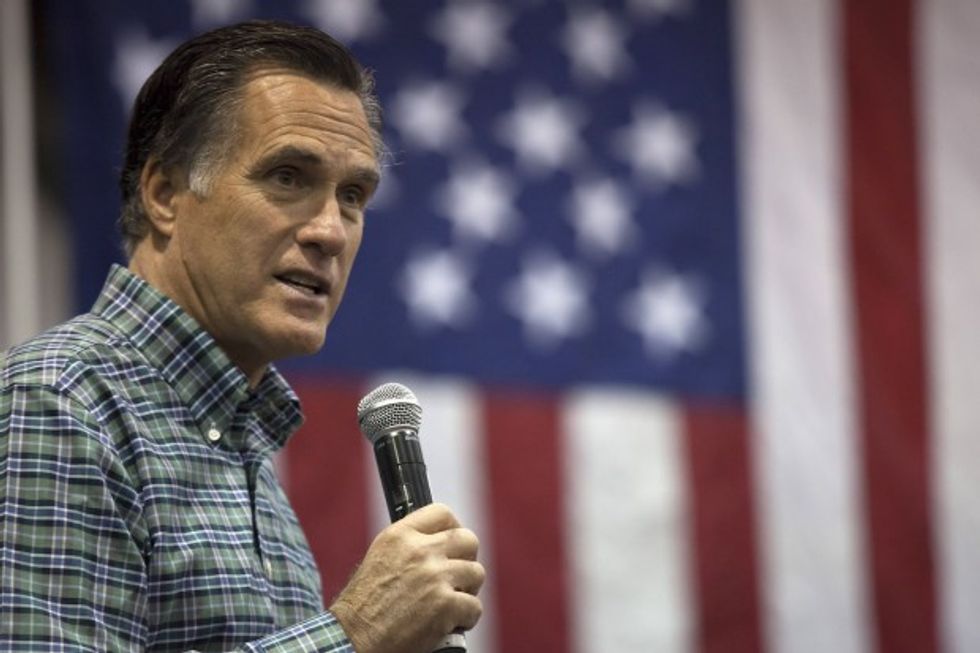 David Ryder/Getty Images
Romney's team is exploring what a convention fight would look like and what it would take to successfully topple Trump at the convention in Cleveland, Ohio, a source close to Romney's senior advisors told CNN.
"It sounds like the plan is to lock the convention," the insider said.
The former GOP nominee's main goal is keeping Trump from reaching the 1,237 delegates required to secure the Republican Party's presidential nomination. And, if nothing works, Romney's insiders are saying he is willing to fight it out on the convention floor.
Romney requested that his team examine the possibility of a fight in Cleveland, expressing his willingness to step in as the Republican Party's nominee in the general election.
During his speech Thursday morning, Romney urged listeners to vote for Republican Sens. Ted Cruz (Texas) and Marco Rubio (Fla.) and Republican Gov. John Kasich (Ohio) in places where they poll as Trump's greatest adversary.
However, Romney does not believe any of the three men can successfully secure enough delegates to deny Trump the nomination before the GOP convention.
Two senior Republican insiders told CNN that the brokered convention scenario is dominating a lot of conversation within GOP fundraising circles, but both sources are skeptical about Romney's ability to execute the plan.
Should Romney's team carry through with the plan, both GOP insiders believe Trump will likely launch a third party run.
UPDATE 7:35 p.m. ET:
Fox News anchor Greta Van Susteren broke news Thursday evening from a Romney source claiming that any plans for the former Republican nominee to challenge Trump at the convention are "not true."
JUST IN: @Greta breaks news on air that Romney source says reports of Romney drafting plans to stop Trump at convention are "not true."

— Tré Goins-Phillips (@tregp) March 4, 2016
—
Follow the author of this story on Twitter: