The Supreme Court ruled in the landmark 2014 Greece v. Galloway case that prayer at government meetings is entirely permissible, so long as individuals of all faiths are permitted to have a voice at the table.
But that ruling has done little to temper the storm over opening invocations, as atheists and satanists have repeatedly demanded that they, too, be given the opportunity to "pray" before government meetings.
The latest squabble over prayer unfolded on Thursday after atheist Juan Mendez, a Democratic member of the Arizona House of Representatives, opened a meeting with an invocation that was patently rejected by Republicans over Mendez's failure to cite a higher power.
The representative, who was previously denied the opportunity to deliver a prayer last month, mentioned a variety of elements in his secular invocation, including a call to "honor the Constitution and the secular equality it brings," the Associated Press reported.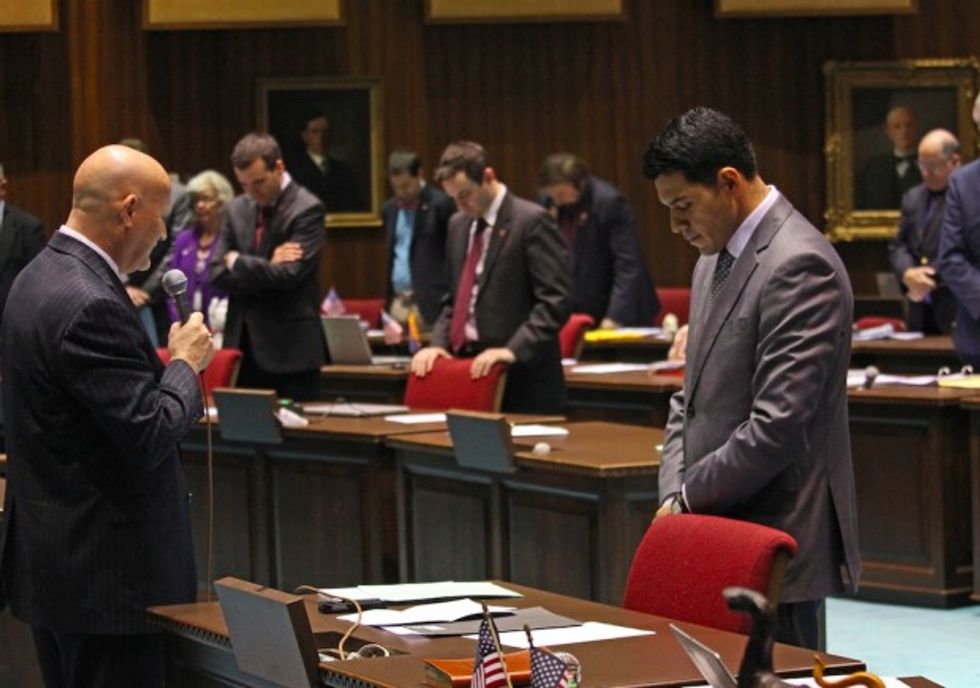 Republican Majority Leader Steve Montenegro, right, bows his head as the Rev. Mark Mucklow, left, gives the invocation at the beginning of the Arizona House of Representatives session in Phoenix on Thursday, March 3, 2016. (AP Photo/ Bob Christie)
House Majority Leader Steve Montenegro said after the prayer that Mendez failed to invoke God and, as a result, the prayer did not meet the chamber's standards. Then, a Baptist minister was called up to deliver what Republicans deemed a proper prayer — one that referenced God.
"At least let one voice today say thank you, God bless you," the Rev. Mark Mucklow proclaimed at the close of his prayer.
Numerous Republicans stood up to make their opposition to Mendez's comments more than known.
"You know what it looks like, you know what it is, it has a long-standing tradition," Rep. Warren Peterson said. "We also know what it looks like when somebody is desecrating and mocking someone else's beliefs."
Rep. Mark Finchem added, "I'm saddened and offended that a member of this body would knowingly disregard our call for prayer and our House rules."
This isn't the first time that Mendez has made headlines, as the politician shocked his peers in 2013 when he revealed during an opening prayer that he's an atheist. Rather than commencing the session by appealing to Jesus or to a more general and benign "god," Mendez took the opportunity to speak explicitly about his secularism.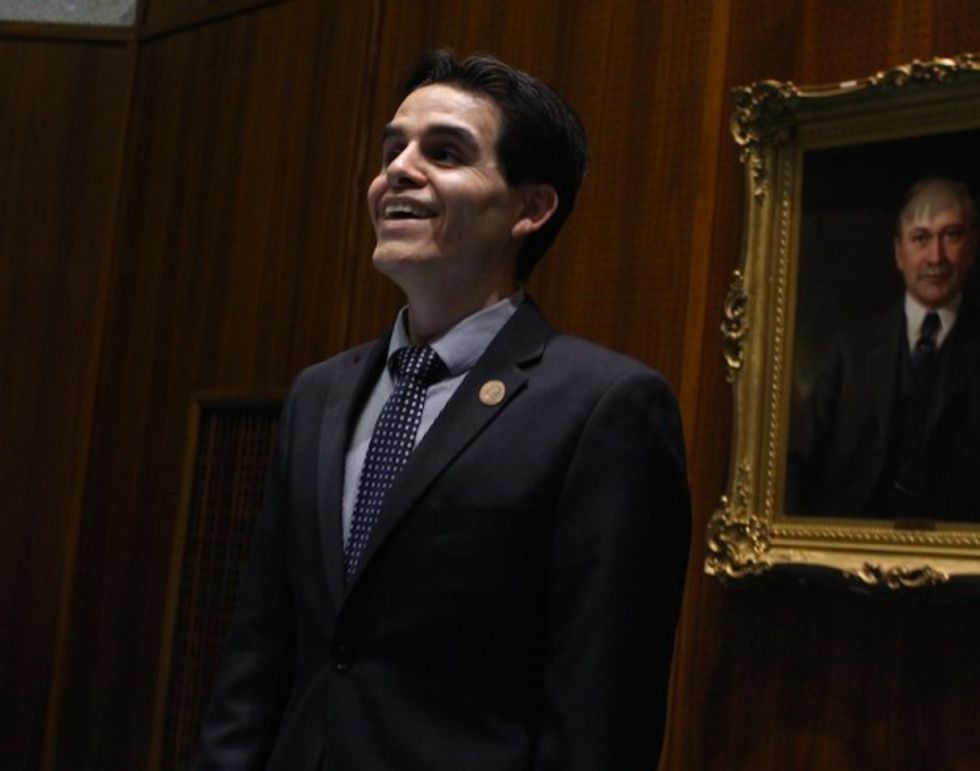 Democratic Rep. Juan Mendez stands at his desk in the Arizona House of Representatives on Thursday, March 3, 2016 in Phoenix. Mendez, an atheist, delivered the opening prayer, but it was rejected by Republican Majority Leader Steve Montenegro because he didn't invoke God and a Christian prayer was then delivered. (AP Photo/Bob Christie)
"Most prayers in this room begin with a request to bow your heads. I would like to ask you not to bow your heads," the politician said at the time. "I would like to ask that you take a moment to look around the room at all of the men and women here, in this moment, sharing together this extraordinary experience of being alive and of dedicating ourselves to working toward improving the lives of the people of our state."
As TheBlaze has reported, prayer at public meetings continues to be a contentious subject, with the Supreme Court ruling in Greece vs. Galloway case that opening invocations do not violate the U.S. Constitution — even if invocations sometimes stress Christianity.
The 5-4 decision in Greece vs. Galloway offered a win to the town of Greece, New York, a suburb of Rochester that had been defending prayers routinely offered at its meetings. The ruling fell in line with a 1983 decision that dealt with a similar scenario in the Nebraska legislature.
The Supreme Court majority ruled in the Greece case that offering prayers is constitutional so long as government officials make an effort to be inclusive of all faiths, though CNN reported at the time that the ruling was specific to Greece and gave little guidance to other communities grappling with similar issues.
--
Follow the author of this story on Twitter and Facebook: