An MSNBC reporter was caught on camera telling a Hillary Clinton campaign staffer a question she was going to ask during a live interview on Sunday evening.
In the spin room following the Democratic presidential debate, reporter Kristen Welker seemed to be unaware that she was on live television when she told Jen Palmieri, director of communications for Clinton's campaign, "I'm going to ask you about Flint," a reference to a water crisis in Flint, Michigan.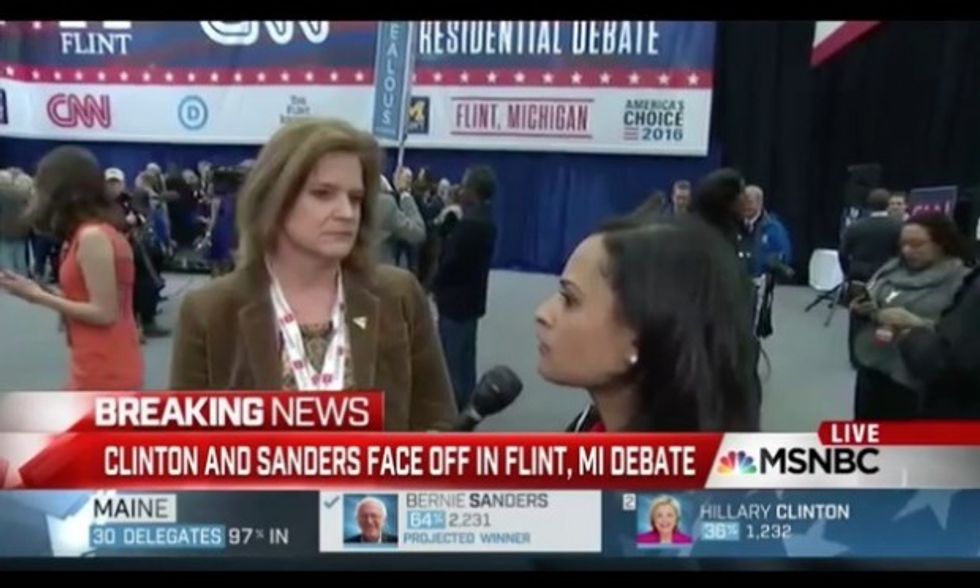 Image source: MSNBC
The camera cut back to Ari Melber, who re-introduced Welker.
"So Jen, your initial reaction to tonight's debate? Very fiery," Welker said.
"Very fiery. Also very substantive," Palmieri said. "I think it was probably the most substantive exchange that we've had. Also, there were a little bit of fireworks, but I think that it was useful because we think–"
Welker, on a delay, then heard what Melber's second introduction.
"Ari, I can hear you," Welker said. "I'm here with communications director Jen Palmeri. Can you guys hear me back in the studio?"
"Yes, we're on a delay, but go ahead," Melber said.
"Can you guys hear what we're saying here?" Welker asked.
"Yes!" Melber said.
Welker then began the interview again.
(H/T: Washington Free Beacon)