A pit bull puppy that was severely burned in a house fire when it was 3 weeks old has become an honorary firefighter and the local mascot at the fire department where the man who rescued him serves.
William Lindler said that he rescued Jake, the puppy, while responding to a call to a burning home in Charleston, South Carolina, last April, according to ABC News. Lindler, who is a firefighter with the Hanahan Fire Department, said that he rescued Jake from a "badly burning shed" outside the home.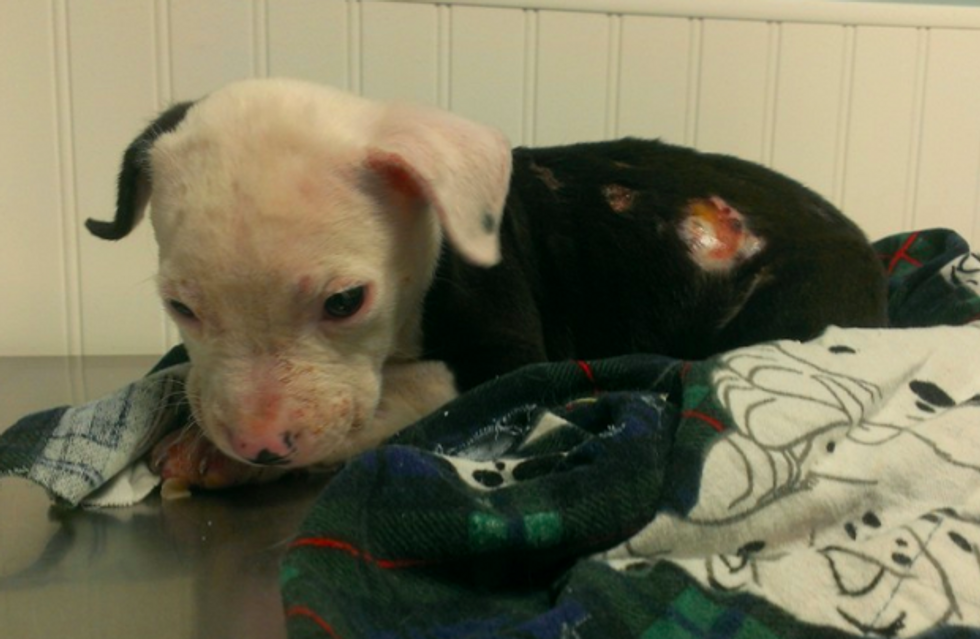 Jake (Image source: Facebook/Jake's Page)
"I saw mama dog and several puppies running out. I saw one puppy trying to make his way out, when a piece of the ceiling fell on top of him. He started yelping, but he wiggled himself free and backed into a corner and cowered down," Lindler told the Dodo. "I brought him outside, and he was pretty bad. He wasn't moving. He wasn't breathing. I did mouth-to-snout on him, until we could administer oxygen."
Lindler then took Jake to an emergency veterinarian's office where he was told that the puppy, who had suffered second- and third-degree burns over 70 percent of his body, might not survive, according to the Dodo.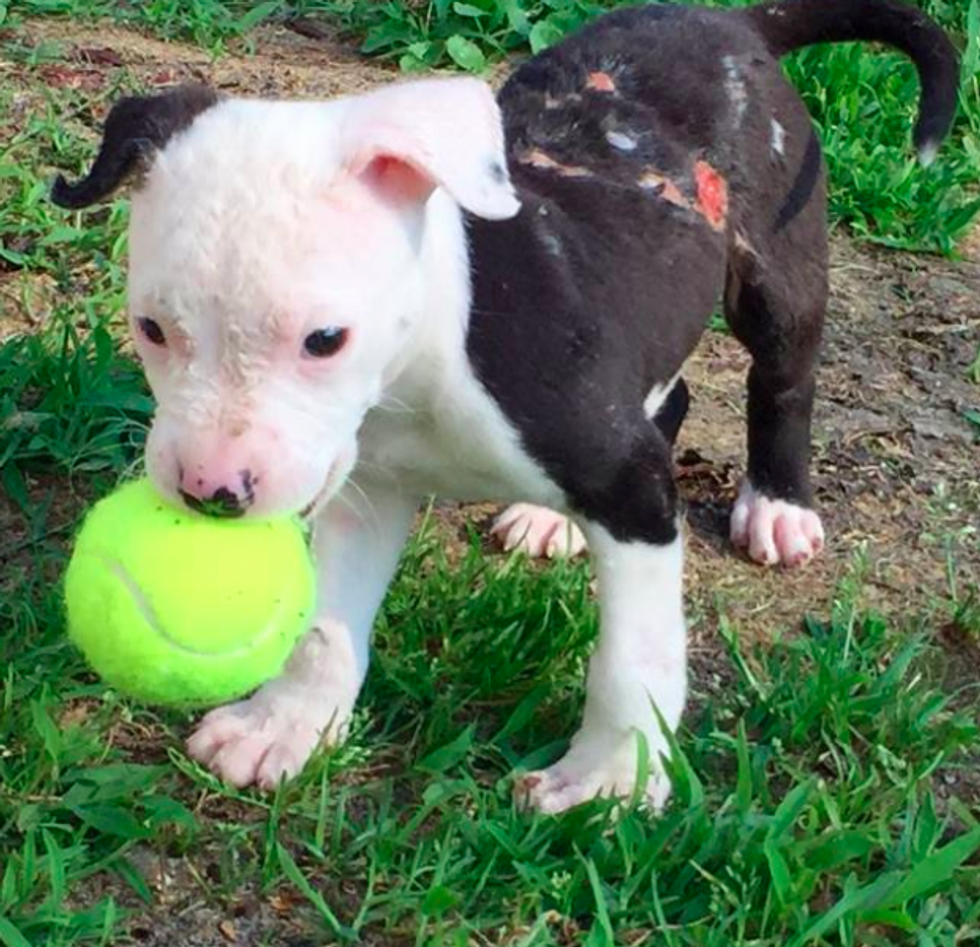 Jake (Image source: Facebook/Jake's Page)
But according to Lindler, Jake "was a fighter," and after receiving morphine and antibiotic treatment for more than a month, the pup pulled through. When Lindler discovered that Jake's owners could not afford to pay for the treatments and thus "abandoned him," Lindler offered to adopt the puppy, ABC News reported. Jake underwent laser skin surgery, and the vet staff would have to "scrub dead skin off him every day."
"All in all, it was about four months of recovery," Lindler told ABC News. "Of course, even when he came home, we still had to continue putting on special antibiotics and ointments, and his scars will always remain. We actually have to put sunscreen on him when we take him to the beach."
But as September rolled around and Jake continued to improve and heal, Lindler decided to take the dog to the fire department.
"All the guys fell in love with him, and the ladies at town hall always have treats for him," Lindler said, adding that Hanahan's fire chief and mayor even proclaimed Jake to be an honorary firefighter and swore him in as the official mascot for the fire department in December.
Lindler hopes to train Jake as an arson detection dog, and he also hopes that Jake's story will help "change people's perception of pit bulls."
"[Jake] is actually a very loving and gentle dog who's never met anyone he didn't like," Lindler told ABC News.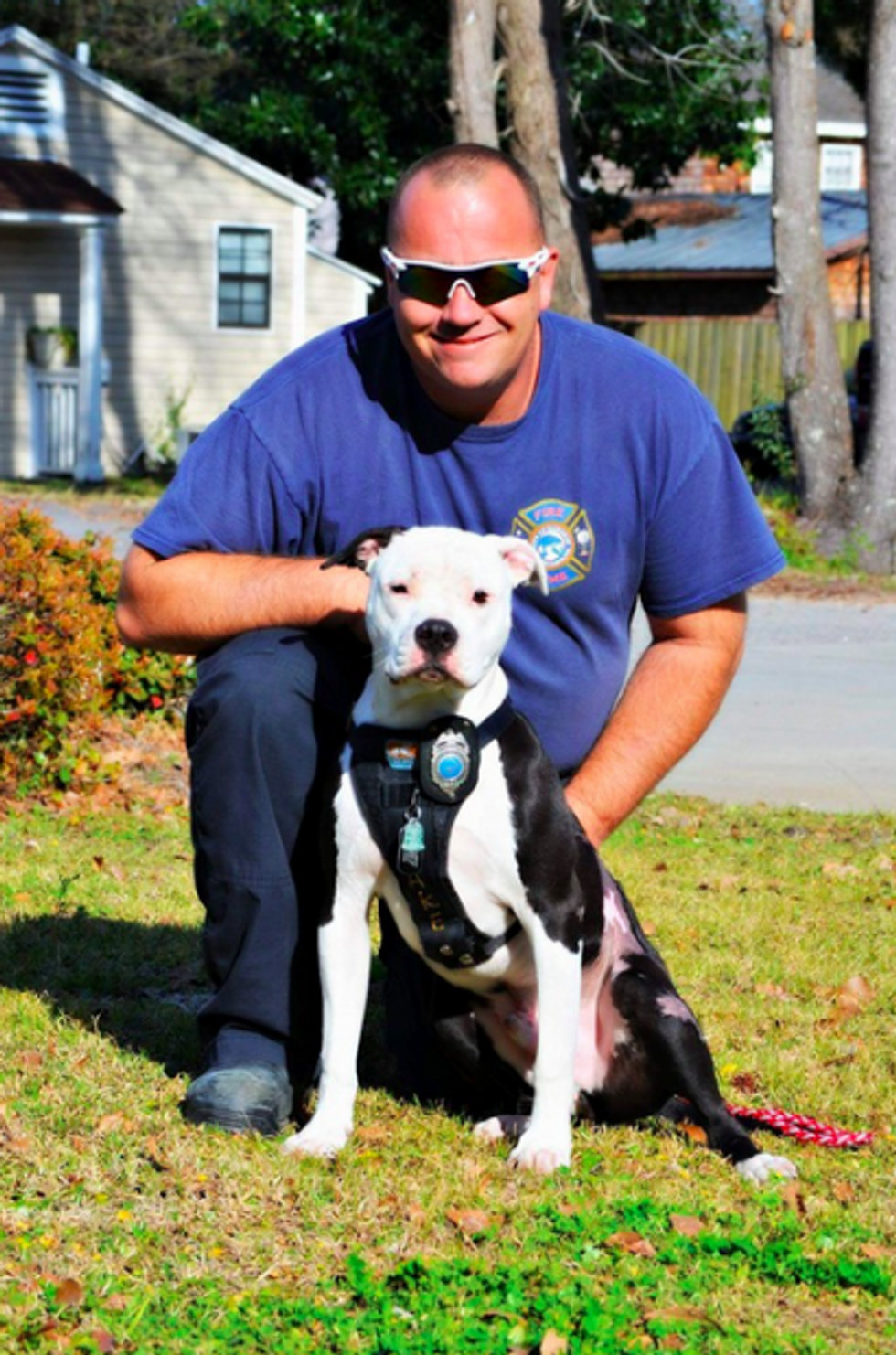 Jake and William Lindler (Image source: Facebook/Jake's Page)
—
Follow Kathryn Blackhurst (@kablackhurst) on Twitter