The launch of two additional ballistic missiles in Iran Wednesday only underscores why the U.S.-led nuclear agreement with Iran was so necessary, White House press secretary Josh Earnest told reporters the same day.
"Iran's insistence on developing a ballistic missile system outside of the widely recognized international standards is a wide concern, not just for the United States but for the international community," Earnest said.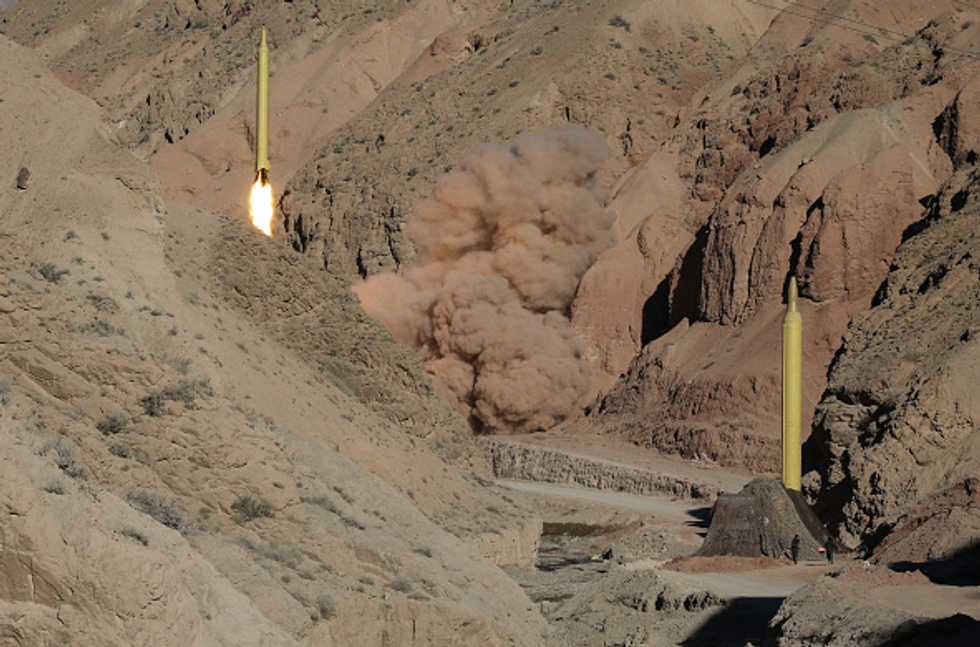 A long-range Qadr ballistic missile is launched in the Alborz mountain range in northern Iran Wednesday. Iran said its armed forces had fired two more ballistic missiles as it continued tests in defiance of U.S. warnings. (Mahmood Hosseini/AFP/Getty Images)
"It is one of the reasons the United States led the way to develop, negotiate and implemented successfully an agreement to prevent Iran from developing nuclear weapons," Earnest continued. "The reason that was significant is because we know Iran is working to enhance their ballistic missile capability and preventing them from being able to nuclearize their missiles is obviously important to us here in the United States."
The missiles reportedly had the words "Israel must be wiped out" inscribed on them. This happened as Vice President Joe Biden was visiting Israel.
While such test launches have happened before, it has caused critics of the deal to point to its fecklessness in stopping the Islamic regime. The U.S. government has objected to past missile launches since the deal but Iran has continued.
"We will redouble our efforts to work with our allies and partners in the region to try to limit Iran's ability to develop their missile program outside of international conventions," Earnest said. "It certainly wouldn't be a surprise if there are additional launches over the next several days that are similar to the ones we've seen. "
The missile launches also come on the ninth anniversary of American FBI agent Robert Levinson's disappearance in Iran. Earnest said the United States continues to call on Iran to assist the United States in finding Levinson, which the country agreed to do in last year's prisoner exchange agreement.
Earnest said that Iran has an "obligation" to help the United States find Levinson and that "we are going to hold them to that."