Police found a naked Oregon man dangling upside down in a tree above a river after he had allegedly entered a woman's home and asked for a hug Saturday.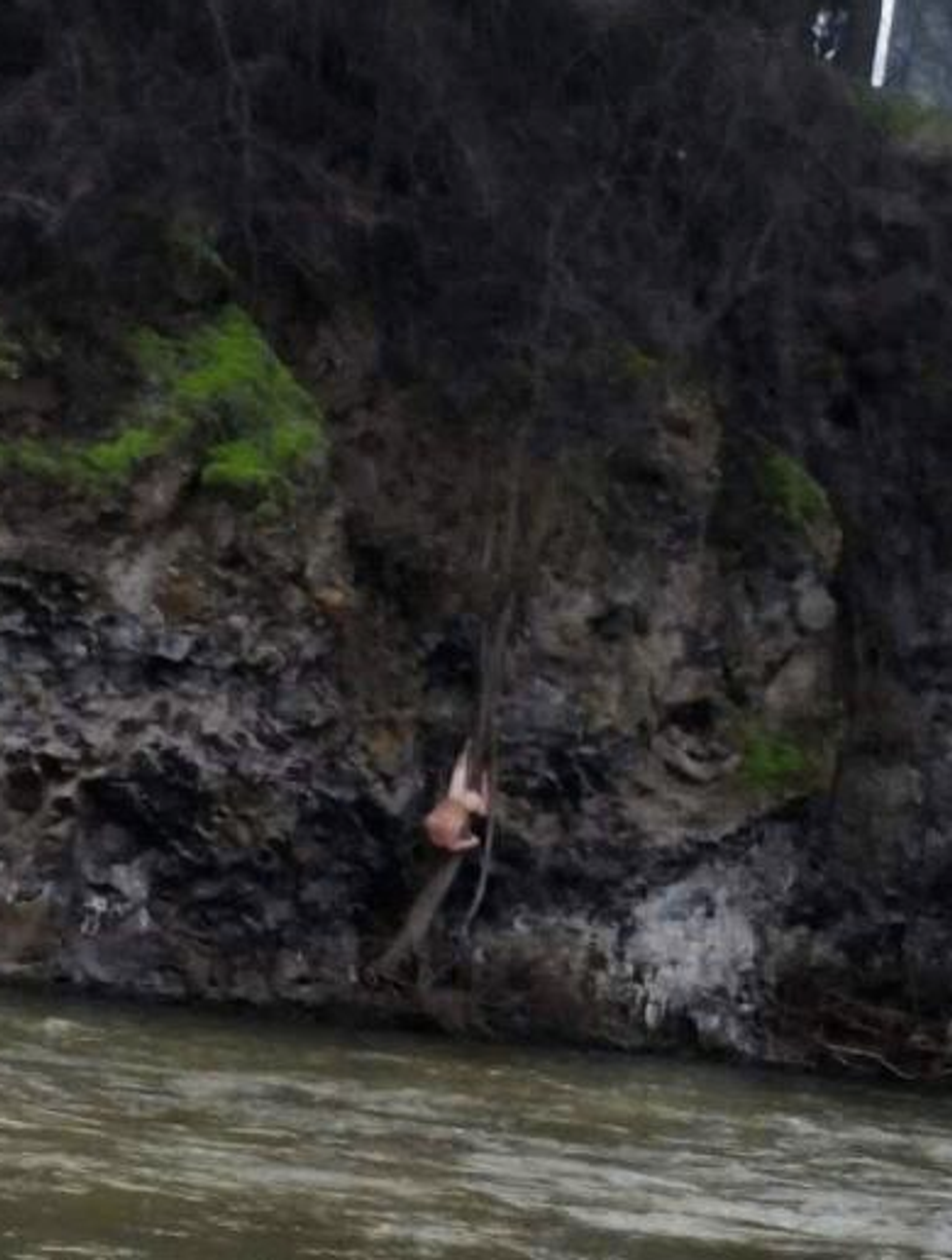 Steven Burton wound up stuck upside down in a tree after allegedly invading a woman's home and jumping off a cliff. (Pendleton Fire and Rescue)
Gail Wilson said she was startled when she beheld Steven Burton, 30, standing in the doorway of her residence in Pendleton, Oregon, while she was home alone. But Wilson claimed she was was even more disturbed when she realized that Burton was not wearing a stitch of clothing.
"Hi, honey," Burton said to her, the East Oregonian reported.
Wilson, who suffers from muscular dystrophy and has a difficult time getting around, was sitting in her stuffed lift chair finishing up some soup when she says the naked Burton strode into her home with "a big grin on his face."
"He came directly towards me with his arms wide open and proceeded to give me a hug," Burton told My Columbia Basin.
Wilson, a former corrections officer, told KPTV-TV that during the encounter she thought about grabbing her pistol, which she normally kept in her bedroom. But she knew that she couldn't reach it in time.
"With my muscular dystrophy, I needed him to get close enough to me so I had the strength to push him away," Wilson told KPTV. "My first thoughts were, 'This is it. This is my time. He's going to rape me, beat me, kill me.'"
But Wilson said that her training as a corrections officer began to kick in as she watched Burton sit down on a chair and look around the room.
"My dad's voice was in my head, telling me, 'Keep calm. Remember your training,'" Wilson told My Columbia Basin. "The correctional officer training kind of kicked in, and I just spoke to him as if I was on a unit with the inmates and he responded. I didn't make conversation with him, didn't make eye contact. I just kept him in my peripheral."
Wilson said that, after Burton left the room to lock her black labrador retriever in a bedroom, she managed to grab her phone and dial 911. The dispatcher on the line told Wilson to ask for the man's name when he came back. Wilson added that when she asked Burton for his name, he became agitated and ran out the door.
Pendleton Police Chief Stuart Roberts told the East Oregonian that Burton dashed north, climbed over a cyclone fence and plummeted off the side of a 40- or 50-foot bluff that borders the Umatilla River. When officers reached Burton, they found him with his foot wedged in the crotch of a tree with his face mere feet from the riverbank.
"When they got there, they looked down," Roberts said. "He was hanging upside-down in a tree."
According to Roberts, Burton, in an excited delirium, was "aggressive" and "non-cooperative" and attempted to pull a handgun from an assistant deputy's holster during the rescue process.
An Oregon woman says a naked man walked in, tried to hug her and said "Hi honey!" https://t.co/ZCr81yUfuv https://t.co/jno1zb5kZV

— WALB News 10 (@WALB News 10) 1457467872.0
"They had search and rescue and everything here," Wilson told My Columbia Basin, adding that the Umatilla County Search and Rescue, Pendleton Fire, Umatilla Tribal Police and Oregon State Police aided in the hours-long rescue process.
"It's probably one of the more bizarre things that I've heard of in my time in law enforcement," Roberts said. "It's probably fairly fortunate for both Burton and law enforcement that he got hung up in the tree."
After a stint in a local hospital, Burton has been charged with burglary, harassment, disorderly conduct and resisting arrest.
"I'm thankful it wasn't my time, and I'm thankful that he chose my house instead of some young girl's house, because the outcome could have been totally different," Wilson said, adding that she has now moved her pistol from her bedroom to the front room.
"I'm not afraid to use it," she said.
(H/T: New York Daily News)
—
Follow Kathryn Blackhurst (@kablackhurst) on Twitter