A California law school graduate is suing her alma mater for fraud after she failed to get a job as an attorney following her graduation in 2008.
According to San Diego's KGTV-TV, Anna Alaburda, 37, claimed that Thomas Jefferson School of Law misrepresented it's post-graduate employment statistics in false advertising.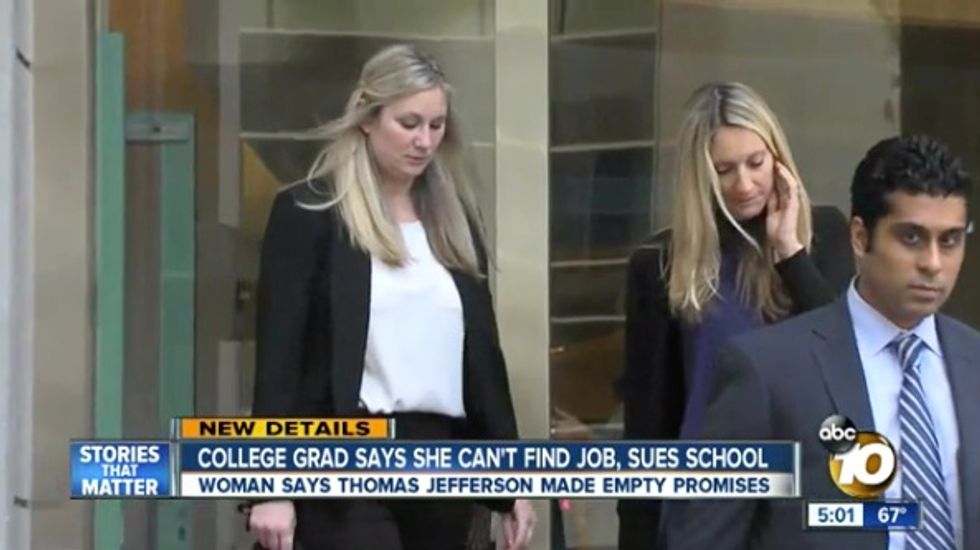 Image source: KGTV-TV
Alaburda is suing the school for over $150,000 in tuition and lost wages.
Lawyers for the school contend that Alaburda didn't work hard enough to secure employment and that she turned down a job offer from a law firm following her graduation.
Thomas Guernsey, the dean of Thomas Jefferson School of Law, said in a statement:
While we cannot comment on the specifics of the lawsuit during ongoing litigation, we can say that Thomas Jefferson School of Law is whole-heartedly committed to providing our students with the knowledge, skills, and tools necessary to excel as law students, pass the bar exam and succeed in their professional careers. We have a strong track record of producing successful graduates, with 7,000 alumni working nationally and internationally.