Actor Dustin Hoffman was overwhelmed with emotion after learning about the heroic actions and suffering of his great-grandparents in Soviet Russia, about whom he apparently knew nothing until he heard their story during an interview with PBS's "Finding Your Roots."
Researchers with the genealogy show hosted by Henry Louis Gates Jr. discovered the heroic actions and painful history of the Oscar-winning actor's grandparents and great-grandparents that his father never told him.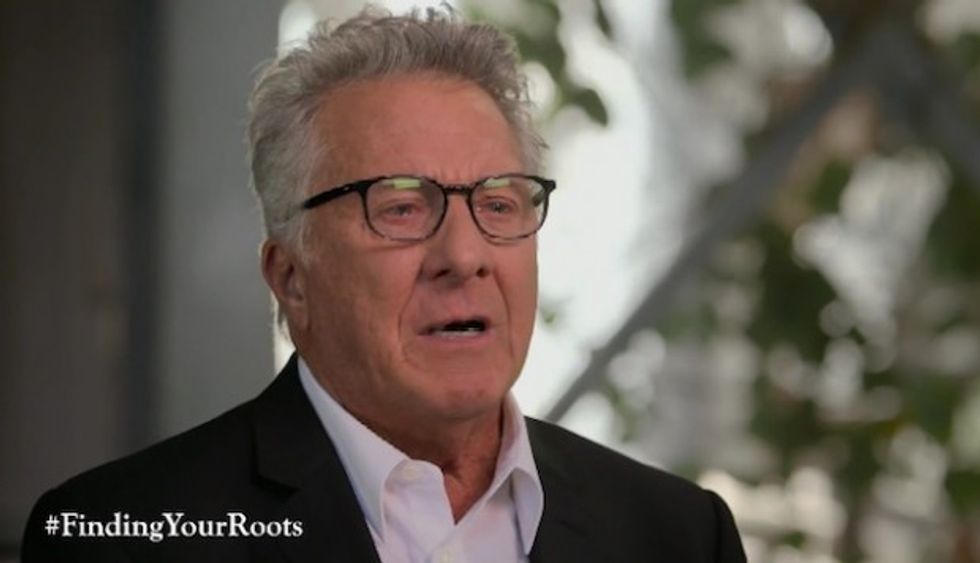 Dustin Hoffman (Image source: YouTube/PBS)
Dustin Hoffman never knew his paternal grandparents, Frank and Esther Hoffman, or his great-grandparents, Sam and Libba Hoffman, who came from Belaya Tserkov, once part of the Russian empire.
Frank and Esther moved to Chicago, but when Frank learned about violent pogroms against the Jews in his native country, he returned to the town in today's Ukraine to try to save his parents.
However, once there, he was imprisoned and killed by the Bolshevik secret police.
After Frank was killed, his father Sam (the actor's great-grandfather) was also executed by the Bolsheviks.
Dustin Hoffman's great-grandmother Libba survived and spent five years in a concentration camp, reportedly for trying to bribe a state security agency officer, possibly trying to learn the fate of her husband.
After her time in the concentration camp, she was able to get to Argentina and eventually made her way to the U.S. in 1930.
Gates showed the actor the document from Ellis Island describing his great-grandmother, the new immigrant, who had an array of medical ailments, including "senility," poor vision and an amputated arm.
"This is the hero of your family tree," Gates said.
Hoffman fought back tears upon hearing about the suffering his relatives endured for being Jewish.
"People ask me today, 'What are you?' I say, 'I'm a Jew,'" Hoffman said, weeping. "I'm a Jew. They all survived for me to be here."