A video featuring Rafael Cruz, father of Republican presidential Ted Cruz, that was originally posted last month by the activist group Right Wing Watch is gaining renewed attention, with claims that it features the elder Cruz praying in tongues.
The Drudge Report published a link to the clip on Friday with the headline, 'DAD SPEAKING IN TONGUES." The video in question features Pastor Kenneth Copeland saying from the pulpit that he believes that Ted Cruz is "anointed to be the next president of the United States."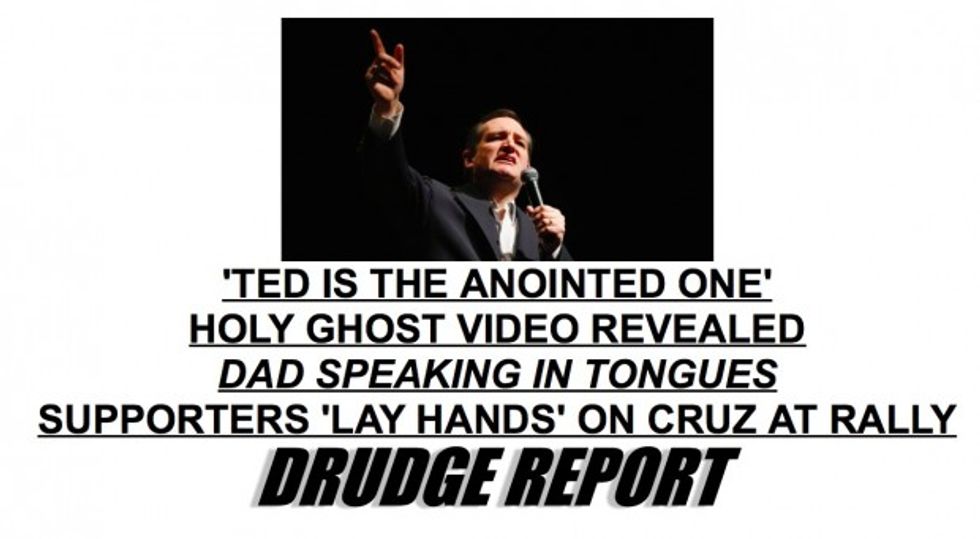 A screen shot from the Drudge Report
After Copeland is seen inviting Rafael Cruz to the stage, the two discuss how Ted Cruz spent six months steeped in prayer with his family before deciding to run for the presidency — a story that the candidate's father also recently shared with TheBlaze.
It's what happened next, though, that is capturing attention, as some believe that Cruz is seen in the video "speaking in tongues" (also known as glossolalia) — a religious gift that purportedly permits certain Christians to speak and interpret a special language that comes directly from God.
Or, as Encyclopedia Britannica defines it, "utterances approximating words and speech, usually produced during states of intense religious experience."
Watch the video in question below:
According to the original Right Wing Watch report, a group of church elders went to the stage after Cruz's address, laid hands on him, and prayed; these events are also shown in the clip. The invocation in question was led by Pastor George Pearsons of Eagle Mountain International Church in Fort Worth, Texas.
"There's a new birth for America ... and it's taking place right before our eyes, and we will not set apart our responsibility and our duty to do what God has called us to do," Pearsons said. "We say, 'Yes, Lord, yes, we will do exactly what You have called us to do' and we receive the outpouring of the holy spirit, the outpouring of the Spirit over Washington, D.C."
He continued, "We see Congress praying, we see them seeking God, we see prayer coming back into our schools, we see the Bible coming back into our schools, we see abortion being turned around, we see this nation being completely restored, completely delivered, for it is a time of the new birth of our nation and we're seeing it right before our eyes, now, in Jesus' name."
While it is clear that Rafael Cruz is moving his lips and likely quietly praying during Pearson's invocation, it is not definitively clear that he is speaking in tongues, as some have alleged. It should be noted that it is common practice for evangelical Christians to pray to themselves while others pray aloud, thus such an occurrence wouldn't be a rarity.
Listen to Cruz discuss his son's candidacy on a recent episode of The Church Boys below:
In addition to this video, the Drudge Report also linked to an article about Ted Cruz reportedly being a "closet Pentecostal," a separate clip featuring Rafael Cruz discussing biblical "anointing" and a video showing supporters laying hands on Ted Cruz.
Requests for comment from Rafael Cruz and Pearsons have not yet been returned to TheBlaze.
What do you think? Was Cruz praying in tongues? Take the poll below:
--
Follow the author of this story on Twitter and Facebook: