President Barack Obama used a Women's History Month reception at the White House to praise several women he considered real life superheroes, including Cecile Richards, president of Planned Parenthood, the nation's largest abortion provider.
Sana Amanat, creator of the "Ms. Marvel" comic book, introduced Obama at the Wednesday event.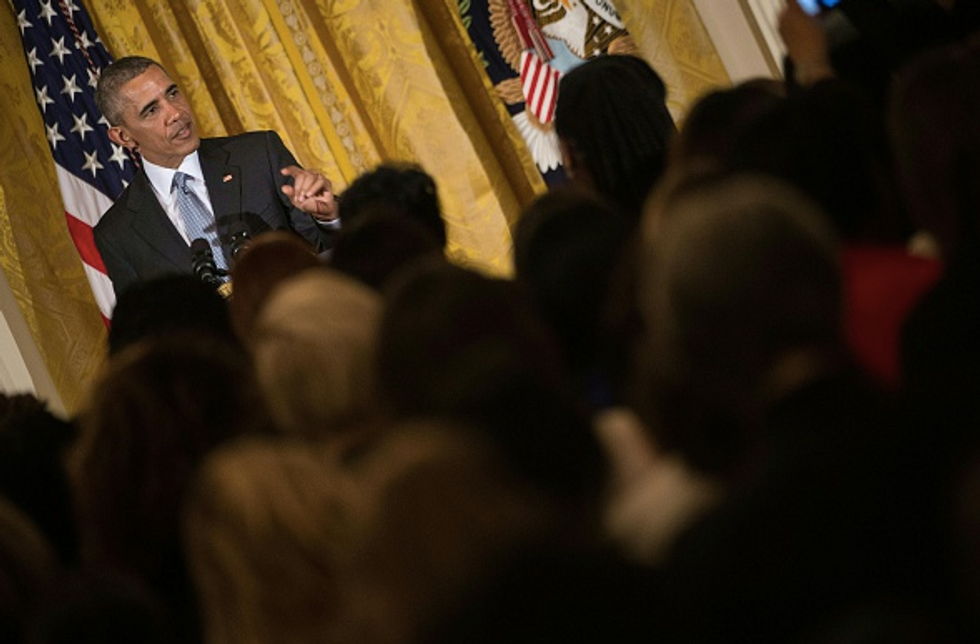 President Barack Obama addresses a reception for Women's History Month at the White House Wednesday. (Nicholas Kamm/AFP/Getty Images)
"For a lot of young boys and girls, Sana is a real life superhero," Obama said after thanking her for the introduction. "We've got a lot of them in this room, so I want to acknowledge a couple of them."
He prioritized Richards on that list.
"First of all, we've got Cecile Richards in the house, making sure women's health care is on the front burner," Obama said.
Earlier Wednesday, Richards announced her support for Obama's nominee to the Supreme Court, Merrick Garland.
The president also named two others.
"We've got America's first NFL coach, Dr. Jennifer Welter," Obama said. "We have some outstanding members of Congress, including Democratic Leader Nancy Pelosi."
The president went on to suggest there were barriers that prevented women from running for office.
"When it's long past time for our leaders to reflect the majority of the population. Wouldn't it be better for America if women weren't discouraged from seeking office because of double standards, and we had more women in positions of power and high office?" Obama said. "I want to be clear. I'm not stereotyping here. But I'm pretty sure if we had more women in charge things would work better."
But he joked, that men aren't always wrong. "I'm not saying you all are always right," Obama said. "I just want to be clear about that. I'm in a household where I'm outnumbered, and I know there are times when you too can be somewhat unreasonable."