An Illinois state lawmaker's daughter was charged Friday in connection with a staple gun attack on one of her mother's political rivals that occurred earlier this month, police said.
Jessica Soto, daughter of state Rep. Cynthia Soto, D-Chicago, and her boyfriend Bradley Fichter, both 26, were charged with three counts of aggravated battery in a March 6 attack on Robert Zwolinski, Reuters reported.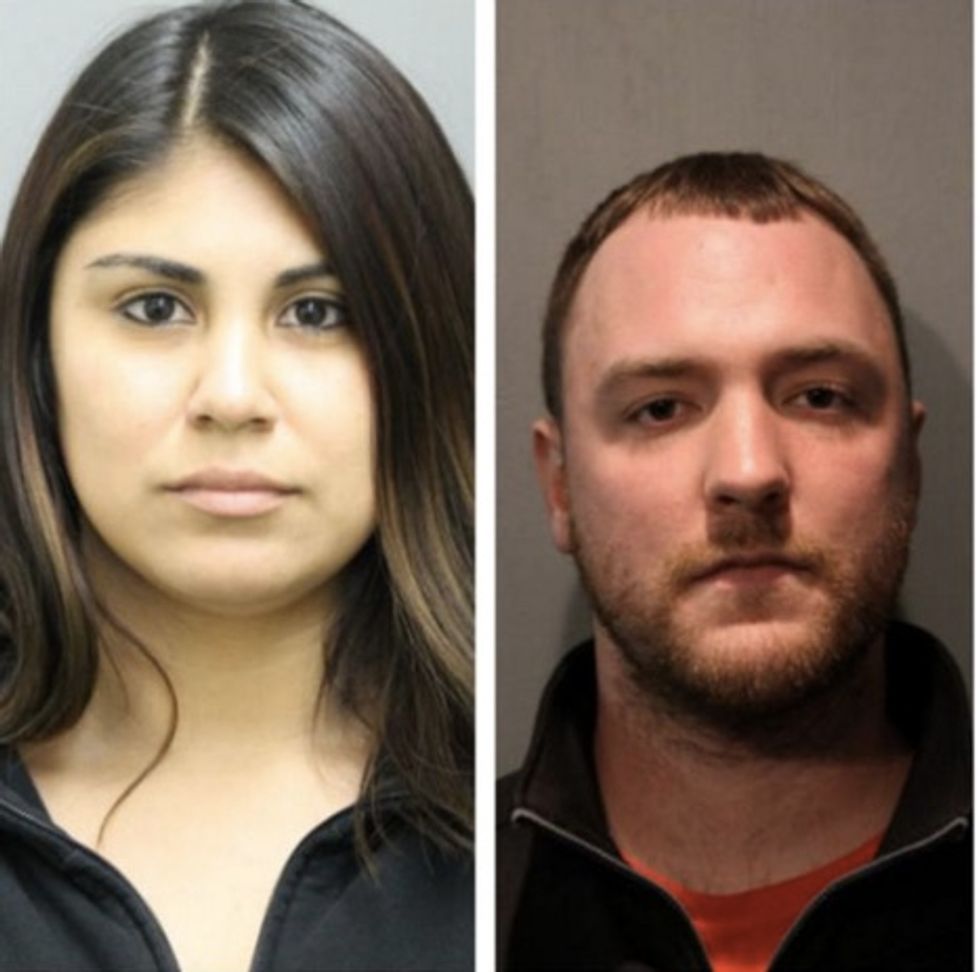 Jessica Soto, daughter of state Rep. Cynthia Soto, D-Chicago, and her boyfriend Bradley Fichter, both 26 and of Chicago. (Image via Twitter/@LaurenPettyNBC)
The Chicago Tribune reported that Jessica Soto and Fichter were stapling pro-Soto campaign flyers to a building when Zwolinski and his girlfriend arrived in their car, which they exited and approached the couple. Soon after this, an altercation allegedly ensued.
According to Cook Couny prosecutors, Fichter punched Zwolinski in the eye and was soon joined by Soto, who allegedly used the staple gun on Zwolinski's face. The politician suffered multiple injuries, which he posted to social media.
Politics is a contact sport. Apparently that's literally the case. https://t.co/wIlFIP366W

— Robert Zwolinski (@Robert Zwolinski)1457331504.0
The couple's lawyer, Frank Avila, accused Zwolinski of provoking a fight with his clients and possibly putting a staple in his own head just for attention. Avila told Judge Maria Kuriakos Cecil that if anyone should be facing charges, it's Zwolinksi.
"Taking down somebody's sign and ripping it down is destruction of property," Avila said.
@LaurenceWHolmes Attorney on staple attack "it's possible he put a staple in his own head" https://t.co/0lrho5336a https://t.co/qs7zn7xxAF

— Justin Breen (@Justin Breen)1457381008.0
Zwolinski's photos show a staple sticking out of his bloodied forehead and a swollen nose, presumably from the alleged attack.
"The girl was yelling, while I was on the ground fighting the man off of me, 'This is Soto's territory! This isn't your territory,'" Zwolinski said of the alleged attack.
Zwolinski lost to Rep. Soto Tuesday in a primary election for the state's 4th District.
Bond was set for Soto and Fichter at $25,000 each and both were ordered not to go near Zwolinski, his girlfriend or his campaign headquarters, Reuters reported.
(H/T: Fox News)