One 5-year-old Texas girl was caught on camera rescuing her mother after she suffered a seizure while in the family's pool Friday.
Tracy Anderwald was swimming with 5-year-old Allison in the family's backyard swimming pool in Portland, Texas, playing Marco Polo when Anderwald suddenly blacked out and sank to the bottom of the pool, according to the Corpus Christi Caller-Times. When Allison saw that her mother was not moving at the bottom of the pool, she could tell that something was amiss. Swimming to join her mother at the bottom, Allison pulled Anderwald to the surface, lifted her head above the water and dragged her to the shallow end of the pool.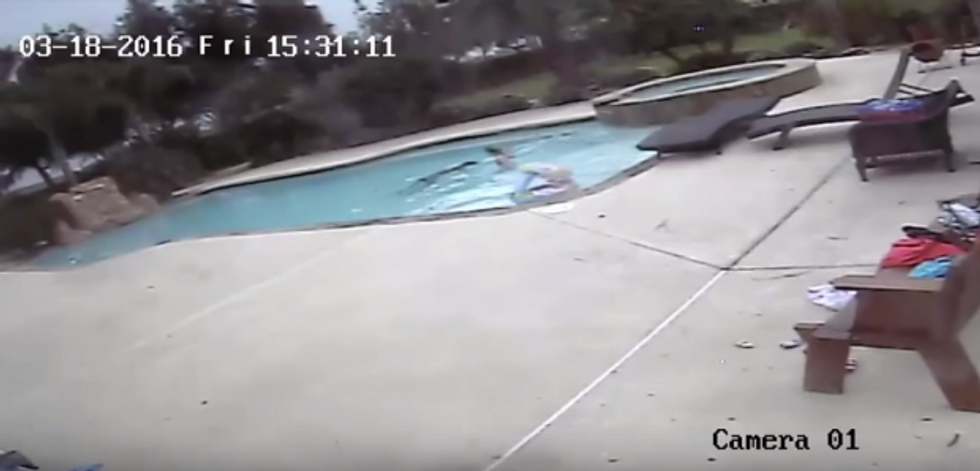 Image source: YouTube
When Anderwald awakened, she found herself at the Christus Spohn Hospital Memorial.
"I did not know where I was," Anderwald told the Caller-Times. "They did not tell me [what happened] for a while."
Anderwald's sister, Tedra Hunt, who had been walking over to visit the family at the time, later told her what had happened, saying that she heard Allison and her siblings calling out for help. Hunt then immediately called 911.
"Allison was very calm through it. She was trying to tell me what happened," Hunt told the paper.
"It's amazing that she even knew what to do," Anderwald added.
Anderwald described her daughter as a "water bug" who has been swimming for more than two years, according to the Caller-Times. Although Allison did not know that Anderwald was suffering from a seizure at the time, Anderwald said that her swim training kicked in and alerted her to danger because she could tell that her mother had been underwater for too long.
"I believe [Allison] had a greater power telling her what to do," Hunt told the Times. "It's a miracle ... she knew how to react."
Watch the girl's heroic rescue below, which was caught on home surveillance video.
(H/T: Fox News)
—
Follow Kathryn Blackhurst (@kablackhurst) on Twitter
—
Front-page image via Shutterstock