The New York Times detailed the story of Republican presidential candidate Ted Cruz's half-sister Miriam Cruz's struggle with drug addiction in a story published Thursday.
Cruz has discussed his sister's life and death on the campaign trail, and the New York Times interviewed several of her friends and acquaintances about the story.
During a debate in New Hampshire last month, Cruz addressed Miriam's battle with addiction.
.@tedcruz on heroin epidemic: "This is an epidemic. We need leadership to solve it." #GOPDebate https://t.co/juLaiM5lcE

— ABC News (@ABC) February 7, 2016
"My older sister, Miriam, who was my half-sister, struggled her whole life with drug and alcohol addiction," Cruz said. "My father and her mom divorced when she was a little girl and she was angry her whole life, and she ended up marrying a man who had been in and out of jail. She then became a single mom and she herself went to jail several times and she ended up spending some time in a crack house. I still remember my father and me driving up to get Miriam out of that crack house to try to convince her she needed to be a mom to — to my nephew Joey."
Cruz continued:
She wasn't willing to listen. She was not willing to change the path she was on. She was angry. I was — had just gotten my first job coming out of law school. I took a $20,000 loan on a credit card to put my nephew, Joey, in Valley Forge Military Academy — he was in sixth grade at the time, to pay his way through that. And about five, six years ago, Miriam died of an overdose. It was — the coroner ruled it accidental. We don't know. She went to bed one night, had taken too many pills, and Joey walked in and found her dead.
Cruz said that solving the "absolute epidemic" of drug and alcohol addiction "has to occur at the state and local level with programs like A.A., and counseling, and churches and charities," and called for "securing the borders," because "you have got Mexican cartels that are smuggling vast amounts of heroin into this country."
"And as president, I will secure the border, we will end this deluge of drugs that is flowing over our southern border and that is killing Americans across this country," Cruz said.
The Times interviewed Dawn Dyer, "a close friend of Ms. Cruz's," about their friendship and her struggle with addiction.
"She was so sweet and full of life," Dyer said.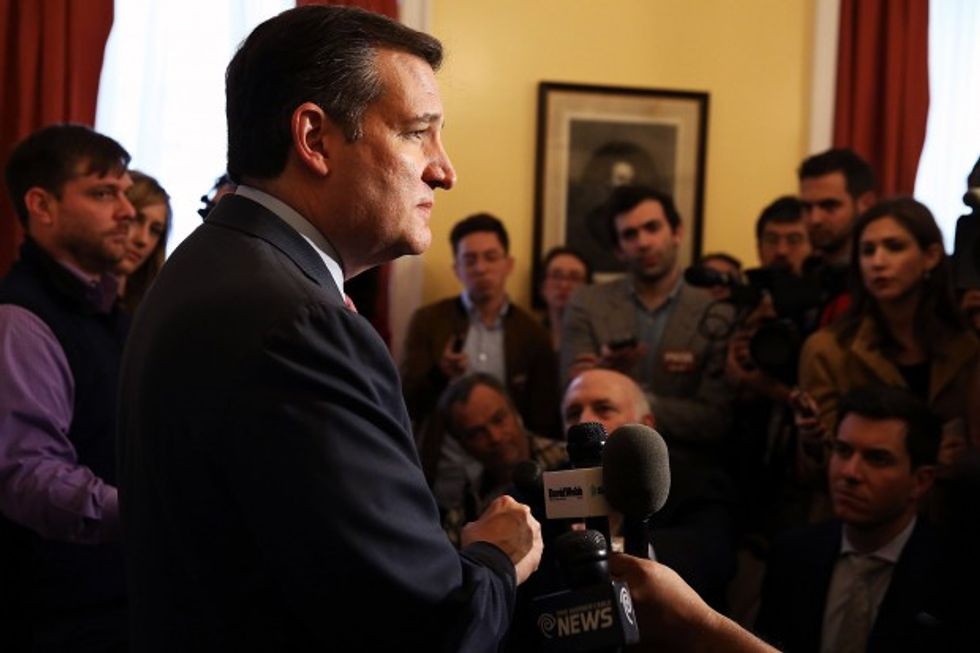 Republican presidential candidate Sen. Ted Cruz (Texas) speaks to the media during an appearance in New York City Wednesday. (Spencer Platt/Getty Images)
Dyer said Miriam Cruz became addicted to prescription medication after she was in injured in two car accidents that left her with chronic pain.
Miriam's son Joseph Maykopet did not stay at the school Cruz sent him to, and Dyer and her husband temporarily cared for him. She said Cruz "kept tabs" on his nephew "and sent gifts and money for his clothes."
Years later, Maykopet and Miriam lived together again, and he was the one who found her body after her death in 2011.
According to the Times, the police found a "handbag spilled out onto the bed in front of the deceased along with numerous prescription bottles."
The Delaware County medical examiner ruled that Miriam died of "mixed prescription drug intoxication" and ruled that her death was an accident.
In a video released by the Cruz campaign, Maykopet offered kind words for his uncle.
"With guidance from my Uncle Ted and the rest of my family, I was able to get past that part of my life," Maykopet said. "My Uncle Ted has been a huge inspiration for me ever since I was younger — just to progress, and just to keep moving forward."