Dr. Ben Carson fervently defended his endorsement of Republican presidential candidate Donald Trump during an appearance on "The View" on Thursday morning, sparking a response from Whoopi Goldberg in which she called Trump a "racist" who's "not good for the country."
The segment started with Goldberg asking Carson why he endorsed Trump — a move that surprised many political observers, considering the stark differences between their tones and demeanors.
"When I dropped out my first choice went with me," Carson joked, before explaining his reasoning. "I was going to remain neutral, but then I realized that the political establishment was aligning to protect their turf — and they don't like the idea of people who are not [beholden] to them and cannot be controlled coming into Washington, D.C."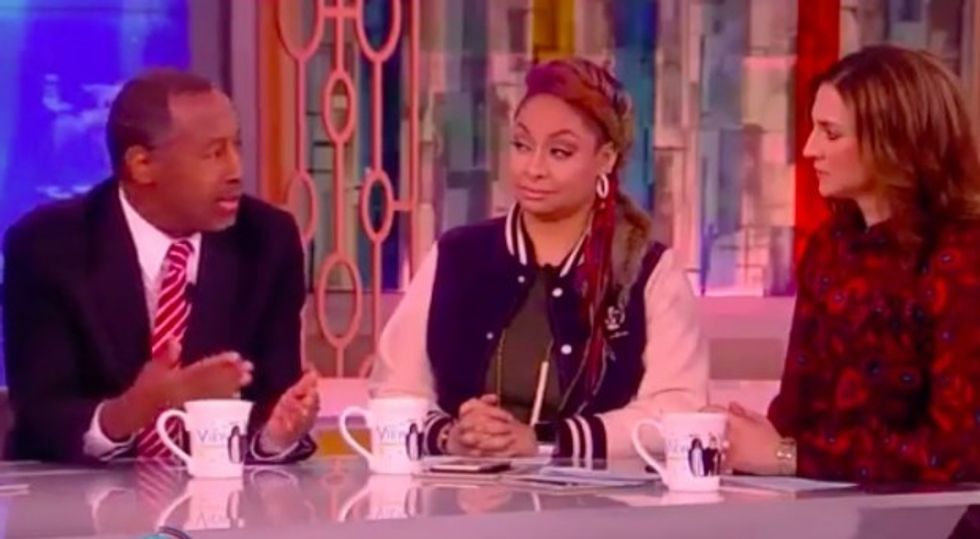 Dr. Ben Carson appears on "The View" (ABC/YouTube)
But Goldberg seemingly couldn't process how Carson could support Trump, accusing the GOP frontrunner of bashing women and making "countless racist remarks."
"You're Ben Carson," she exclaimed. "Why would you align yourself with that?"
Carson, who recently dropped out of the presidential race, said that he believes in looking at the full picture, taking into account both the good and the bad; he added that "there is no perfect person," though he did admit that Trump has said some things he wouldn't personally say.
In the end, he pointed to the positive attributes he sees in Trump.
"I always say one of the ways that you measure a person is looking at their children and how do their children act," he said before co-host Joy Behar shot back, "One's a big game hunter. I'm not thrilled with that."
While Carson said that it is her right to dislike that attribute, he maintained that Trump's children "have been raised very well" and are "very respectful" — something that he said isn't always true of children that come from wealthy families.
At that point, Goldberg seemingly couldn't take it anymore, proclaiming, "This guy is — I'm sorry, he's a racist and he's not good for the country ... I don't understand. You're Ben Carson. You're so much better than this."
Watch the segment below:
(H/T: Mediaite)
--
Follow the author of this story on Twitter and Facebook: