Neither progressive billionaire George Soros — who has bankrolled numerous far-left initiatives and Democratic political campaigns — nor his company has spent money to support the campaign of John Kasich for president.
Still, numerous conservative news sites have pointed to campaign finance watchdog Center for Responsive Politics, which lists the Soros Fund Management company as a prominent supporter of the of Kasich super PAC New Day for America, with $200,000 in donations. In some cases, the news accounts presented Soros as backing Kasich to cause mayhem in the Republican presidential primary — to either draw votes from front-runner Donald Trump or Texas Sen. Ted Cruz.
However, the firm Soros Fund Management did not give money to the Kasich super PAC. Rather, a one-time top-ranking executive, Scott Bessent, made two separate $100,000 donations to New Day — one on Oct. 21 and second on Dec. 8, according to the Center for Responsive Politics.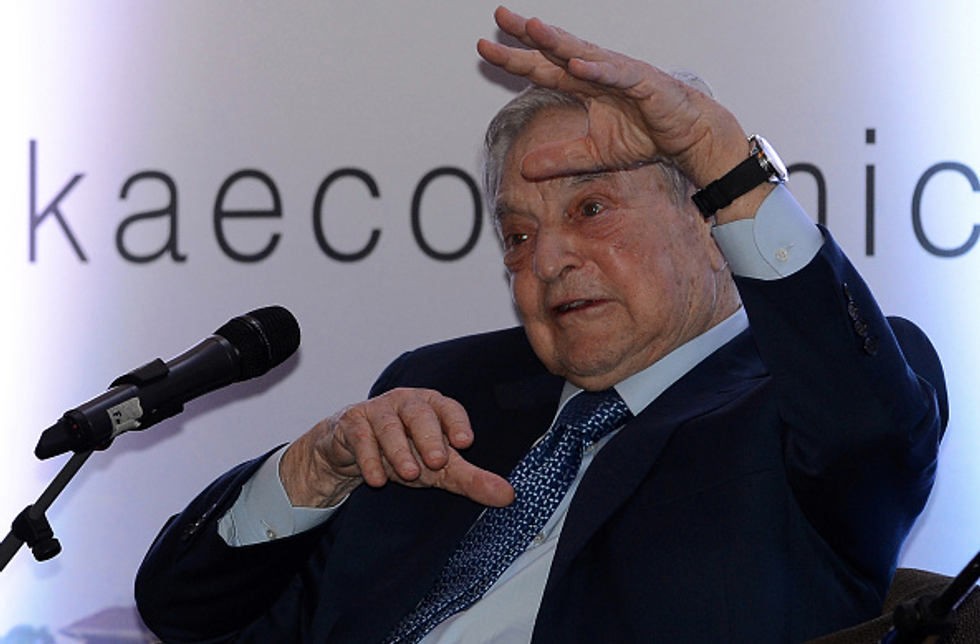 Hungarian-born billionaire philanthropist George Soros attends an economic forum in Colombo, Sri Lanka, Jan. 7. (Lakruwan Wanniarachchi/AFP/Getty Images)
Another close Soros associate, Stanley Druckenmiller, whom Forbes once referred to as "George Soros's main man," gave three separate contributions of $150,000 to the Kasich super PAC, for a total of $450,000. Druckenmiller heads the Duquesne Family Office hedge fund firm. Druckenmiller made his first donation to the Kasich super PAC on Aug. 10 and the other two in February.
Bessent and Druckenmiller have both contributed heavily to other Republican politicians over the years, as well as Democrats. Combined the two contributed $650,000 to New Day. Several sites have reported that Soros contributed $700,000 to the super PAC.
"Show me where George Soros contributed to Governor Kasich's election, not an associate, not an employee," Kasich campaign spokesman Rob Nichols told TheBlaze. "The only money I've seen from Soros is $160 million to Donald Trump."
Nichols was referring to a 2004 loan from Soros to Trump to build Trump Tower Chicago for $160 million, which was a business transaction between the two billionaires, not a campaign contribution.
Bessent was the chief investment officer for Soros Fund Management. A Soros Fund Management spokesman who did not provide his name told TheBlaze, said, "Scott Bessent doesn't even work here any more, which is neither here nor there." The spokesman angrily asserted that the firm itself did not contribute to the Kasich PAC.
Bessent gave to other GOP presidential campaigns as well, according the Center for Responsive Politics. He contributed $1,500 to South Carolina Sen. Lindsey Graham's presidential campaign as well as two $5,000 donations to Right to Rise, the super PAC for former Florida Gov. Jeb Bush's campaign. Bessent also gave to other establishment Republicans, including former House Speaker John Boehner (Ohio). In 2012, he contributed $2,500 to Republican Mitt Romney's presidential campaign.
As for Democrats, in the 2016 cycle, Bessent contributed $2,700 to Rep. Sean Patrick Maloney (D-N.Y.) and gave $2,500 to the Connecticut Senate campaign of Chris Murphy in 2012. But the bulk of his campaign donations have been to establishment Republicans — though in 2010, he contributed $2,400 each to the campaign of Sens. Marco Rubio of Florida and Rand Paul of Kentucky, both of whom ran that year as conservative Tea Party candidates.
Druckenmiller, on the other hand, seems to have contributed no Democrats for the 2016 cycle, based on data from the Center for Responsive Politics. He contributed $100,000 to the Bush's Right to Rise super PAC and made an $89,600 donation to the National Republican Congressional Committee for House Republicans. He contributed $5,000 to Romney's 2012 presidential campaign.
During the 2014 cycle, he contributed $2,600 to Rep. Tulsi Gabbard (D-Hawaii) and $2,600 to Rep. Kathleen Rice (D-N.Y.). In 2008, Druckenmiller contributed the maximum $2,300 to both presidential candidates, Republican John McCain and Democrat Barack Obama. But, he also gave $28,000 to the Democratic National Committee.