Despite suspending his Republican presidential campaign, Florida Sen. Marco Rubio is still attempting to hold on — to his delegates.
While the remaining three GOP contenders stay in front of cameras and voters to make their cases, Rubio is working behind the scenes in an effort to keep the delegates he accrued before he suspended his campaign after a failed attempt to win over those in his home state of Florida.
By keeping his delegates, Rubio's plan is to prevent controversial businessman Donald Trump from reaching the threshold of delegates in order to become the Republican presidential nominee and force a contested convention this summer.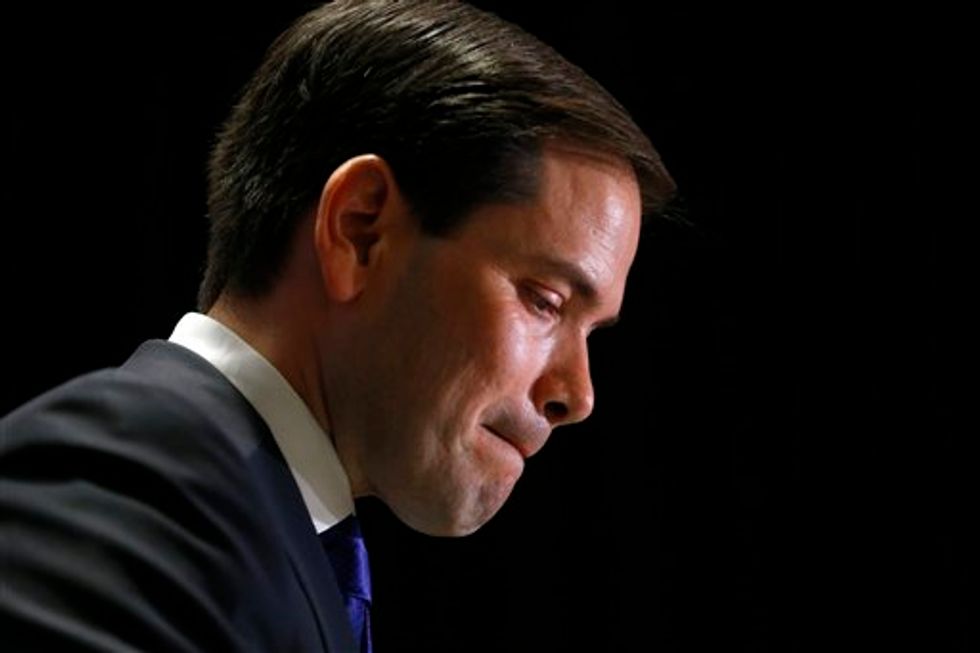 Florida Republican Sen. Marco Rubio is seen announcing the suspension of his campaign for the GOP nomination for president. (AP Photo/Paul Sancya)
"Donald Trump cannot be the Republican nominee, and this is one way that Sen. Rubio can help stop him," a source close to Rubio's former presidential campaign told TheBlaze.
According to a report from MSNBC, Rubio detailed his intentions to retain his delegates in a letter sent to the RNC as well as the GOP leaders in the 21 states and territories where he was able to pick up delegates.
The letter read:
I write this letter to inform you that the decision to suspend my campaign for President of the Untied [sic] States is not intended to release any National Convention Delegates bound to me as a result of the 2016 delegate selection process that took place in your State. It is my desire at this time that the delegates allocated to me by your rules remain bound to vote for me on at least the first nominating ballot at the National Convention.
Marco Rubio misspelled United States in his letter. https://t.co/PooTeoilw1

— southpaw (@southpaw) 1459314948.0
Whether or not Rubio will be able to keep his delegates seems to be up to the states, and the Alaskan Republican Party has already granted the Florida senator his request.
"Rubio said, 'I want my delegates,' and I said, 'OK,'" retired Army Col. Peter Goldberg, chairman of the Alaska Republican Party, told MSNBC.
However, other party leaders are still working to figure out their own rules and regulations.
In Minnesota, where Rubio won 17 delegates, the rules state that "delegates are bound to vote for the candidate whose delegate slot they hold if that candidate is on the first ballot; otherwise they are unbound and may vote for any candidate on the ballot and have the vote counted."
The key to Rubio's move, especially in Alaska, seems to be predicated on one word — "suspend." Alaska's GOP rules state that if a candidate "drops out" prior to the convention, then the state's delegates will become unbound. However, as Rubio did not officially say he was dropping out of the race, he can still hold on to his five delegates.
According to a senior Republican source in Washington, D.C., Rubio's move is an unprecedented one.
"No one has ever really tested this, this idea has always been that when you suspend, you're out," the source told MSNBC.
"No candidate has ever said, 'I want to suspend — but I also want the delegates,'" the source continued.
As NBC News reported, besides convincing the state parties, Rubio will also have to convince the national convention to ensure that his name appears on that first ballot in Cleveland this summer. A spokesperson from the RNC did not respond to a request for comment from TheBlaze.
(H/T: NBC News)
—
Follow Kaitlyn Schallhorn (@K_Schallhorn) on Twitter