If Donald Trump isn't fully on board with the Republican Party, then South Carolina's delegates might not be fully on board with him.
South Carolina is one of many states where the party requires candidates to sign a loyalty pledge of support for the eventual GOP nominee — a pledge Trump signed months before the state's primary. Now the billionaire businessman's recent threat to ignore the pledge and to no longer vow support for the eventual nominee could throw a wrench in his ability to keep the 50 Palmetto State delegates he won in the Feb. 20 winner-take-all contest.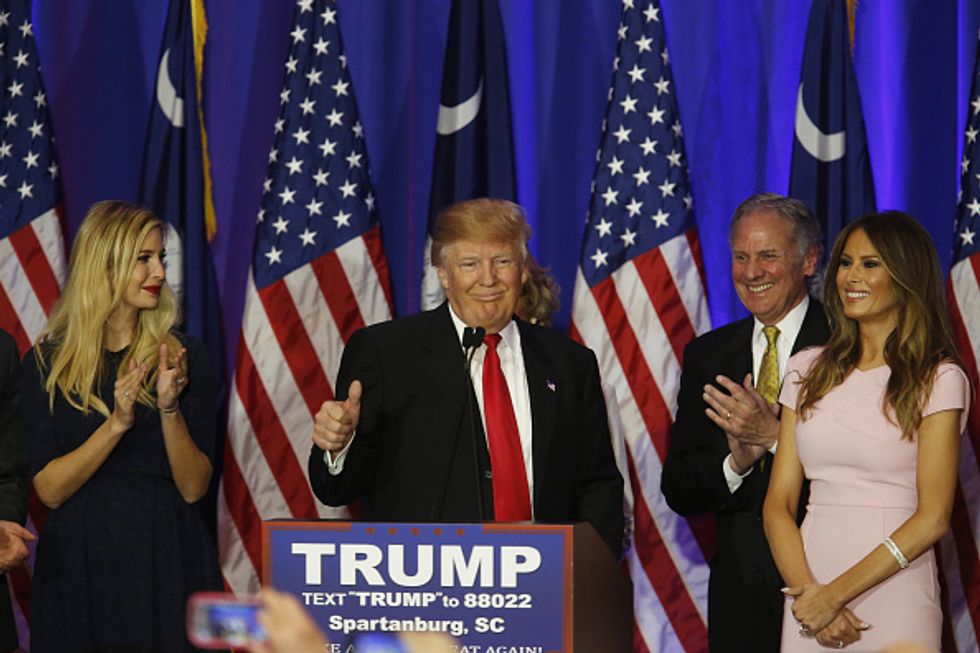 2016 GOP presidential candidate Donald Trump gives a thumbs up during a South Carolina primary night rally in Spartanburg, South Carolina, Feb. 20. (Getty Images/Luke Sharrett)
According to Time, anti-Trump folks in the "first in the South" primary state are working to unbind Trump delegates in light of his admission that he could not support the eventual nominee "anymore" because he had been "treated unfairly."
Trump's remarks came during a CNN town hall Tuesday, during which fellow fellow Republican candidates Texas Sen. Ted Cruz and Ohio Gov. John Kasich also walked back their support for the eventual nominee.
"Breaking South Carolina's presidential primary ballot pledge raises some unanswered legal questions that no one person can answer," South Carolina GOP Chairman Matt Moore told TheBlaze. "However, a court or national convention Committee on Contests could resolve them. It could put delegates in jeopardy."
But Moore added that "no one is trying to unbind any of South Carolina's national convention delegates."
"These are all hypothetical questions and hypothetical answers," he added.
While the requirement for candidates to sign the loyalty pledge with the South Carolina GOP — which is different from the RNC's own pledge — was originally heralded as a way to complicate Trump's candidacy, Moore noted that it is a practice that has been in place "for a long time" — at both the local and national levels.
Trump signed the loyalty pledge, which also promised that he would not launch a third-party run, in September.
According to Dr. David Woodard, the Thurmond professor of political science at Clemson University, South Carolina has a "history of recalcitrance when it comes to supporting their nominees."
"I can assure that this place is not afraid to walk out of any meeting," Woodard told TheBlaze. "[Former South Carolina Senator] Strom Thurmond led the walkout in 1948, and his angry heirs seem ready to follow suit. Even though they voted for Trump, a break with the party platform might stimulate a revolt."
Trump met with the RNC privately Thursday afternoon in Washington, D.C. — a meeting that the avid social media user dubbed "very nice" in a tweet to his several million followers.
Just had a very nice meeting with @Reince Priebus and the @GOP. Looking forward to bringing the Party together --- and it will happen!

— Donald J. Trump (@Donald J. Trump) 1459451159.0
"The chairman and Mr. Trump had a productive conversation about the state of the race," Marlon Bateman, the RNC's deputy press secretary, told TheBlaze. "The chairman is in constant communication with all of the candidates and their campaigns about the primaries, general election and the convention. Meetings and phone conversations with candidates and their campaigns are common and will increase as we get closer to November."
Trump's campaign did not respond to a request for comment from TheBlaze regarding South Carolina's delegates.
(H/T: Time)
—
Follow Kaitlyn Schallhorn (@K_Schallhorn) on Twitter