Republican presidential candidate Sen. Ted Cruz decided to indulge in an April Fools' Day prank against his opponent Donald Trump on Friday.
Cruz tweeted:
Happy to hear @realDonaldTrump accepted my challenge to debate one-on-one: https://t.co/mikc6fXZei

— Ted Cruz (@Ted Cruz)1459507671.0
No, there won't be a mano-a-mano debate between the two leading Republican presidential candidates.
The tweet linked to a video that shows Trump saying, "We're going to go on forever with these debates," before it cuts to a clip of Rick Astley's "Never Gonna Give You Up," a phenomenon known as "Rickrolling."
Cruz has repeatedly challenged Trump to a one-on-one debate, and Trump has yet to take him up on the offer.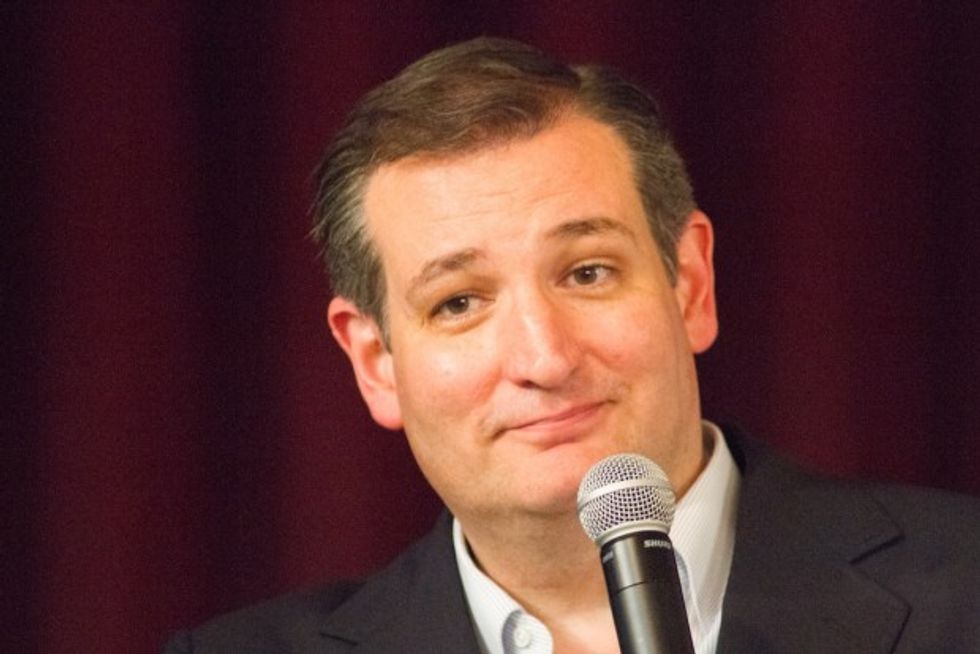 U.S. Senator Ted Cruz (R-TX) speaks at a campaign rally on March 14, 2016 in Decatur, Illinois. (Photo: Charles Ledford/Getty Images)
Nice one. https://t.co/81Gb84uJ1L

— Dana Loesch (@Dana Loesch)1459513244.0
Say what you like about Ted Cruz, but he has mastered the rickroll: https://t.co/1puYkPjYi4

— Ollie Gillman (@Ollie Gillman)1459513374.0
Did @tedcruz just become the first ever presidential candidate to #rickroll his supporters as an #AprilFools joke?

— Alex Ross📰 (@Alex Ross📰)1459513009.0
Argh!! #rickroll #AprilFools Good one @tedcruz ! https://t.co/l6O2R3Lngw

— amaamy (@amaamy)1459510239.0
A statement I'm actually making: I just got rick-rolled by @tedcruz. https://t.co/Fyifs4YA2t

— Kate Irby (@Kate Irby)1459511242.0
Ted Cruz rickrolled Donald Trump because apparently it's 2007. Oh and also because this whole election is a joke.

— Emily Damron (@Emily Damron)1459538580.0
Ted Cruz just rickrolled all of Twitter this morning and I am so impressed https://t.co/FN93vw2qGK

— Hannah Evans (@Hannah Evans)1459532525.0
april fools day in the past: haha i just got pranked by my pal april fools day 2016: i just got rickrolled by ted cruz. trader joes is gone

— lando (@lando)1459528201.0
I was all prepared to be extra vigilant today and not get fooled a single time... but I just got rickrolled by Ted Cruz

— Cole Sorensen (@Cole Sorensen)1459526293.0
I think I just got #rickrolled by Ted Cruz. #AprilFools https://t.co/XUo6zRmYl2

— Alexander Pantinakis (@Alexander Pantinakis)1459511810.0
Cruz rickrolled Trump I can't

— Becca Kittredge (@Becca Kittredge)1459537535.0
Trump retaliated by firing off a tweet about "Lyin' Ted," as is his wont.
Does anybody like Lyin' Ted? https://t.co/h78ESEgEYg

— Donald J. Trump (@Donald J. Trump)1459536318.0
Former Republican presidential candidate Sen. Rand Paul (R-Ky.) also pranked his Twitter following by tweeting Thursday that he would be making a "YUGE" endorsement the following day.
The announcement is going to be YUGE. Don't miss it...

— Senator Rand Paul (@Senator Rand Paul)1459448592.0
Yes Twitter, I am just celebrating #AprilFools #endorsingentropy.

— Senator Rand Paul (@Senator Rand Paul)1459512274.0