Vandals destroyed a large cross that stood iconically over a Riverside, Calif., community since the 1960s. It was a symbol that one local woman said brought her "relief" in times of stress, and its destruction left many neighbors angry, sad and confused.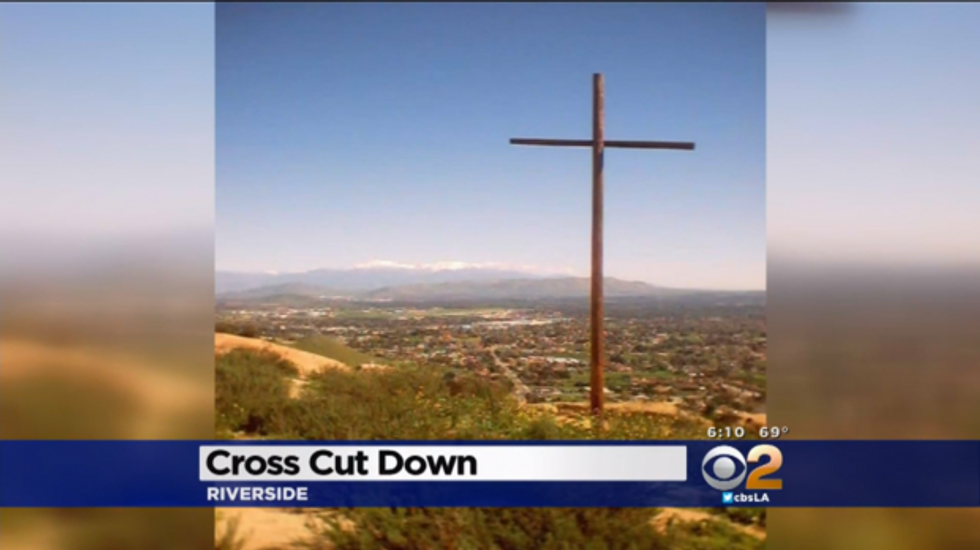 Image: Screen grab
Irene Vasquez, CBS-LA reported Friday, was close to tears just thinking about the cross she once looked to. She frequently hikes to the top of the mountain, where the memorial once stood in still reverence, to remember her son and parents, who have passed away.
"I just felt a relief of stress, and I would just look over at everything and just think about my parents and my son and just say, 'They're up here with me,'" she said.
But the beloved landmark is no more.
"We've lived here for 33 years. It's been up there the whole time," Nancy Lacey told CBS-LA. "It's a landmark. It needs to be there."
The cross was first erected in the 1960s on the hill just beyond the Divine Word Retreat Center.
At first, many believed the 20-foot cross may have fallen due to gusting winds and a severe storm the night before it was discovered, according to the Press Enterprise. But when Geoffrey Buyco, the center's manager, hiked up to see the damage, he noticed wood chips scattered around the cross's base.
"It's really heartbreaking to go up there and see that cross lying there," Buyco said. "Just thinking about it is — my whole life it's been up there."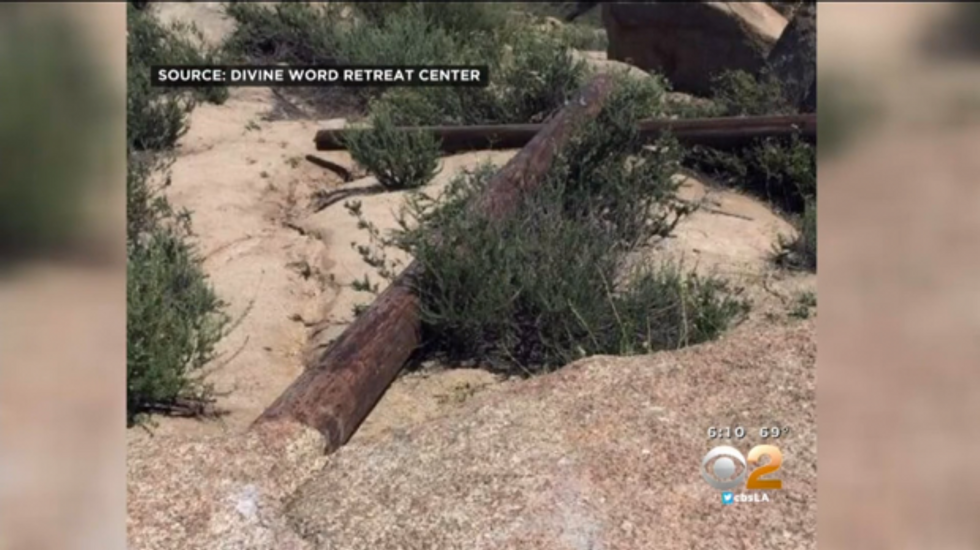 Image: Screen grab
Father Mel Davis, who lives at the center, couldn't understand why someone would cut down the cross.
"It's very sad. I really don't know why someone would need to destroy the religious symbol of anyone else," he said.
And Father Paul Schmidt, who also works at the center, went a step further, describing the cutting as "a real act of violence."
Riverside police say they have not ruled the incident a hate crime, but said they are looking into that possibility, since the memorial is so close to a religious center.
"It's very unfortunate people would hate symbols of religion," Rev. Jose Goopio, who leads the center, told the Press Enterprise. "Father forgive them, for they know not what they do."
In addition to the cross cutting, community members noticed minor graffiti on the center's walls. Employees at the center hope to erect a new cross as soon as possible.
Both Davis and Schmidt said that they hope whoever vandalized the cross will issue a public apology and assist in building a new one.
—
Follow the author of this story on Twitter: