CAIRO (AP) — Republican Sen. Lindsey Graham sought to reassure the Arab world Sunday over the prospect of Donald Trump becoming president, saying in Cairo that Congress would continue to play a primary role in foreign policy, "regardless of what Mr. Trump says or does."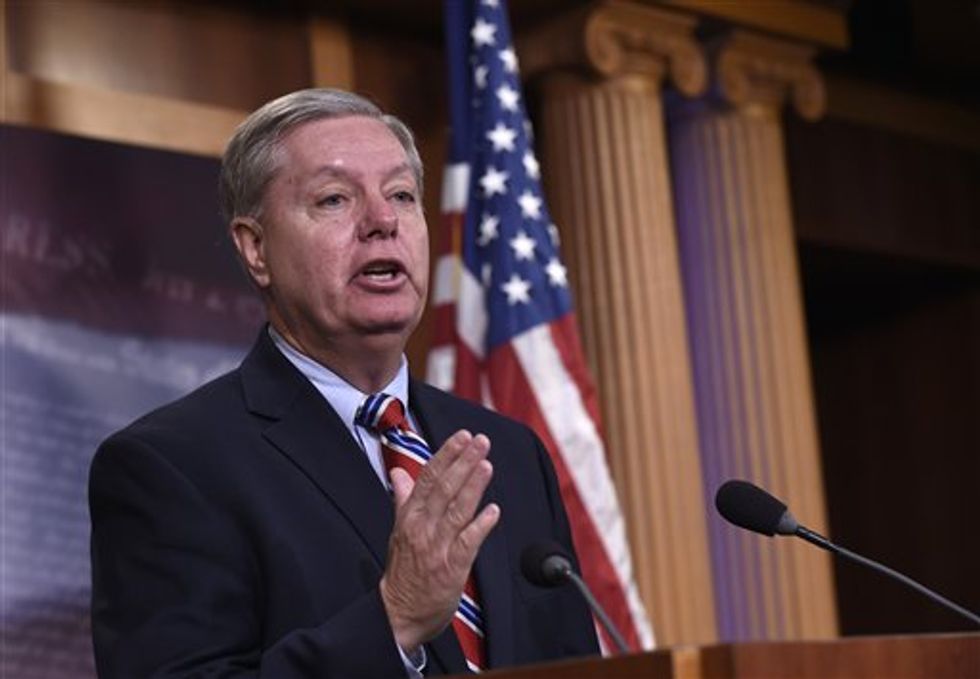 In this Jan. 21, 2016 file photo, Sen. Lindsey Graham, R-S.C., a former Republican presidential candidate, answers questions about his opinions on the presidential candidates, during a news conference on Capitol Hill in Washington. (AP Photo/Susan Walsh, File)
"The Congress is going to be around no matter who is president," Graham told reporters after meeting with Egyptian President Abdel-Fatah el-Sissi as part of a Republican congressional delegation touring the Middle East.
"All of us, regardless of what Mr. Trump says or does, we are going to keep being who we are, so don't let the political scenes at home get you too upset," Graham said. "That's what I told the president."
Graham's comments regarding the front-runner for his party's nomination reflect a growing concern in Washington over the effect a Trump presidency could have on U.S. foreign policy and international relations. Trump has stirred controversy both at home and abroad with proposals that include a blanket ban on Muslim immigration to the U.S. and the building of a massive wall along the entire U.S.-Mexican border.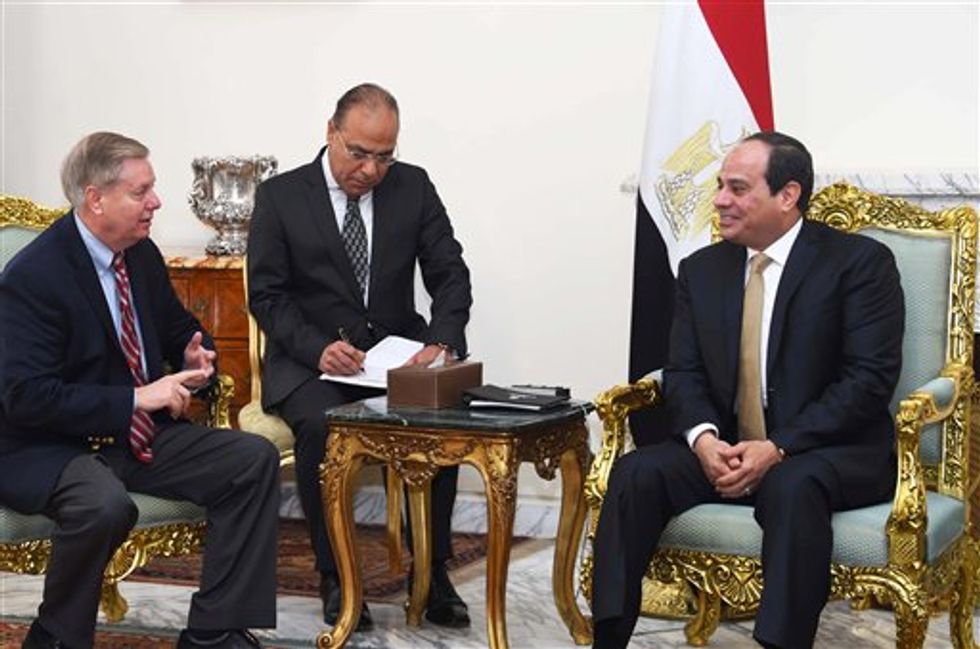 In this photo provided by Egypt's state news agency, MENA, Egyptian President Abdel-Fattah el-Sissi, right meets with Republican Sen. Lindsey Graham, left, at the office of the Presidency in Cairo, Egypt. (MENA via AP)
"Don't let the politics of the moment make you believe that America has fundamentally changed in terms of the way we view the world. It hasn't," Graham said.
Graham has endorsed Sen. Ted Cruz, Trump's main Republican rival, despite the fact that Graham has been a vocal public critic of Cruz for years. Speaking to The Daily Show's Trevor Noah last month, Graham said he was endorsing Cruz because he is, "not completely crazy."
Speaking to reporters Sunday, Graham said he wants the U.S. to increase its military aid to el-Sissi's government, which is battling a long-running insurgency in the northern Sinai by militants affiliated with the Islamic State group.
With $1.3 billion annually, Egypt is the second-largest recipient of U.S. military aid after Israel.
Graham said the delegation's main purpose in Egypt is to improve and deepen relations with el-Sissi, and to support the economy to help ensure the stability of Egypt.
"If Egypt fails, every problem in the Mideast becomes a hundred times worse," Graham said.
Graham, along with Sen. John McCain, was vehemently opposed to the July 2013 military ouster of elected Islamist President Mohammed Morsi, led by then-Defense Minister el-Sissi. The military removed Morsi of the Muslim Brotherhood amid mass protests against his one-year rule.
But on Sunday, Graham appeared to back el-Sissi as "a military man who understands terrorism" and "someone I can work with."
In recent weeks, Egypt was rebuked over its human rights record by U.S. Secretary of State John Kerry as well as the European Union's foreign affairs arm, the European Parliament, the U.N. Council for Human Rights and several Western European nations, including key trade partner and EU heavyweight Germany. The case of an Italian student kidnapped and tortured to death in Cairo has also poisoned Egypt's long close ties with Italy, amid suspicions that it was carried out by members of the security forces.
Graham acknowledged those concerns and said he and his colleagues are encouraging Egypt to improve its record on human rights and freedom of expression.
"Our hope is that the Egyptian government can prove to the international community that they're sincerely responding to legitimate concerns while at the same time trying to maintain security," Graham said.
—