REYKJAVIK, Iceland (TheBlaze/AP) -- An Icelandic broadcaster is reporting that Prime Minister Sigmundur David Gunnlaugsson has offered his resignation amid the offshore scandal revealed in the Panama Papers leak.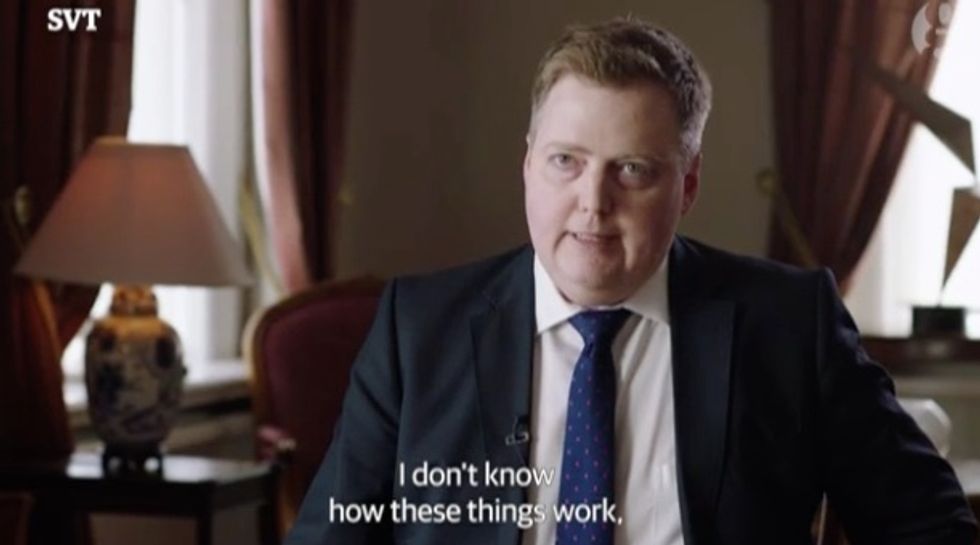 Image source: SVT / Guardian
State broadcaster RUV confirmed the resignation on Tuesday after it was announced on TV by Sigurdur Ingi Johannsson, an Icelandic government minister and deputy chairman the country's Progressive Party, the New York Times reported.
The Panama Papers leak had revealed just hours earlier that Gunnlaugsson had used offshore accounts dating back to 2007 in order to conceal ownership of a company, Wintris Inc., in the British Virgin Islands.
The Times reported that Gunnlaugsson sold the company to his wife, Anna Sigurlaug Palsdottir, for $1 on December 31, 2009, just one day before a new law was to take effect that would have required him to declare his ownership of the company a conflict of interest.
The Washington-based International Consortium of Investigative Journalists was the first to report the Panama Papers bombshell on Sunday, which included a record of about 11.5 million assets and services belonging to politicians, businesses and celebrities around the world.
Countries with past or present leaders named in the documents were Iceland, Ukraine, Pakistan, Saudi Arabia, Russia and Argentina.
–