Republican presidential contender Donald Trump's frequent and sustained use of his nickname for rival Ted Cruz seems to have paid off, as thousands shouted "Lyin' Ted" in an intense chant during the front-runner's first New York rally Wednesday.
Following Cruz's major victory in Wisconsin Tuesday night, Trump sought to knock the wind out of his sails, reminding his 10,000-person audience in Bethpage, New York, about the Texas senator's slam against "New York values" earlier this year.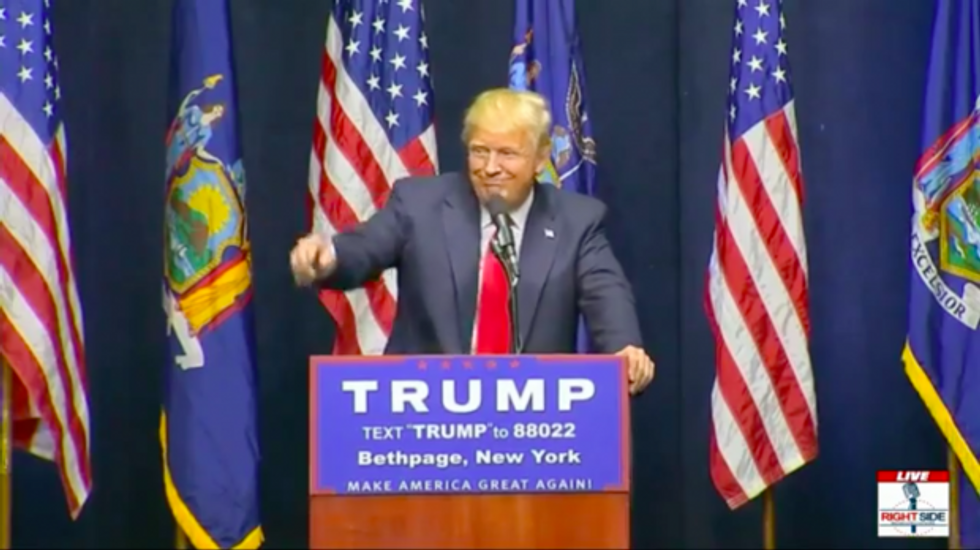 Donald Trump holds first New York rally in Bethpage Wednesday, April 6. (Image: YouTube/Right Side Broadcasting)
"Do you remember, during the debate, when he started to lecture me on New York values, like we're no good?" Trump said. "And I started to talk to him about the World Trade Center, the bravery — the incredible bravery of everybody, the police, our firemen, everybody."
Trump continued, telling the crowd that he told Cruz about New York's "incredible" police and firefighters and the Empire State's "unbelievable" construction workers.
"The bravery that was shown was incredible," he added. "We all lived through it, we all know people that died, and I've got this guy standing over there, looking at me, talking about New York values, with scorn on his face, with hatred of New York. So folks, I think you can forget about him."
Seconds later, the large audience of supporters broke out in an epic chant: "Lyin' Ted! Lyin' Ted! Lyin' Ted!"
"He is Lyin' Ted," Trump replied with a smile. "You know I came up with the idea, but you have to spell it right — it's L-Y-I-N, apostrophe — Lyin' Ted. The Bible held high, he puts it down, and then he lies."
Trump went on to say Cruz "lies like crazy" and that "the Christians, the evangelicals like Donald Trump."
See the intense chant:
—
Follow the author of this story on Twitter: