Republican Florida Gov. Rick Scott received a brutal verbal attack from a woman who disapproved of his politics inside a Gainsville Starbucks on Tuesday in an encounter that was filmed by a bystander and posted to YouTube.
In the footage, Cara Jennings, who is wearing a green shirt, can be scene berating the Republican governor as he stands in line near the front counter presumably waiting to place an order. Several other people were inside the Starbucks at the time of the confrontation, and at one point, another woman approaches Jennings before abruptly being cut off with, "I'm not talking to you."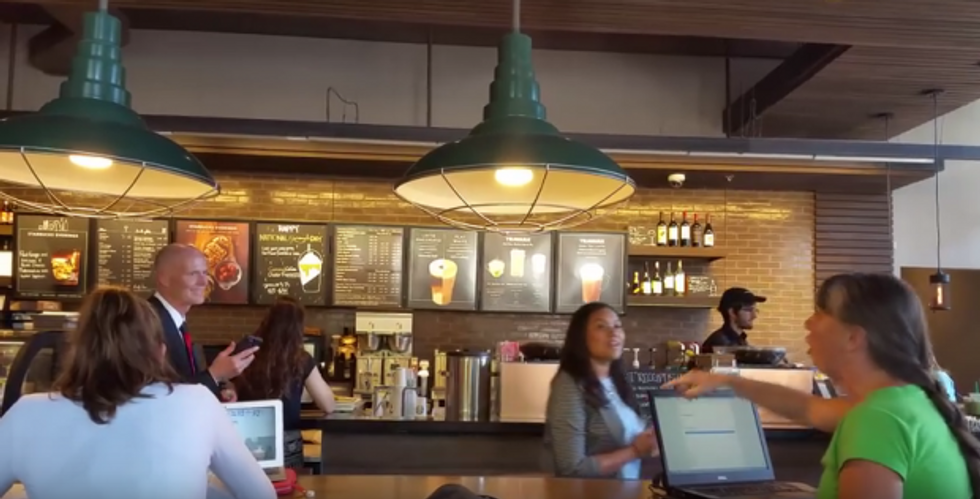 Image source: YouTube
"You cut Medicaid so I couldn't get Obamacare," Jennings shouted at Scott. "You're an asshole. You don't care about the working people. You should be ashamed to show your face around here."
Although Scott did not actually cut Medicaid entirely, Jennings seems to have been referring to Scott's recent refusal to expand Medicaid in the state, according to WFOR-TV.
Scott then attempted to interject in Jennings' tirade and defend his governorship by citing statistics saying his administration had created 1 million jobs.
"A million jobs? Great!" Jennings retorted. "Who here has a great job or looking forward to finishing school? Do you really feel like you have a job coming up?"
"You should," Scott interjected before making his way back towards the door without his coffee as Jennings continued berating him and his policies.
"You strip women of access to public healthcare. Shame on you, Rick Scott!" Jennings said as Scott left. "We depend on those services. Rich people like you don't know what to do. When poor people like us need health services, you cut them! Shame on you, Rick Scott. You're an embarrassment to our state!"
Jennings later shared the YouTube video link on her Facebook page, where she further explained some of her reasoning behind confronting Scott at Starbucks.
"I am upset about the awful bill Governor Scott signed last week — cuts funding to Planned Parenthood and restricts abortion access. Just last night I looked online to see if there is a march planned to defend our rights to abortion. And then today, the Governor walked into the coffee shop I was at.....and left with no coffee."
Jennings' tirade received varied reactions on her Facebook page.
"LOVE YOU!!! Thank you for expressing what is on everyone's mind to Rick Scott!!" wrote one person.
"Are you serious? 'Rich people like you?' and 'Poor People like us?' And you're sitting in a coffee shop drinking coffee playing on your 500 dollar laptop?" wrote another. "GET a real job and get the insurance you need and shut the f*** up and stop trying to live off the government you moron."
"You made Scott squirm, thank you. I hope Trump blows up the Republican Party as that is the one way to move Liberals forward," wrote another person.
—
Follow Kathryn Blackhurst (@kablackhurst) on Twitter