When Joshua Hilling of the Glendale, Ohio, police department spotted a man walking along Interstate 75 last week, the officer exited his cruiser to have a chat with the pedestrian, given his action was a no-no.
But that was tame compared to what the man did next — and Hilling's bodycam captured it all.
At first, things appeared calm. The man told Hilling his name was Carlos Ambrella, but also mentioned that he had no identification.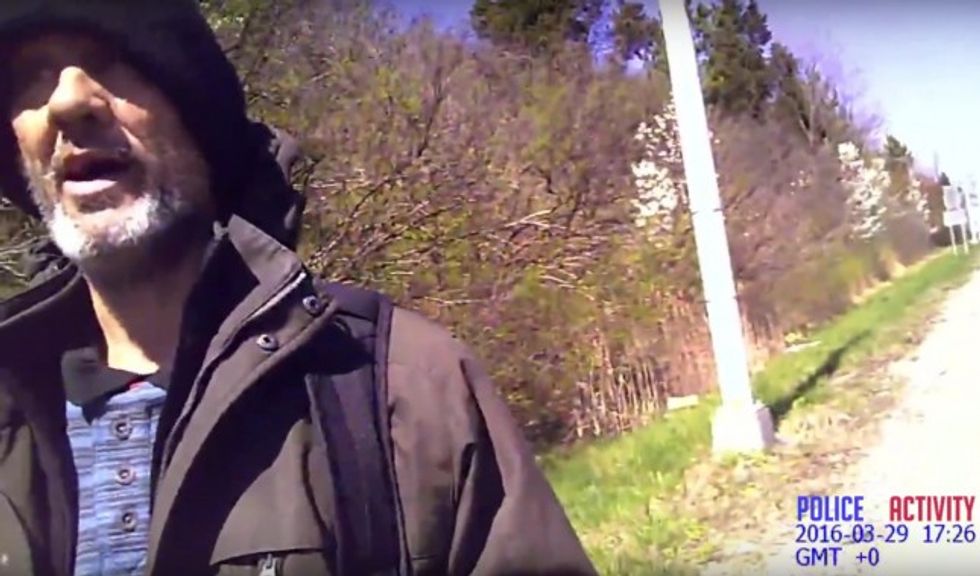 Image source: YouTube
Little did the officer know he was talking to Javier Pablo Aleman, 46, who was wanted by Maryland authorities in connection with a fatal stabbing.
And when Hilling led Aleman to his cruiser so he could pat him down for weapons, Aleman turned on Hilling, pulled out an 8-inch knife and began walking toward him.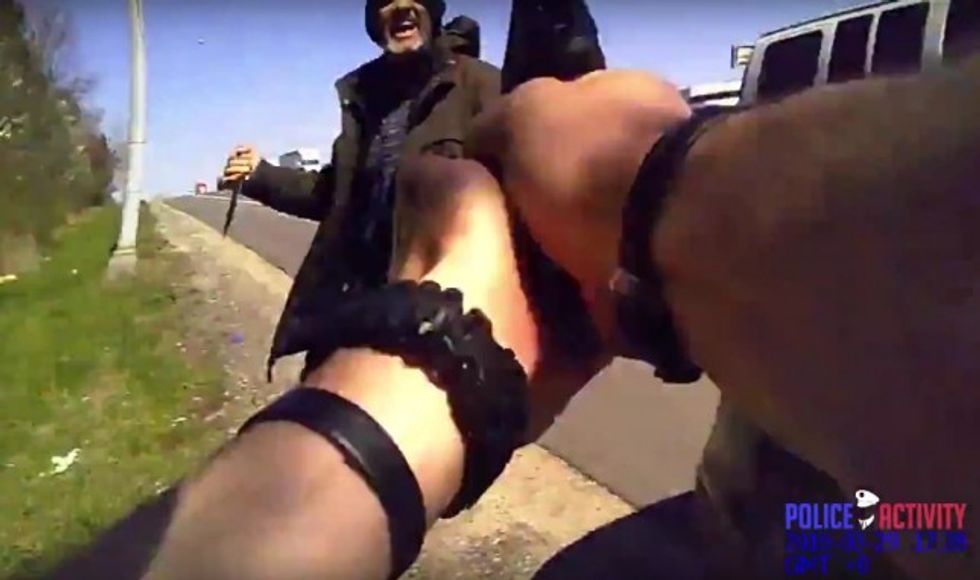 Image source: YouTube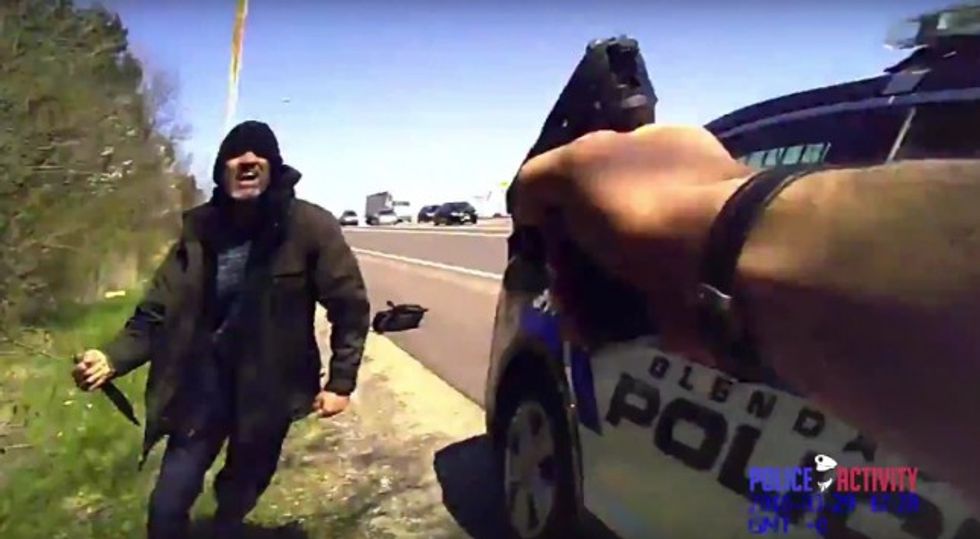 Image source: YouTube
Hilling can be seen on his bodycam pulling out his gun -- then yelling to dispatch that he had just fired it and hit the man in the abdomen.
But Aleman got up from the asphalt and continued walking toward Hilling, telling him, "Kill me! Kill me!"
Hilling continued to back up on the highway, yelling at Aleman to put down his knife and get down on the ground.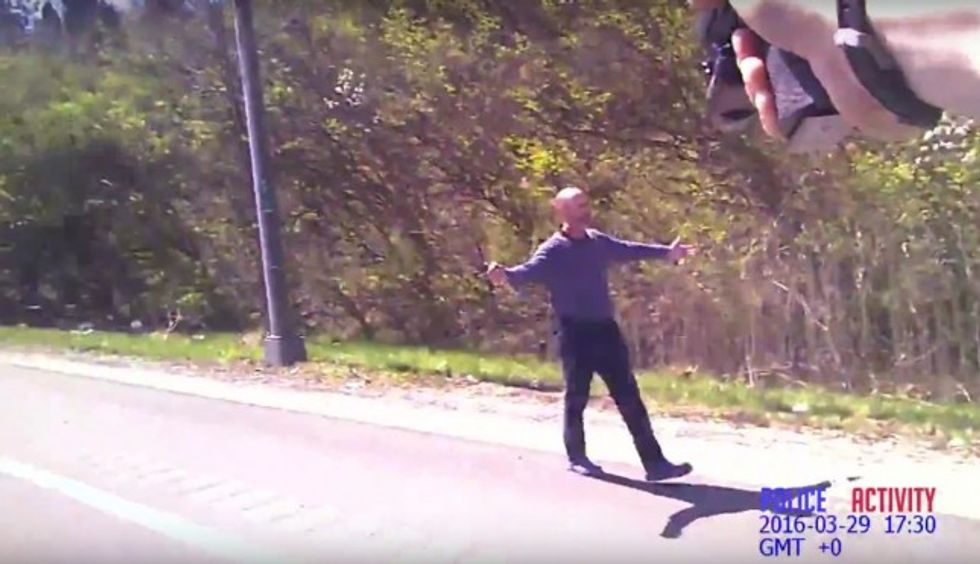 Image source: YouTube
But even after other officers arrived -- and while southbound drivers who were backed up on I-75 watched it all unfold -- Aleman refused to comply.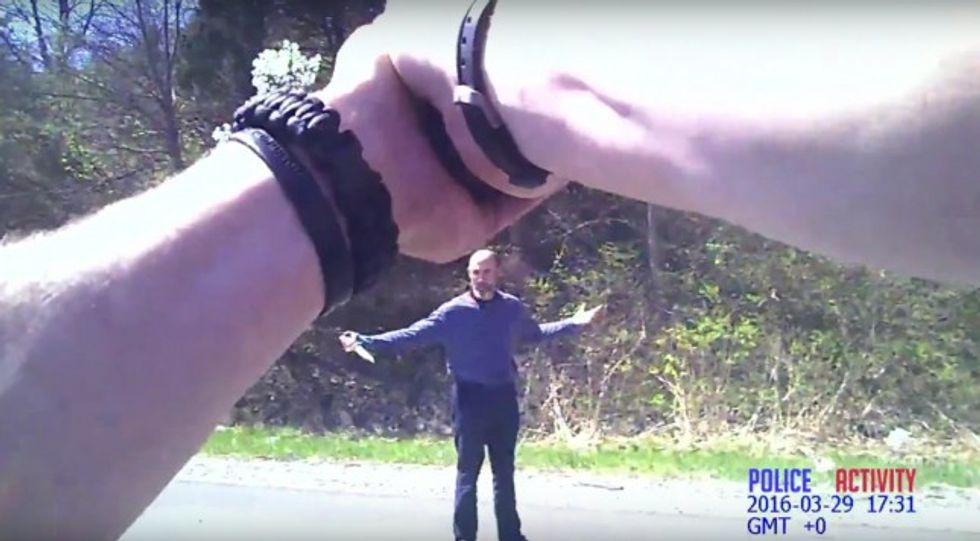 Image source: YouTube
At one point Aleman walked by what appeared to be a civilian's red car which had pulled over to the highway shoulder, and the tension mounted as police literally pleaded with Aleman to surrender.
"Sir, let us help you," Hilling was heard saying as officers closed in on Aleman before he was shot with a taser and taken into custody.
Hamilton County Prosecutor Joe Deters called Hilling "one brave individual," WCPO-TV reported, and indicated Tuesday that no charges would be filed against the 30-year-old officer for shooting Aleman during the March 29 incident.
"I'm not going to speak for the chief or the sheriff, but Joshua Hilling deserves a medal for what he did," Deters said, the station reported.
"He got a bad hombre off the street," Hamilton County Sheriff Jim Neil added, WCPO reported.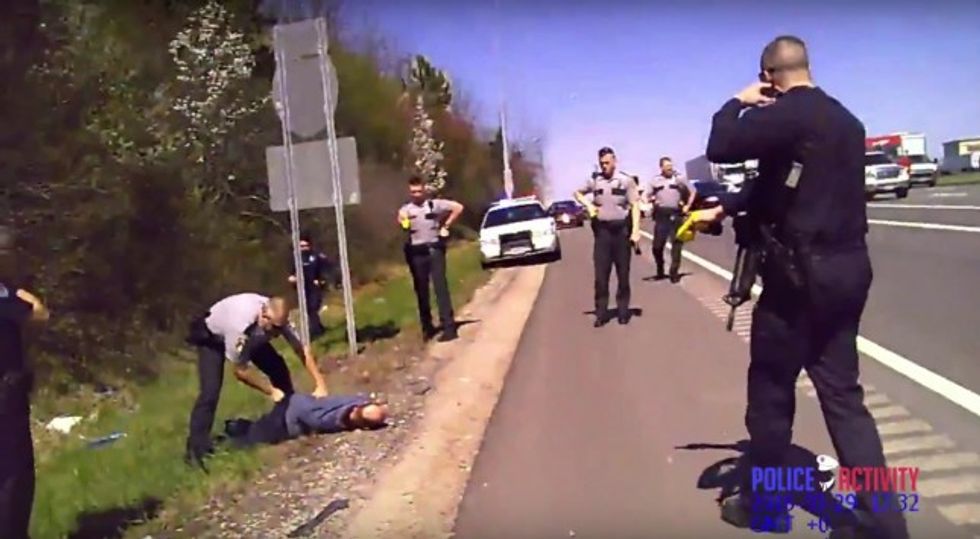 Image source: YouTube
Aleman was wanted in connection to the March 17 fatal stabbing of 51-year-old Victor Adolfo Serrano, WCPO reported, in Dundalk, Maryland, east of Baltimore. Deters said there is a high probability that the knife that Aleman was seen waving at Hilling was the murder weapon used in Maryland, the station added.
Aleman is being held in Cincinnati on charges of attempted murder and will appear before a grand jury by April 13, WCPO said. Deters said these charges give Maryland authorities more time to conduct DNA tests related to their case against Aleman, who remained hospitalized Tuesday. The suspect faces a potential prison sentence of 11 years in Ohio, the station reported.
Police said Hilling can return to work after being on paid leave since the incident, WCPO said.
Hilling joined the Glendale Police Department as a part-time officer in 2011, WCPO said after looking at his file, adding that he'd only been full-time for 12 weeks when his confrontation with Aleman occurred.
Glendale Police Chief Dave Warman gave Hilling a 4.5 out of 5 in his last performance review, WCPO said, noting: "P.O. Hilling is aggressive in his enforcement duties but also exercises significant discretion in his decision making. He is dependable and available for extra duties when needed. Josh is well-liked by his peers and has unlimited growth potential with the department."
Here's the bodycam video (Content warning: Strong language):
(H/T: New York Daily News)