Donald Trump supporter Paul Manafort accused Texas Sen. Ted Cruz's campaign of using "Gestapo tactics" to win delegates during an appearance on Sunday's "Meet the Press" with host Chuck Todd.
Manafort, who was recently brought on as the convention manager and delegate strategist to the Trump campaign, was responding to a video clip Todd showed him of Manafort's friend, Roger Stone, discussing the tactic of sharing delegates' hotel room numbers in order to "cajole" them and their support. After showing the clip, Todd asked Manafort if he thought such tactics were "appropriate" and if "threatening" was a "fair game."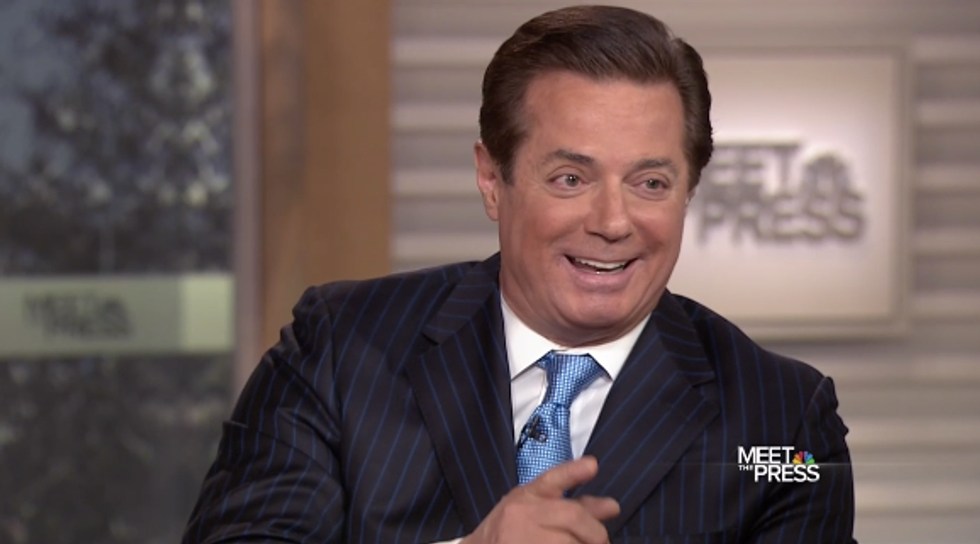 Paul Manafort (Image source: NBC News' "Meet the Press")
"It's not my style, and it's not Donald Trump's style. But it is Ted Cruz's style," Manafort responded before adding the Cruz campaign was "threatening — you go to these county conventions and you see the Gestapo tactics and the scorched earth tactics…"
Todd immediately reacted to Manafort's terminology.
"Gestapo tactics?" Todd interjected. "That's a strong word!"
Manafort defended his words, claiming that the Cruz campaign was "not playing by the rules" in its tactics as he added that there are many different ways to reach the required 1,237 delegates necessary to secure to the Republican presidential nomination.
"I'm confident there are several ways to get to 1,237," Manafort said, adding that the delegates race will most likely continue until early June.
(H/T: Mediaite)
—
Follow Kathryn Blackhurst (@kablackhurst) on Twitter