A Muslim man claimed responsibility last week for murdering a Scottish Muslim shopkeeper last month after the businessman posted a "Happy Easter" message to his "beloved Christian" friends on Facebook.
As previously reported, Asad Shah, 40, died in a hospital in Glasgow after sustaining serious injuries in the March 24 attack that British media described as especially brutal.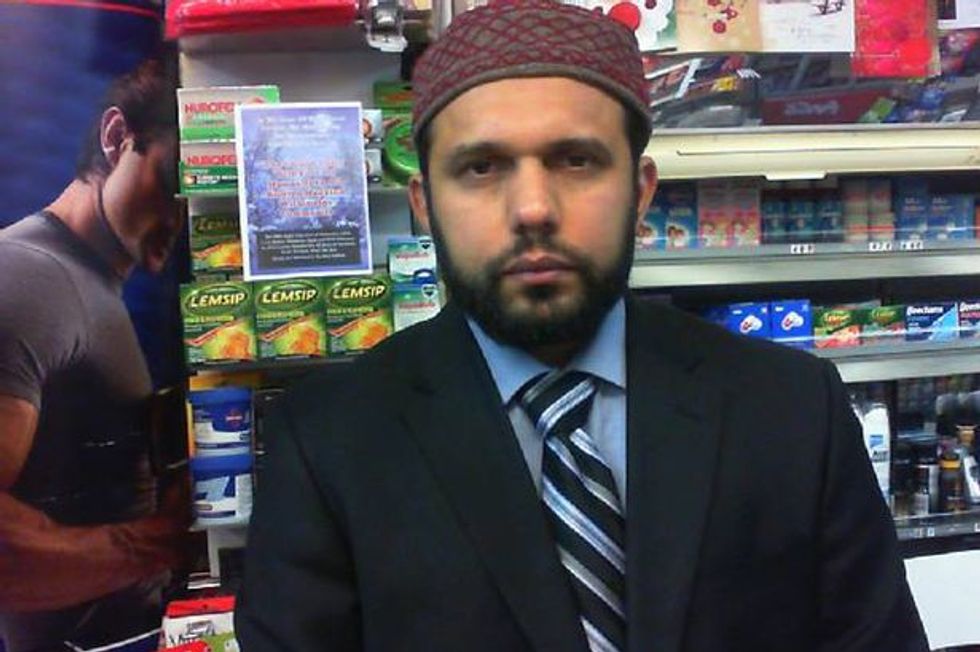 Asad Shah, reported to be an Ahmadiyya Muslim, a community often persecuted in Muslim countries, was killed in what Scottish police called a "religiously prejudiced" attack. A 32-year-old Muslim man was arrested as a suspect in the killing. (Image source: Facebook)
Police arrested 32-year-old taxi driver Tanveer Ahmed the day after the attack in connection to what authorities believed to be a "religiously prejudiced" attack.
After his second court hearing last Wednesday, Ahmed instructed his lawyer, John Rafferty, to read a public statement outside the court, the Daily Record reported.
"Asad Shah disrespected the messenger of Islam the Prophet Muhammad, peace be upon him. Mr. Shah claimed to be a Prophet," the statement read.
Ahmed was likely referring to a sentence in Shah's Easter Facebook post that read, "Let's Follow the Real Footstep of Beloved Holy JESUS CHIRST [PBUH] And Get the Real Success in Both Worlds."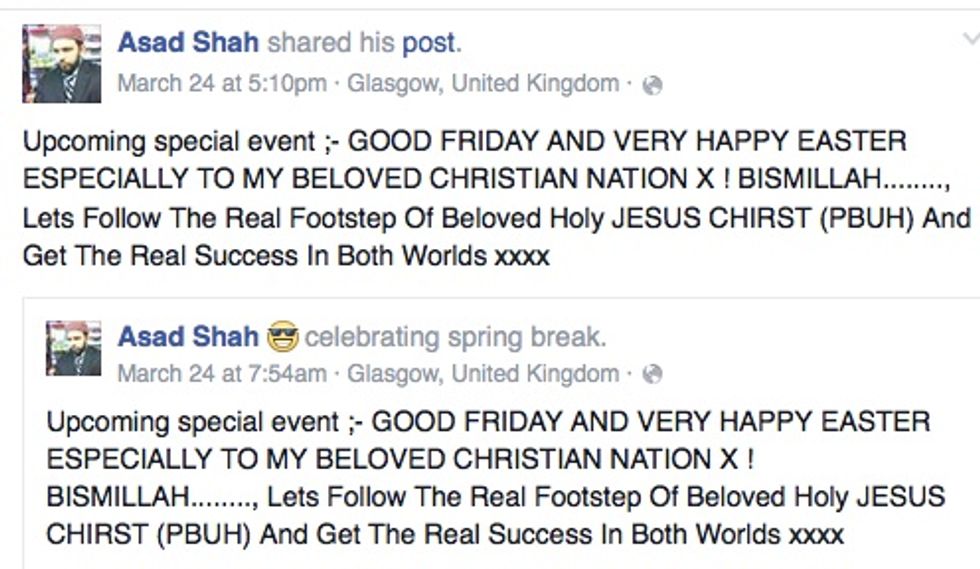 Image source: Facebook

The acronym "PBUH" is short for "peace be upon him," the Islamic statement of reverence attributed to prophets.
"This all happened for one reason and no other issues and no other intentions," the statement continued.
"It is mentioned in the Quran that there is no doubt in this book [that] no one has the right to disrespect the sayings of the Prophet Muhammad, peace be upon him," Ahmed's statement continues. "If I had not done this, others would and there would have been more killing and violence in the world."
It is unclear what exactly offended Ahmed, who claimed to "also love and respect Jesus Christ," and said the attack had "nothing at all to do with Christianity or any other religious beliefs."
According to the Christian Post, a group radical Muslims have created a Facebook page to honor Ahmed for killing Shah. The group refers to Ahmed as "Ghazi," a title used to refer to Muslim warriors and champions. The page, which is no longer visible on Facebook, reportedly received more than 700 "likes" before it was apparently taken down.
A number of photos of Ahmed were featured on the page, according to the Post, including one of him posing next to a photo of a prominent Muslim assassin Mumtaz Qadri, who was executed in February for killing Punjab Gov. Salmaan Taseer in 2011 after he defended a Christian mother who was convicted of blasphemy and expressed a desire to modify blasphemy laws in Pakistan.
According to a GoFundMe page created by Shah's customers to help the slain man's family, "Mr. Shah was a popular, well respected and much loved member of our community and his death has devastated many."
"He was a warm and friendy man and he always went out of his way to make time to talk to you — he was more than just our local shopkeeper. He was a friend to many," they wrote.
As of this writing the group has raised about $160,000.