A municipal council member representing Britain's Labour Party was suspended over the weekend after the discovery of offensive messages posted on her Twitter account before her public service, including one describing Adolf Hitler as the "greatest man in history."
Labour councillor Aysegul Gurbuz, 20, of the High Town ward in Luton, north of London, was elected last year but a few years earlier had tweeted support for "my man Hitler" and expressed hope that Iran would use a nuclear weapon to "wipe Israel off the map."

Screenshot courtesy of Campaign Against Anti-Semitism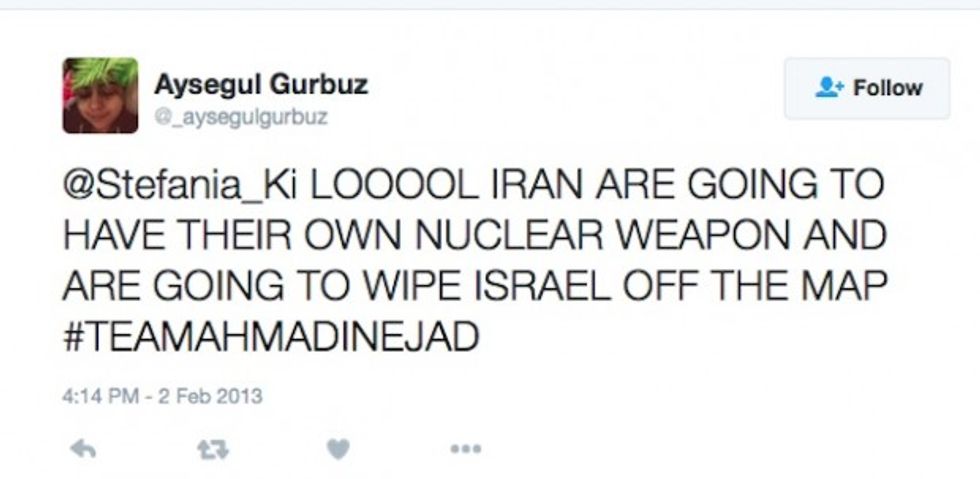 Screenshot courtesy of Campaign Against Anti-Semitism
Another tweet complained with "disgust" that "Jews are so powerful."
"Jews cannot expect us to sympathize with their history under Hitler," she tweeted.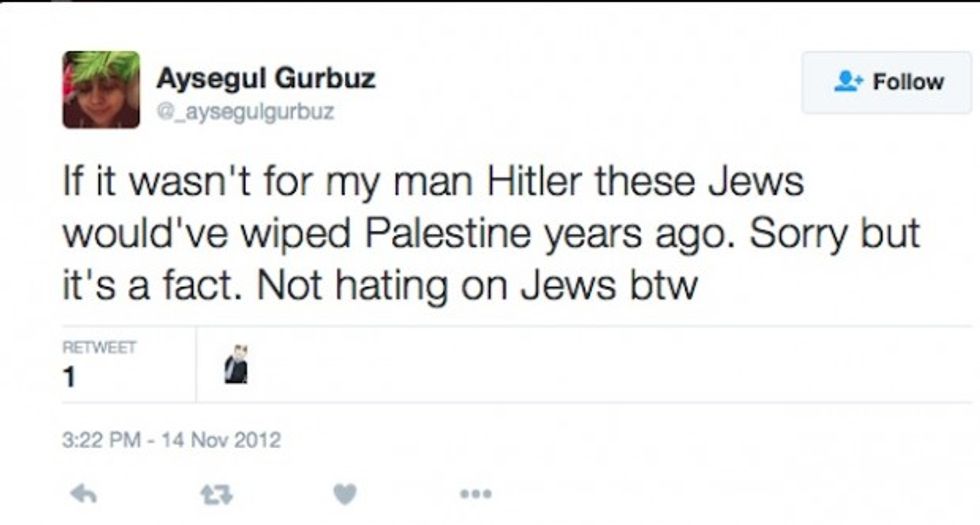 Screenshot courtesy of Campaign Against Anti-Semitism
The offensive tweets which spanned from 2011 to 2014 were discovered by the Campaign Against Anti-Semitism.
The Campaign Against Anti-Semitism said that when it approached Gurbuz for comment, she denied she wrote the tweets and suggested her sister may have posted them. Her account has now been deleted.
Luton Labour councillor Aysegul Gurbuz suspended over Hitler tweethttps://t.co/d9coshzrKI

— BBC News (UK) (@BBCNews) April 10, 2016
"It was a joint account I had with my sister so I don't know if she's gone out and tweeted that, but I'm absolutely appalled right now," she told the Campaign Against Anti-Semitism. "Where I live we've got very good cohesion with the Jewish community. … I'm absolutely shocked."
A party spokesman said, "Councillor Gurbuz has been suspended from the Labour Party pending an investigation."
The Daily Mail reported that Gurbuz is in her last year at Warwick University where she is active with the Friends of Palestine society.
Her suspension follows other recent controversies involving Labour officials accused of exhibiting anti-Semitism.
---