Once again, western states are economically more competitive in the United States, while northeastern states continue to slip, according to the 2016 State Economic Competitiveness Index released Tuesday.
For the ninth consecutive year, the "Rich States, Poor States" report found that Utah is the most economically competitive state for 2015, in the study by the American Legislative Exchange Council, a conservative think tank for state legislators. The state of New York ranked last place.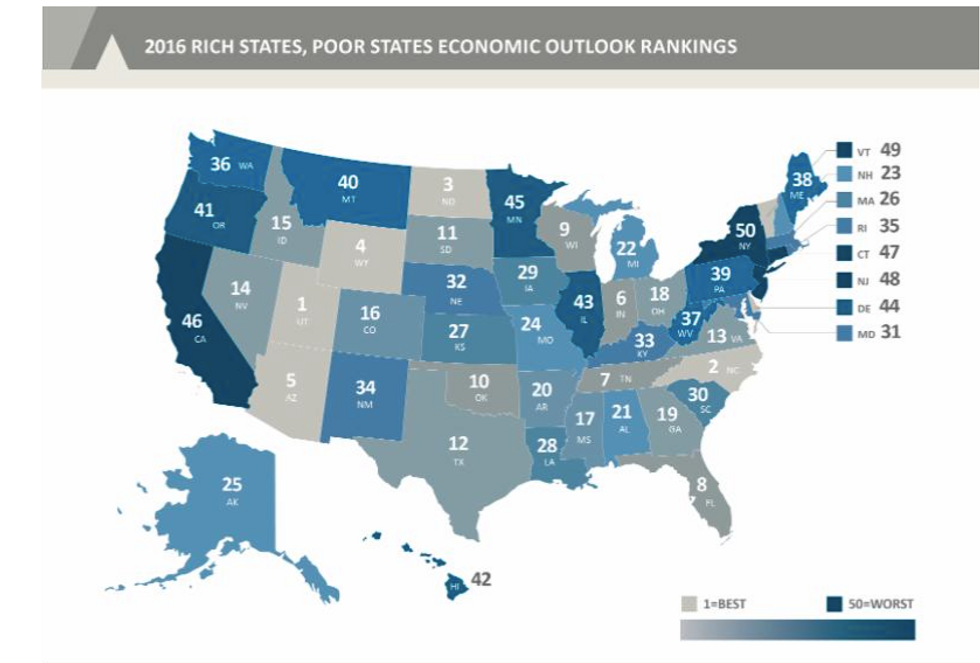 American Legislative Exchange Council
The study used 15 economic policy variables to rank the outlook. Some states had dramatic shifts in their rankings. It was completed by economist Arthur Laffer, Heritage Foundation fellow and former Wall Street Journal writer Stephen Moore and Jonathan Williams, vice president of the ALEC Center for State Fiscal Reform.
"As states compete with each other for much-needed human and financial capital, there is a clear trend in favor of taxpayer-friendly, market-oriented reforms," Williams said.
Tennessee climbed 10 spots from last year. Florida climbed seven spots. Both New Hampshire and Oklahoma improved by six spots.
On the negative side, Georgia dropped 12 spots in the rankings to 19th place. Alaska fell by 11 spots, while Idaho and Kansas each fell by nine spots.
Here are the top 10 most economic competitive states:
1. Utah

2. North Carolina

3. North Dakota

4. Wyoming

5. Arizona

6. Indiana

7. Tennessee

8. Florida

9, Wisconsin

10. Oklahoma
Here are the bottom 10 states.
41. Oregon

42. Hawaii

43. Illinois

44. Delaware

45. Minnesota

46. California

47. Connecticut

48. New Jersey

49. Vermont

50. New York
To see all 50 state rankings, click here.
—
Front-page image via Shutterstock