Pope Francis warned on Tuesday that he believes there's an assault going on against Christians who hold to traditional, biblical values, with the pontiff embracing the concept of conscientious objection.
"There's a persecution of which not much is being said," Pope Francis said during a Mass at Santa Marta in Vatican City, adding that he believes this form of persecution is "cross-dressed as culture, cross-dressed as modernity, cross-dressed as progress," according to Crux.
The faith leader did differentiate between the horrific "bloody persecutions" like those unfolding at the hands of violent terrorists and "velvet-gloved" assaults that are "cloaked in politeness." He said that these latter instances can lead a person to lose his or her job or face other push-back if an individual refuses to adopt laws that "go against God the creator."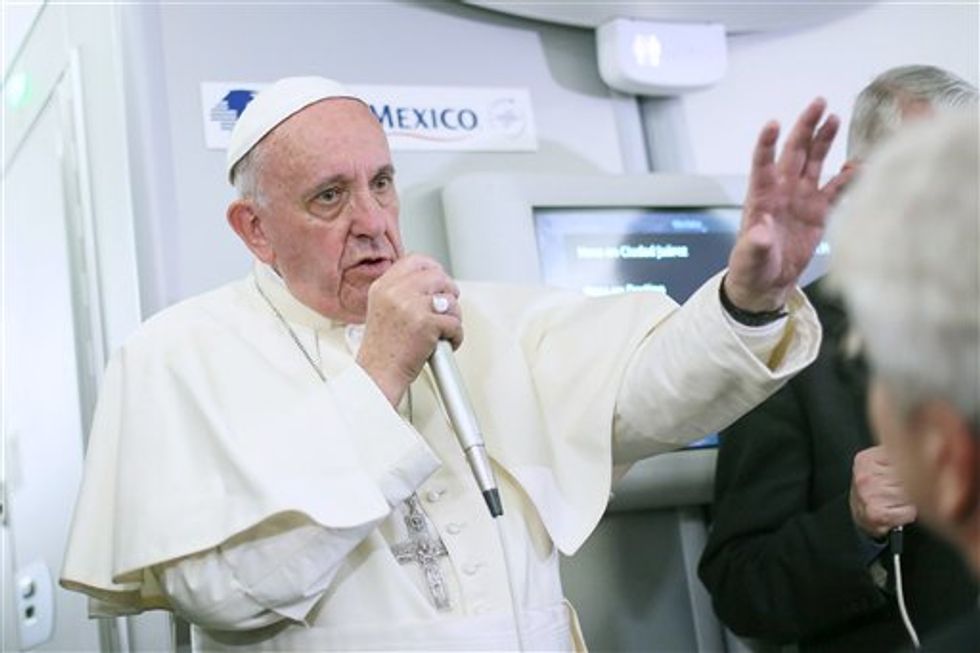 In this photo taken Wednesday, Feb. 17, 2016 Pope Francis meets journalists aboard the plane during the flight from Ciudad Juarez, Mexico to Rome, Italy. (Alessandro Di Meo/Pool Photo via AP)
"We see every day that the powerful countries create laws that force us to go through this path … a nation that doesn't follow these modern laws, these cultures, or that at least doesn't want to have them in its laws, is accused, is politely persecuted," Pope Francis continued. "It's a persecution that robs man of his freedom, even from conscientious objection!"
As TheBlaze previously reported, the pontiff has discussed these issues in the past, notably making comments in the wake of the debate over defiant Kentucky Clerk Kim Davis' refusal to offer gay wedding licenses that led some to ponder whether he agreed with her stance on the matter.
When asked aboard the papal plane last year whether he supports individuals who refuse to violate religious conscience as in the cases of those who decline to grant gay marriage licenses, the pontiff held little back, NBC News reported.
"I can't have in mind all the cases that can exist about conscientious objection … but yes, I can say that conscientious objection is a right that is a part of every human right. It is a right," he said in remarks that were translated by pool reporters. "And if a person does not allow others to be a conscientious objector, he denies a right."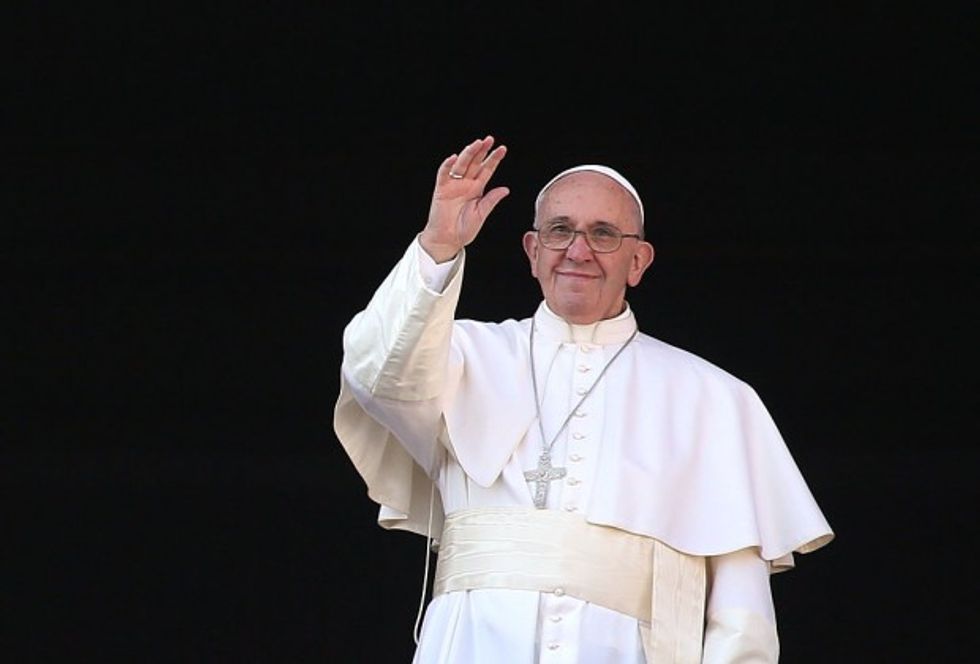 Pope Francis (Franco Origlia/Getty Images)
Pope Francis also expressed his belief that such protections should be built into judicial systems.
"Conscientious objection must enter into every juridical structure because it is a right, a human right," he said. "Otherwise we would end up in a situation where we select what is a right, saying, 'this right that has merit, this one does not.'"
The pontiff did not name Davis or anyone else for that matter in making these remarks, though he did extend them to government workers.
"It is a human right and if a government official is a human person, he has that right," he said. "It is a human right."
(H/T: Crux)
--
Follow the author of this story on Twitter and Facebook: