The leader of a group of Iraqi Christians who have formed a military alliance known as the Babylon Brigade — an effort to fight back against the Islamic State — is defending his group's decision to engage in battle.
Christian militia leader Rayan al-Kildani recently told BBC reporter Owen Bennett-Jones why he believes that the Babylon Brigade must fight, using rockets and weapons in an effort to stop the terrorist group.
"What Islamic State was doing to the Christians is terrible," al-Kildani said. "They are the devil."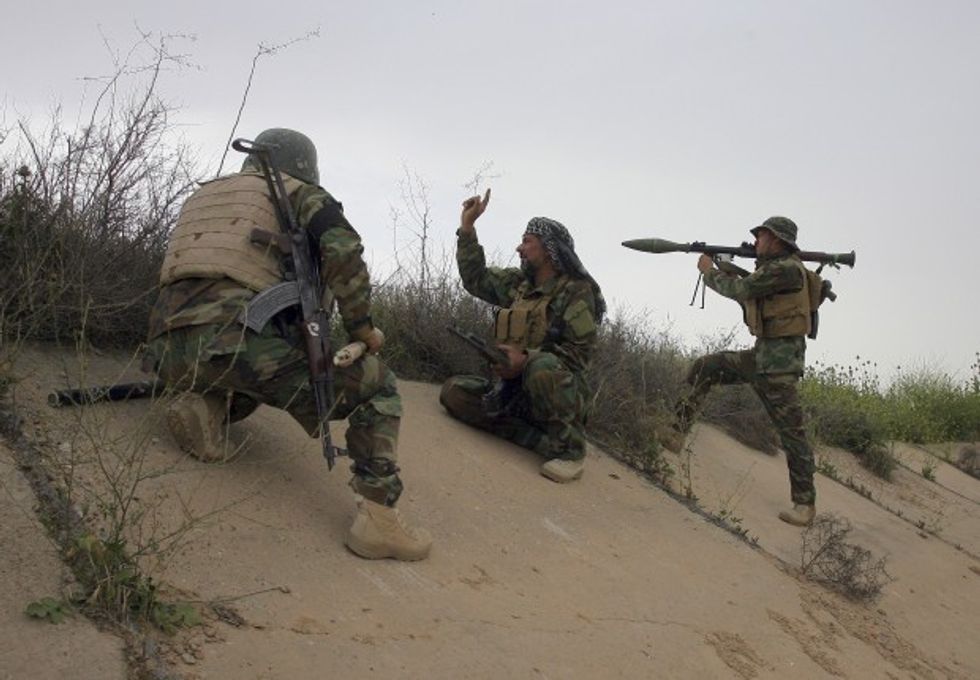 Iraqi Security forces and allied Popular Mobilization forces take combat positions during a military operation to regain control of Islamic State group held town of Besher outside the oil-rich city of Kirkuk, 180 miles (290 kilometers) north of Baghdad, Iraq, Sunday, April 10, 2016. (AP Photo/Anmar Khalil)
While he declined to go into specifics regarding the exact number of men that the Babylon Brigade has rallied, he said that the Christian militia has joined together with Muslim fighters who are also taking aim at the Islamic State.
"We fight side by side with the Muslim militias. We are the first Christian power in Iraqi history," al-Kildani claimed. "I know the Bible says that if you get hit on one cheek you should offer the other. But we have really good defence forces now."
He continued, "No-one is going to do anything bad to the Christians. Some Christians had their homes taken over. I have personally been to those houses to tell the new people living there to get out. Christian suffering is over."
But when Bennett-Jones pressed al-Kildani by citing "Thou shalt not kill" — one of the Ten Commandments — the militia leader pushed back, saying that fighting and self-defense are essential and appropriate.
"Jesus himself told us that if you don't have a sword you should go out and buy one," al-Kildani shot back.
Photo credit: Shutterstock
Bennett-Jones was doubtful of that claim, but al-Kildani and his staff cited Jesus' words in Luke 22:36, which reads, "But now if you have a purse, take it, and also a bag; and if you don't have a sword, sell your cloak and buy one."
The reporter noted that this verse has been debated for centuries, with some arguing that the sword is metaphorical and not literal.
A June 2015 NBC News article said that the Babylon Brigades was 1,000-strong at the time of publication, with al-Kildani saying that his Christian group would be working alongside their Muslim "brothers."
"ISIS terrorists do not differentiate among Christians, Muslims, Sunnis and Shiites — they kill everyone," he told the outlet. "We have to help our Muslim brothers liberate Iraq."
Read more from that NBC interview here.
(H/T: BBC via Christian Post)
--
Follow the author of this story on Twitter and Facebook: