Video broadcast on Bulgarian television this week showed vigilantes detaining three Afghan nationals who illegally crossed the border from Turkey to Bulgaria. The migrants' hands were tied behind their backs as they were face down on the ground.
"No Bulgaria. Go back [to] Turkey," one of the vigilantes said. The citizens say they are aiming to control a border asylum seekers have been using to enter Europe.
The Guardian reported that Bulgaria announced an investigation into several of the men whom the British paper referred to as "migrant hunters."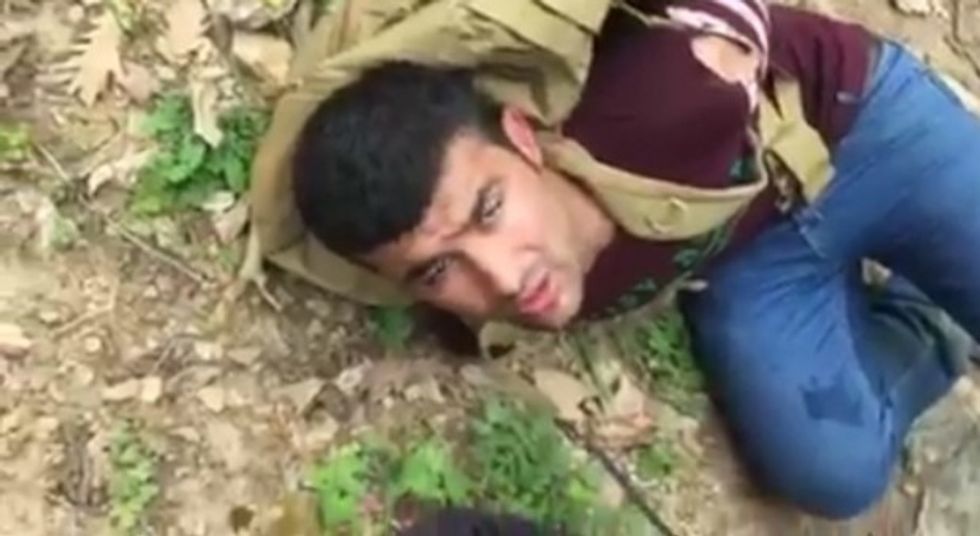 Bulgaria started cracking down on vigilante "migrant hunters" -- as a British paper called them -- after being accused of encouraging citizen border patrols. (Image source: YouTube)
As part of the crackdown, Dinko Valev — a semi-professional wrestler who gained celebrity after subduing more than a dozen Syrians in February — was summoned for questioning, the Bulgarian Interior Ministry said Tuesday.
State television once called Valev a "superhero" for his vigilante efforts.
Last month, Valev told the BBC, "These are disgusting and bad people, and they should stay where they are," referring to migrants as "terrorists, jihadists and Taliban."
The Interior Ministry said the citizen border patrol activist who captured the latest video was also detained. That video can be seen here:
The crackdown on vigilantes came after some had accused the government of encouraging vigilante activity.
According to Balkan Insight, Bulgarian Border Police gave an award to a citizen border patrol group that helped detain 23 migrants.
However, Bulgarian Border Police Chief Antonio Angelov said citizen arrests of migrants were illegal.
That sentiment was echoed by Deputy Interior Minister Philip Gounev, who told The Guardian, "Arresting people is only in the power of law enforcement and the police. Any attempts by citizens to arrest other citizens is illegal."
There is a razor-wire fence along 59 miles, about a third of the length of the Bulgarian border with Turkey. More than 30,000 migrants are reported to have tried to cross the border from Turkey into Bulgaria.