One CrossFit coach in Los Gatos, California, has been hailed as a hero after he swiftly scaled a 25-foot wall to help rescue a family following a car accident last month.
Greg Pena was preparing to coach a class at the Los Gatos Swim and Racquet club March 26 when he suddenly heard a resounding crash and saw a pillar of smoke shoot up just beyond the retaining wall for Highway 17 that stood directly next to the club's workout area, according to KPIX-TV. Pena immediately sprang into action as he used an adjacent fence to help him scale the wall separating him from the road. Just a few seconds later, Pena arrived at the scene of a car crash to find a teenager and a mom with her three young children trapped inside an overturned Ford Expedition.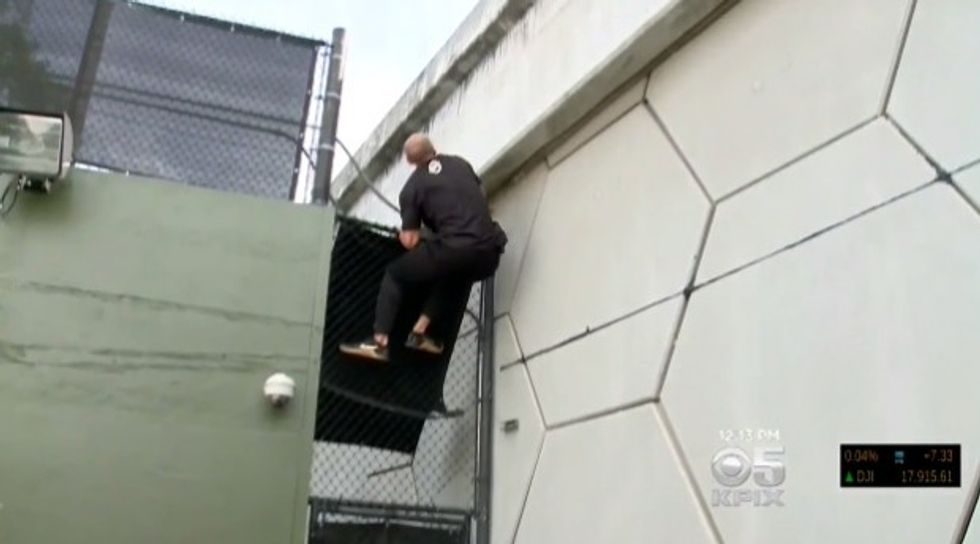 Image source: KPIX-TV
Pena immediately began to administer first aid to the teenager as blood began flowing from a head wound before turning to the three children who were dangling upside down inside the car suspended from their car seats. Pena then proceeded to cut them loose, KPIX reported.
"Nobody was there, and when I turned, he was there! I said, 'Oh! Can you please get my babies?'" Driver Jessica Magdaleno told KPIX, adding that Pena responded with, "Yeah, yeah, yeah, I'm going to help you. It's OK, it's OK."
Everyone walked away from the crash, Magdaleno said, adding that she said a prayer for Pena the following Sunday at her Catholic service.
Pena, however, doesn't like to think of himself as a "hero" for his actions that morning.
"I don't like to be called a hero, I like to think that anybody would've done this. I hope anybody would've done this," Pena told KPIX, adding that if he had the opportunity to risk his life and do it all over again, he would.
A firefighter who responded to the scene ultimately nominated Pena for a citizen's medal of valor award for his service in Santa Clara County that morning.
—