While many users are mesmerized by Tesla's spellbinding innovation, one grandma was just ready for her autopilot trip in one of the company's vehicles to be over.
Last month, Tesla founder and CEO Elon Musk unveiled the tech corporation's Model 3 sedan, branded as the company's first "affordable" electric car with a base price of $35,000. One of the main features of the new car is its semi-autonimous driving features, which includes automatic lane changing and lane keeping. Additionally, it can accelerate from zero to 60 in less than 6 seconds.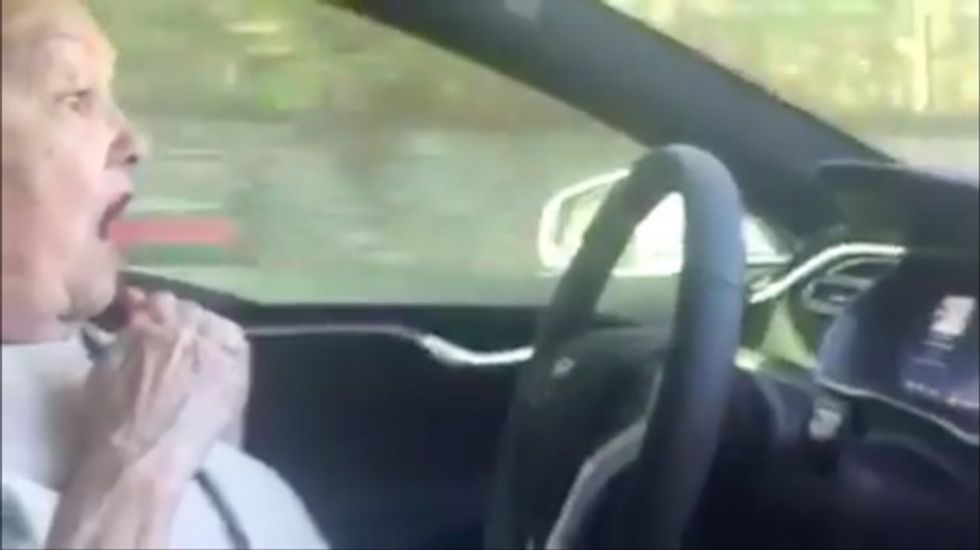 Image source: Facebook/CarBuzz
Many, if not most, would probably become acclimated to the rare self-driving feature not long after engaging it. But, as is illustrated in CarBuzz's 45-second video, that is not the case for everyone.
Sprinkled between grunts and disturbed screams, one woman videoed in a Tesla driving seat frequently asked the person she was riding with, identified only as Bill, to turn off the self-driving mode.
"Godd**n, Bill," she exclaims.
"Bill, put me back for me to control it," she continued frantically as cars passed by her. "Oh, dear Jesus. I could never—"
"Oh, this is so scary," she shouted. "It's my first day out, and I'm about to die. Oh, my God, Bill. I couldn't do it."
After several more outbursts of fear, the man with her leans over and disables the autopilot. "Hit the brakes, hit the brakes," he tells the fearful woman.
Finally, she's in control: "Now you're driving."
Watch the intense clip:
—
Follow the author of this story on Twitter: