Former Republican presidential contender Ben Carson used an analogy Friday to compare the Republican National Committee's rules to Jim Crow-era laws — before immediately walking his statement back.
Speaking with MSNBC host Andrea Mitchell, Carson told Mitchell that he believes GOP front-runner Donald Trump's delegate complaints aren't necessarily directed toward his rival, Texas Sen. Ted Cruz, but rather, the organizations behind the political parties.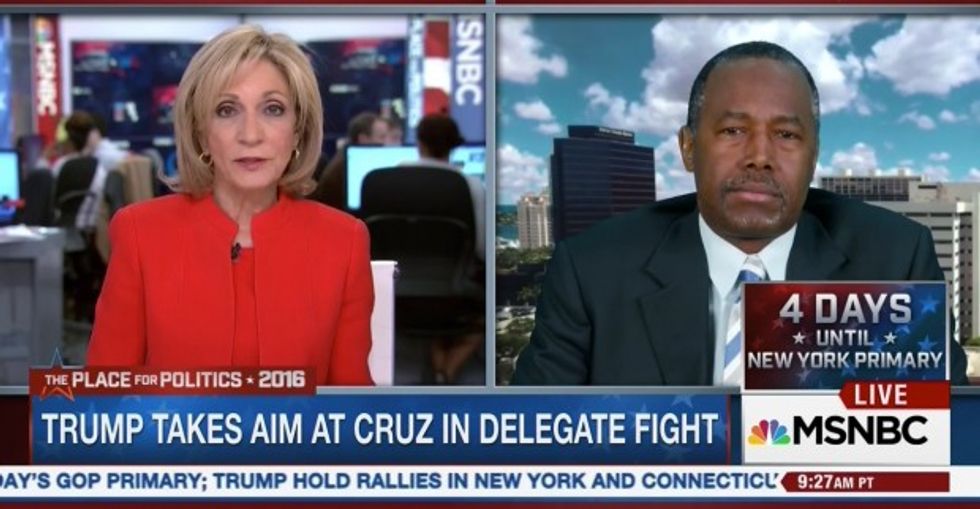 Image source: YouTube
"It's really about the American people and whether they're being disenfranchised by a bunch of people who sit around and create arbitrary rules that tend to benefit them," Carson said. "This happens on both sides, and I think it's one of the things that the American people are tired of."
"I think that's why we see people like Trump and Bernie Sanders doing so well, because people are tired of the status quo: 'This is how it's suppose to be,' with a few people sitting there making those decisions," he added.
However, Mitchell was quick to remind Carson that both the RNC and DNC are private institutions — not government-operated. She also read Carson a memo from RNC spokesman Sean Spicer circulated earlier this week, which said, "The rules surrounding the delegate selection have been clearly laid out in every state and territory, and while each state is different, each process is easy to understand for those willing to learn it."
That's when Carson made his controversial analogy.
"Yeah, well, you know, during the Jim Crow era, those were the rules, too. They were written. Everybody knew about them, didn't make them right. And I'm not saying this is the same. But, you know, I think you get the point," Carson said. "Just because rules are there, just because they were written by somebody doesn't mean that they're right, doesn't mean that you can't re-review the system."
He went on to tell Mitchell that there are several things that should also be re-revrewed from a "historical perspective," citing the electoral college.
—
Follow the author of this story on Twitter and Facebook:
[facebook //www.facebook.com/plugins/like.php?href=