When MSNBC's Joy Reid asked former "Apprentice" contestant Omarosa Manigault how she can support Republican presidential frontrunner Donald Trump as a "woman of color," Manigault dismissed her concerns, claiming that it was all right for Trump to make "a lot of people uncomfortable."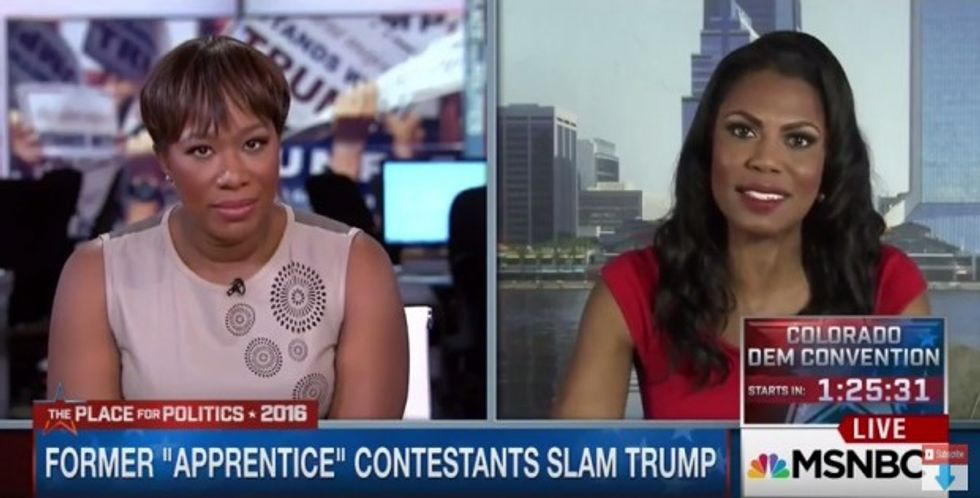 Image source: YouTube
During her Saturday appearance on MSNBC, Manigault, a proud Trump supporter, responded to other former "Apprentice" contestants who recently came out and denounced Trump for his controversial rhetoric and political stances. Reid began the segment by playing a clip of former "Apprentice" winner Randal Pinkett lambasting Trump for holding what he perceived as divisive policies.
"It is the totality of these experiences, realized by only a few and a handful of Americans, that gives us a unique perspective and leads us to the conclusion that Donald is not worthy of the highest office of the land," Pinkett said.
Reid also brought up words spoken by another former "Apprentice" contestant, Kwame Jackson, as a side point in her discussion with Manigault. Jackson had recently stated that Trump has "appealed to the lowest common denominator of fear, racism and divisiveness in our populace" and "created a toxic ecosystem in our political discourse," according to MSNBC.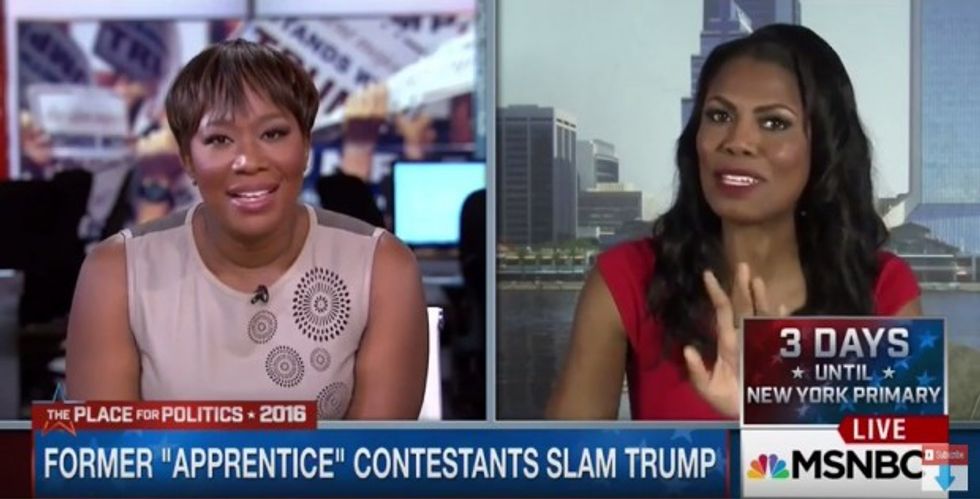 Image source: YouTube
Manigault immediately dismissed the contestants' comments.
"If they were really concerned about Donald Trump, why wait until now?" Manigault responded, noting that the former contestants were only starting to reveal their negative opinions this month, even though Trump has been in the presidential race for months.
But Reid refused to accept that answer and continued to press Manigault as she brought up Trump's endorsements from white supremacists and his own attacks on "immigrants and Mexican-Americans."
"As a woman of color, do you have no concerns about that?" Reid pressed.
"Donald Trump is starting a revolution, he's going to make a lot of people uncomfortable, okay?" Manigault rejoined. "And he's trying to change the way this system is so completely broken for Americans. There are people — 8 million people, in fact — who exercised their right to vote, and they voted for Donald Trump, and they're from all different backgrounds, races, creeds and religion. And so, I have to debunk this myth that Donald Trump does not have broad support across different races, religion and gender because those 8 million people are some of the most diverse Americans in this country."
Reid then proceeded to bring up that 90 percent of the Republican voters who voted this election season are white, claiming that Trump's supporters are not "diverse."
Manigault responded, saying that this was just "the tradition in the Republican primary" and was not Trump's fault at all.
Watch the rest of the interview below.
(H/T: Mediaite)
—
Follow Kathryn Blackhurst (@kablackhurst) on Twitter