The two men who engaged in a fight with police officers inside a Michigan restaurant in 2013 just won upwards of six figures from the city of Detroit in a settlement after being cleared of all charges.
Tywonn Mitchell and Navian Moore were arrested following the brawl that occurred inside the Grandy's Coney Island restaurant in 2013, according to WJBK-TV. In an encounter that was caught on camera, police officers can be seen entering the restaurant after the two men before approaching them.
"[An officer] poked one of the young men in the chest, I believe it was Mr. Moore who slapped the officer's hand away and a scuffle ensued," said Herbert Sanders, an attorney for the two men, according to WJBK. "It is an unfortunate circumstance that taxpayers continue to pay for stupid mistakes."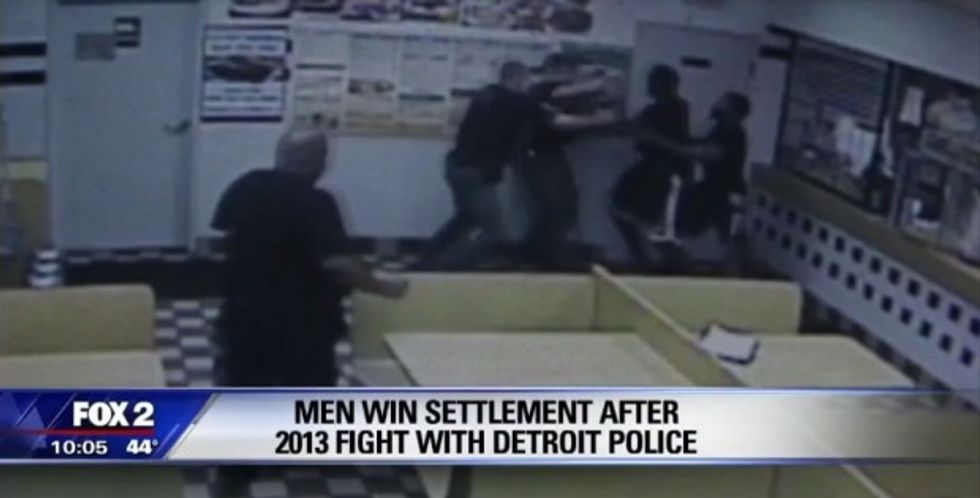 Image source: WJBK-TV
The police initially stated that the officers were not at fault and did not employ excessive force during the encounter, and Moore and Mitchell, then teenagers, received charges for assaulting a police officer and resisting arrest. But the charges were dropped a couple weeks later after the video footage was reviewed.
"They shouldn't have gotten physical with us," Mitchell told WJBK. "We didn't expect that, we weren't going to get physical with them. We're not crazy; we're not going to just hit cops. We're not going to hit anyone so why would you hit us? We've never been in trouble, and I don't want them to think we are bad people because we hit the cops back. I want them to look at us as the good people."
Mitchell added that he hopes to just "walk away" from all this fuss.
"Just walk away from it. It's not worth it, going to jail and messing up my career," Mitchell said, according to WJBK. "I have a lot going for myself, and I just want to continue to move forward."
(H/T: WJBK-TV)
—
Follow Kathryn Blackhurst (@kablackhurst) on Twitter