© 2023 Blaze Media LLC. All rights reserved.
CIA Director Claims 28 Secret Pages From 9/11 Report Full of 'Uncorroborated, Un-Vetted Information'
"I think the 9/11 Commission took that joint inquiry, and those 28 pages or so, and followed through on the investigation."
In an interview with NBC's "Meet the Press" Sunday to mark the fifth anniversary of the death of 9/11 mastermind Osama bin Laden, CIA Director John Brennan said that the controversial unreleased 28 pages from the 9/11 Commission's report contain "uncorroborated, unvetted information."
"What's the case against releasing those 28 pages?" host Chuck Todd asked.
"Those so-called 28 pages, one chapter in this joint inquiry that was put out in December of 2002, was addressing some of the preliminary findings and information that was gathered by this joint commission within the Congress," Brennan said. "And this chapter was kept out because of concerns about sensitive source of methods, investigative actions. The investigation of 9/11 was still underway in late 2002."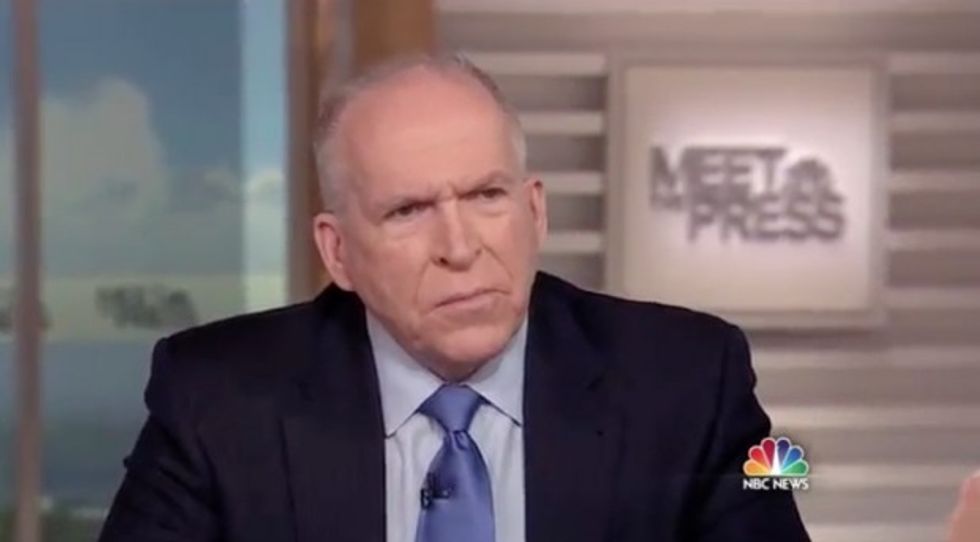 CIA Director John Brennan (Image source: YouTube/NBC News)
The 28 classified pages of the 838-page report recently became controversial when former Florida Sen. Bob Graham (D) suggested that they contain evidence that the 19 hijackers who perpetrated the 9/11 attacks received financial support from the government of Saudi Arabia.
Brennan said that he is "quite puzzled" by Graham's claim.
"These were thoroughly investigated and reviewed. It was a preliminary review that put information in there that was not corroborated, not vetted and not deemed to be accurate," Brennan said.
"The information in those 28 pages, you think, are inaccurate information? Everything that's in there is false?" Todd pressed.
Brennan replied that there is "a combination of things that is accurate and inaccurate."
"I think the 9/11 Commission took that joint inquiry, and those 28 pages or so, and followed through on the investigation," Brennan said. "And they came out with a very clear judgment that there was no evidence that indicated that the Saudi government as an institution, or Saudi officials individually, had provided financial support to Al Qaeda."
Todd asked Brennan if he is "concerned that the release of those pages will unfairly put the relationship in a damaged position."
"I think some people may seize upon that uncorroborated, un-vetted information that was in there, that was basically just a collation of this information that came out of FBI files, and to point to Saudi involvement, which I think would be very, very inaccurate," Brennan replied.
Want to leave a tip?
We answer to you. Help keep our content free of advertisers and big tech censorship by leaving a tip today.
more stories
Sign up for the Blaze newsletter
By signing up, you agree to our
Privacy Policy
and
Terms of Use
, and agree to receive content that may sometimes include advertisements. You may opt out at any time.